Today, Facebook is used largely and a top rated social site. Day by day New Facebook apps are being presented having new features. In this series, some apps are to be used with smartphones too. Now a new tool is revealed named photo Sync. It has many new features to be used with iPhone and Android.
While photo Sync is enabled, it will automatically upload photos to photo album on your Facebook profile. To access Photo Sync with Facebook, you will require to activate it from app settings.
How to enable Facebook Photo Sync on Android or iPhone?
First Step
Firstly, start Facebook app on your device. Next, Scroll down and tap on Photos option.
Then you get sync tab underneath the panel like below screenshots.
Second Step
Now tap on Sync Photos option, if you wish to enable Photo Sync feature on the Smartphone.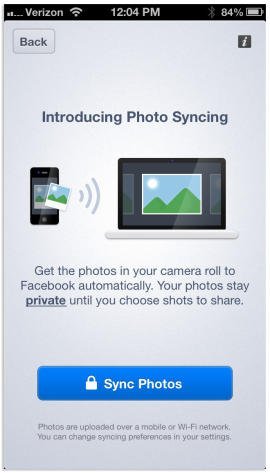 Thus your photos are ready to be uploaded to album on Facebook.
If you take a new photo from Smartphone camera, it will automatically upload in the background without any pop-up.
As soon as sign in Facebook app, you find recently upload photos on Facebook profile. Here select choice like which photo is to share or which photo to remove.
To Sync photo upload in limit or turn off this feature, Go to Settings button of Facebook app and tap on preferred option.