Do you get the message – Paint 3D is currently not available in your account. Here's the error code, in case you need it 0x803F8001. Few users can't open Paint 3D on Windows 10 and they encounter this issue. If you accompany them then here is the solution to this built-in application's annoying problem.
0x803F8001 Paint 3D is Currently Not Available Error in Windows 10 Solutions
Paint 3D is one of the most amazing 3D modeling application introduced by Microsoft in their latest Fall Creators Update. It is lightweight software that couples MS Paint and 3D builder with a view to offering 2 and 3 dimensional editing experience to the users. Unfortunately, this useful program is not present in some of the user computers in recent days. Instead, they are having Fix: 0x803F8001 Paint 3D is Currently Not Available Error.
As a fix of 0x803F8001 Paint 3D, some of the experts showed their interest in opening the computer in Safe Mode. However, in most cases, this idea didn't work really. But to solve this nagging is rather easier than we might think. Simply removal of the app from the system and installation again will serve the best. We will discuss this process in the following discussion. So let's begin.

Back up the Ongoing Paint 3D Projects
To save your hard work from being washed away Back up of the ongoing project is deadly necessary. Follow the below guidelines in this concern:
Step-1: Hold the Windows key and at the same time press the E button on the keyboard. System will be dedicated to open the File Explorer sharply.
Step-3: Type the following address path in the Address bar to navigate to the project in progress in Paint 3D:
%localappdata%\Packages\Microsoft.MSPaint_8wekyb3d8bbwe\LocalState\
Step-3: After you reach out to the folder, copy the entire Projects folder to a safe location you like.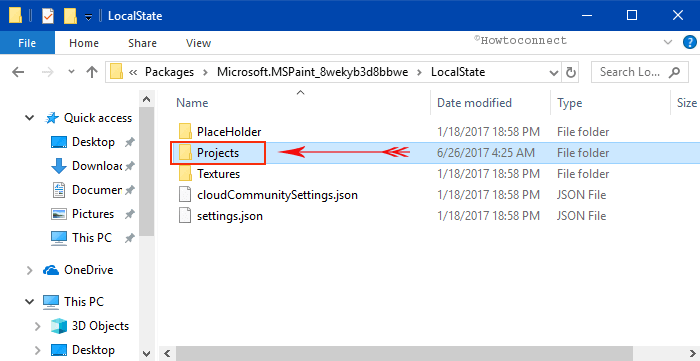 Remove Paint 3D application from PC
Microsoft has some native software programs like Internet Explorer, Paint 3D and so on. They actually don't allow remove these apps anyway with the normal uninstallation procedure. What you have to do is, we delete the Paint 3D app using a cmdlet in PowerShell. To take it to ground execute this way –
Step-1: Go to the Search Box in the taskbar and start typing PowerShell.
Step-2: When it appears in the Best match section, put a right click on it and select Run as Administrator.
Step-3: On the PowerShell window, type the following 2 commands/cmdlets and separately and press Enter button from the keyboard:
Get-AppxPackage Microsoft.MSPaint

Get-AppxPackage Microsoft.MSPaint | Remove-AppxPackage

When this command will be successfully put into action, this app will be removed from the system completely. You witness the instructions here if have an interest – Get Rid of 'Edit With Paint 3D' From Context Menu on Windows 10.
Reinstall the App
To fix 0x803F8001 Paint 3D now install the same freshly from the Microsoft store. You can follow the below guidelines:
Step-1: Launch any of the web browsers from your computer and follow the link below:
https://www.microsoft.com/en-us/store/p/paint-3d/9nblggh5fv99
Step-2: This link will guide you to the Paint 3D app page located in Microsoft store. Now click on the Install button located under the app name.
Step-3: System will start downloading the app. Once the download process is complete you will not find 0x803F8001 Paint 3D is Currently Not Available Error in Windows 10.
When you open the app now, you might not see your previous work. But there is nothing to worry about as you have saved a backup previously. You just need to move the Projects folder which you have backed up earlier to the app package folder of original Paint 3D app location.
Conclusion
Paint 3D is indeed a very helpful program for the editors.  0x803F8001 Paint 3D is Currently Not Available Error in Windows 10 prevent it from working. Windows 10 Fall Creators update has introduced this application with a view to offer advanced as well as improved 3 Dimension experience to the users. This application has already gained popularity among the 3D artists and editors as for its productivity and functionality. However, we have discussed a very effective in order to resolve this annoying error. We can expect that you will face zero error while reopening once you put all these instructions into action.
Repair any Windows problems such as Blue/Black Screen, DLL, Exe, application, Regisrty error and quickly recover system from issues using
Reimage
.