Today, we will present certain workarounds to deal with 80004005 Unspecified Error in Windows 10. Commonly, this specific issue occurs in two different situations. The first one is when you try to move, delete or extract any documents, files or folders. Secondly, it happens due to faulty updates which Microsoft immediately rectifies in the patch-up update.
If the problem is because of updates, you can Download October 2018 Update ISO File furthermore install the same to bypass the problem. But, if it happens during extracting or copying items, then you need to go through certain solutions. You need to install and use 7zip or WinRAR utility program for extraction. However, if the pop-up of error message occurs during deletion or moving of an item, then try to solve it by taking ownership of that specific record.
80004005 Unspecified Error Copying File in Windows 10 Solutions
Here is how to fix 80004005 Unspecified Error Copying File in Windows 10 –
While Extracting an Archive
Basically, compressed files take very less space as this squeezes huge data into reduced storage.
1. Try Different Extracting Software
But sometimes when you try to unzip any specific file, it causes 80004005 Unspecified error. And this makes the file inaccessible which eventually annoys you. Here you need to install 7zip or WinRAR program on your computer.
At first visit 7zip or WinRAR website and select either x32 or x64 bit architecture as per your PCs
configuration.
Once you install the utility, try to open or extract the same problematic file that used to throw 80004005 Unspecified Error in Windows 10.
See our article on the way to Extract Compressed Files in Windows 10.
2. Re-register jscript.dll and vbscript.dll
If using another program failed to resolve the issue, try out this workaround. For some users, re-registering the jscript.dll and vbscript.dll files in the Command Prompt was successful. jscript.dll is a library which is used when running JScript whereas vbscript.dll is basically a module that accommodates API functions for VBScript.
Step-1: Open Run dialog box by jointly hitting "Win + R" hotkeys. Here, type in cmd in the text field and hit Ctrl + Shift + Enter keys all together to access an elevated Command Prompt.
Step-2: Click Yes on the UAC prompt to launch the program.
Step-3: On the black panel, insert the following two commands and ensure to hit Enter at the end of each to execute them.
regsvr32 jscript.dll
regsvr32 vbscript.dll
Step-4: Restart Windows 10 PC and then check if you are able to access the zip files without receiving 80004005 error.
3. Turn off Real-Time Protection of your Antivirus
The overprotective feature of your third-party antivirus can also be the possible reason behind this specific error. It happens that certain antivirus programs block the extraction of zip files for security purpose. So, try to disable the real-time protection of the software that you are using and see if this bypass the issue or not.
In case, you did not receive the error and was able to extract the zip file, then completely uninstall the antivirus. Try to use another one or consider using the built-in Windows Security.
Error 80004005 When Moving or Deleting Files
Lack of "ownership" of a particular document could also trigger 80004005 Unspecified error on
your machine while moving the file from one place to another or deleting that file or folder.
Being an "administrator" of the device is not sufficient to control the file, hence you should take
ownership of the folder. Here is the sequence of steps on how to take control of any file/ folder –
First of all, execute a right-click on the problematic file or folder. Choose Properties option from the pop-up menu.
Thereafter switch to the "Security" tab and select the user account within Group or user
names section.
Now click on the Edit button to open Security window. Here you need to again highlight
the user account and move below.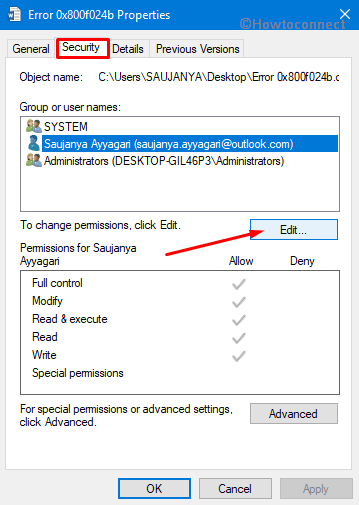 The list of checkboxes located at Permissions for SYSTEM section will appear on the
screen. Just mark all the options and click OK to implement the modification.
At last, try to move to delete the file or folder which was earlier resulting into
80004005 Unspecified error.
For reference, read How to Change File Permission to Grant Ownership in Windows 10.
Take Ownership of files which don't come Under Group or User names
If you prefer to take ownership of other files that are not located under "Group or user names"
section then go through these sequence of points.
Right-click on the given file or folder and select "Properties" option from the context menu.
Here navigate to the Security tab followed by a hit on the Advanced button.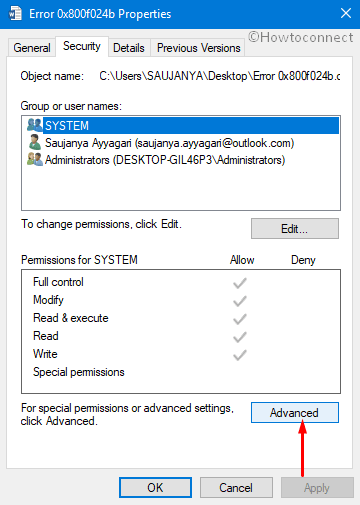 Now go to the Owner section at the top and make a click on Change option.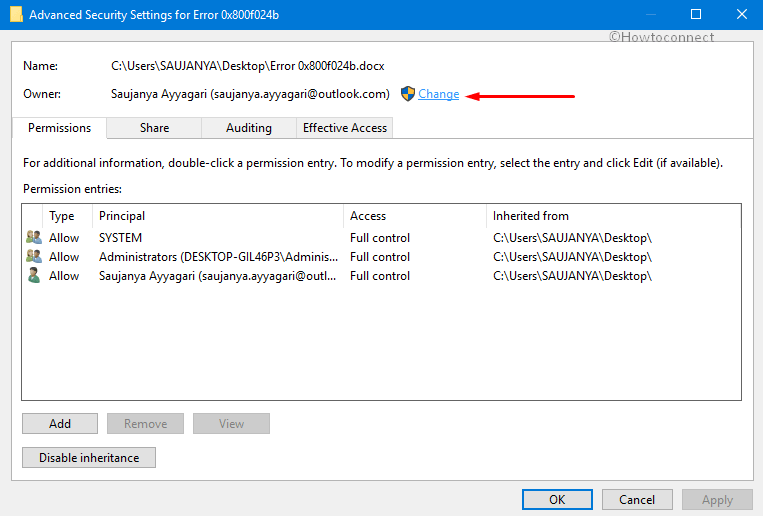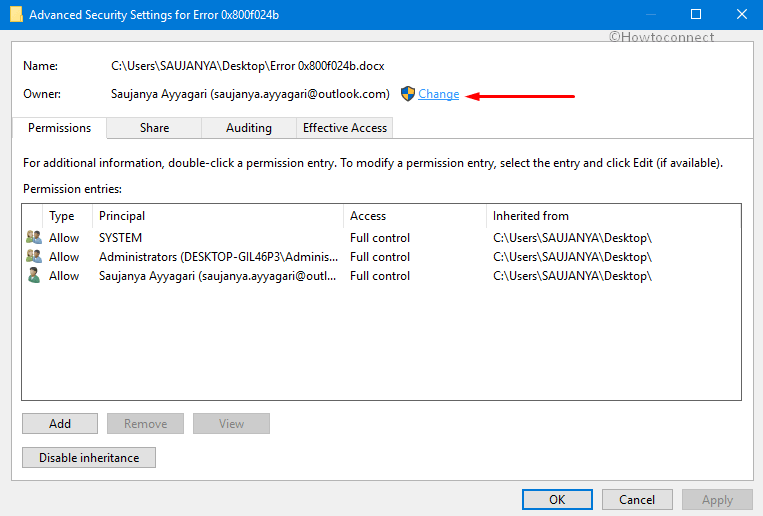 On the subsequent window, move to the void box of "Enter the object name to select" and type your user account name then click on the Check Names button. It will look out
for the validity of the name entered automatically. If it is correct, the same will become
underlined.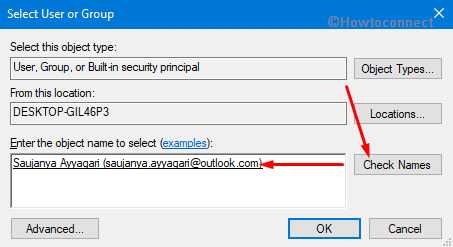 Moving ahead, choose the recently added name and do a click on OK to go back under Advanced
Security Settings window.
If you want to change folder or drive (depending upon configuration) then activate the checkbox
against "Replace owner on subcontainers and objects". Hit Enter key to go ahead. This process will
grant the permission to modify all "files and folders" which you have lately changed.
You are now under Properties dialog again. Here click OK to save the modifications.
Lastly, retry to move or delete the folder again which was earlier instigating the issue.
Hope this article helps you to resolve the issue 80004005 Unspecified Error Copying File in Windows 10. If you see any difficulty in resolving this issue, drop them in the comments form, we will definitely help you out.
Repair any Windows problems such as Blue/Black Screen, DLL, Exe, application, Regisrty error and quickly recover system from issues using
Reimage
.