Camera in Windows has been a puzzle for users because of the errors appearing on the app on frequent succession. One such error is 0xA00F4291 which occurs when trying to launch the camera app, use Zoom, Skype, or other for video meeting or call.
During the problem, the app crashes or freezes, and displays a message 0xA00F4291<videoPreviewStarFailed> (0x800706BF). Webcam error code 0xa00f4291 might appear due to corrupt app or files, old faulty driver, incorrect registry entries, or lack of permissions. If you are witnessing something went wrong message with error code 0x00f429 when trying to launch camera this post will be your help. See solutions to another issue – Fix Camera Error code 0xA00F429F in Windows 11 or 10 (Solved!).
Camera Error code 0xA00F4291 in Windows 11 or 10
Here is how to fix Camera Error code 0xA00F4291 in Windows 11 or 10 –
Way-1: Reset Camera App
Since reset camera app process deletes its records from the AppData folder thus the old imprints that could interfere with the normal functioning of the application no longer exists.
So, when the camera displays error 0xA00F4291<videoPreviewStarFailed>(0x800706BF) and does not open during Zoom or Skype calls this is the easiest few clicks solution –
Windows 11:
Right click on Start.
Select Installed apps.
Find Camera in the list on Settings.
Click on 3 dots icon and select Advanced options.
From the next page, click on Reset.
Give your approval by again clicking on "Reset".
Windows 10:
Press – Windows and I.
Select 'Apps' and then go to – Apps & features.
Locate the Camera and click on it.
Choose Advanced options.
Click on Reset.
Confirm the popup. Wait till it receives a tick mark.
See – How to Reset Camera App in Windows 10.
Way-2: Utilize Windows Troubleshooter
Windows with the troubleshooting, fix-it tool has the potential to resolve the camera error 0xA00F4291. To avail it, follow the steps mentioned below:
Press – Windows.
Type – cmd.
Select – Run as administrator.
Type and copy the following command, then hit Enter.
msdt.exe -id DeviceDiagnostic
Click Next once the troubleshooter appears.
When the troubleshooter discovers a repair, click Apply this fix.
It may be necessary to restart your computer for the modifications to take effect.
Now, try troubleshooting from the Settings app:
On Windows 11, go to Settings > Troubleshoot > Other troubleshooters > Camera and click on Run.
On Windows 10, navigate to Settings > Update & security > Trouvblesshoot > additional troubleshooter > Camera and click on Run the troubleshooter.
Way-3: Try Updating Camera Driver
Camera driver is software that allows your PC and webcam to communicate in two directions, resulting in seamless video communication. However, sometimes a driver malfunction may force you to see the something went wrong 0xa00f4291 error code. To resolve the same, you might need to update the camera driver by following these steps:
Right-click on Start.
Select – Device Manager.
Within the Device Manager window, navigate down the list and locate your Webcam. This is generally located under 'Cameras', 'Imaging devices', or 'Sound, video and game controllers'.
Simply right-click on it and choose – Update driver.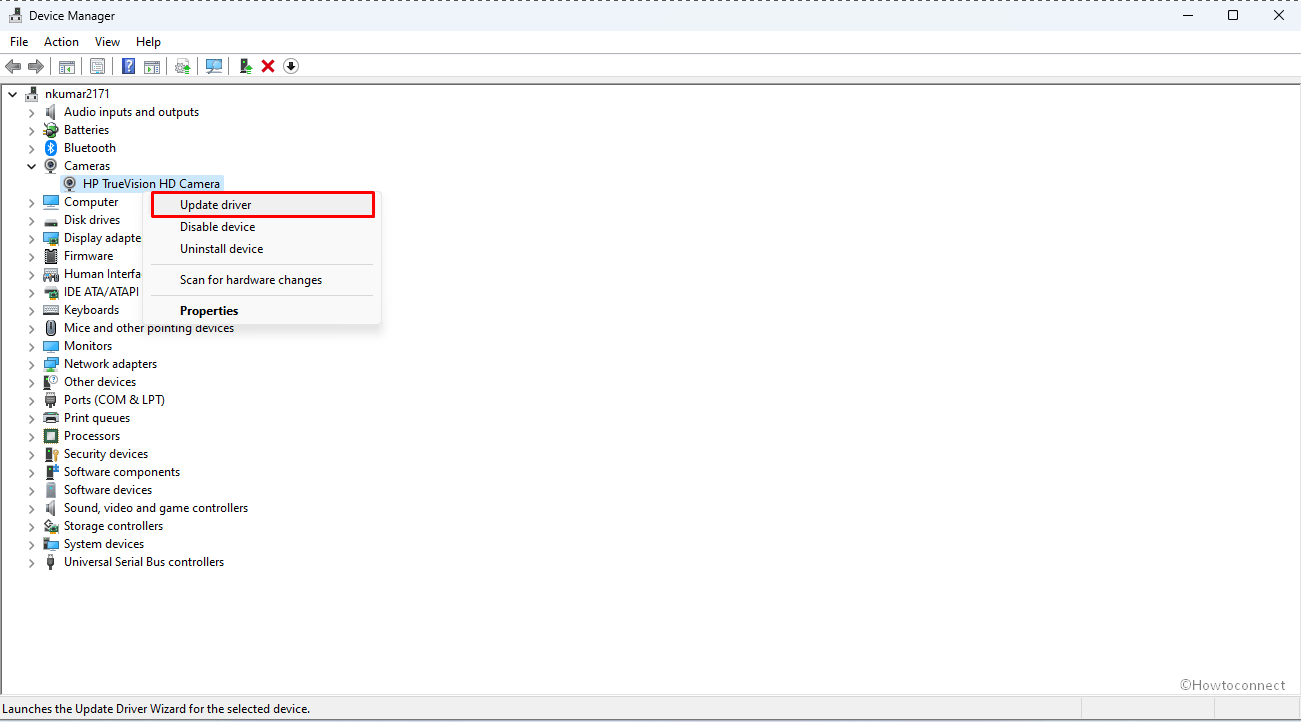 Select – Search automatically for drivers.
Check that this has resolved your issue.
Way-4: Remove your Camera's Driver and Reinstall it
To resolve the error code 0xA00F4291 you can also try uninstalling and then re-installing the camera driver –
Open Device Manager as mentioned in the previous method.
Right-click the camera driver.
Select – Uninstall device.
Then Click on "Uninstall".
After it's done, go to the Action menu and select Scan for hardware changes.
Check out – How to Fix Windows 11 Camera not working (Solved!).
Way-5: Permit apps to access Camera
The webcam problem as mentioned above specifically concerns the app present in Windows which may falter due to technical reasons. To resolve this issue follow these steps:
PC Access
Windows 11:
Press Winkey+X on your keyboard.
Select Settings.
Click on Privacy & security.
Go to the Windows permissions section and select Camera.
Turn on Camera access.
Make sure that all settings located below such as Xbox, apps, Store, etc are enabled.
Windows 10:
Press Winkey and I.
Select Privacy.
Click on Camera from the left pane.
Go to the right and turn on Camera access for this device.
Navigate to the next section.
Now toggle on Allow apps to access your camera.
Make sure access is allowed for all the apps individually in the below section.
Camera Access through Windows Defender
Click on the Windows search bar and type firewall, and then select the first result.
Choose – Allow an app through firewall.
Control Panel\All Control Panel Items\Windows Defender Firewall\Allowed apps window will open.
Search for Windows Camera.
Make sure that the camera is allowed in the list.
If it is not then click on Change settings.
Go to Windows Camera and check Public and Private boxes.
Select – OK.
Camera Access through Third-Party Antivirus Software
Double-click on the antivirus program's icon to launch it.
Head to Firewall settings and ensure the Camera app has access.
Way-6: Give Registry Editor a try to fix webcam error 0xA00F4291
The registry holds important operating system, application, and user preferences data. So, it's advisable to solve the 0xA00F4291 camera issue, however, it's recommended backing up the registry before manually updating it as a precautionary measure.
Press the Windows+R.
Enter regedit and click OK.
Select Yes on the User account control prompt.
Navigate to the following entries in the Registry Editor window:
HKEY_LOCAL_MACHINE\SOFTWARE\Microsoft\Windows Media Foundation\Platform
Right-click anywhere on the right side of the screen.
Choose New, then DWORD (32-bit) Value.
Name this value – EnableFrameServerMode.
To change the value of EnableFrameServer Mode, double-click on it. Set the 0 in the Edit box and hit Enter.
Restart the system and verify that the camera is operational. If not, repeat the preceding steps. Then, double-click EnableFrameServerMode.
Set the value 1 in the Edit DWORD box and press Enter.
Restart the PC and verify that the camera is operating properly.
Way-7: Use the System File Checker Utility Tool
System File Checker is a built-in Windows utility that may be used to repair damaged system files, which might be the cause of the camera 0xa00f4291 video preview start failed error. Check out the steps mentioned below:
Press Windows and Q keys.
Type cmd, and then select Run as administrator.
When requested for consent, select Yes.
Run the command below by typing or pasting it and pressing Enter – sfc /scannow.
Wait for the process to be completed.
Let's hope that the 7 ways mentioned above help in fixing the camera error code 0xA00F4291 in Windows 11 or 10.
Methods:
Way-1: Reset Camera App
Way-2: Utilize Troubleshooter
Way-3: Try Updating Camera Driver
Way-4: Remove your Camera's Driver and Reinstall it
Way-5: Permit apps to access Camera
Way-6: Give Registry Editor a try
Way-7: Use the System File Checker Utility Tool
That's all!!
Repair any Windows problems such as Blue/Black Screen, DLL, Exe, application, Regisrty error and quickly recover system from issues using
Reimage
.