Msvcr100.dll Windows 10 is an error that usually pops-up when a certain program is updated or installed or sometimes it may also occur during startup or restart. After a thorough investigation, it has been found that users are even experiencing "MSVCR100.dll" and "MSVCP100.dl" missing files from their PC after upgrading their Windows.
Different applications including games require this file in order to perform perfectly. We will discuss few promising solutions that will take care of the issue pretty effectively.
msvcr100.dll Windows 10 – Missing Error Workarounds
Workaround-1: Install Microsoft Visual C++ Redistributable Package
Microsoft experts suggest you download and install the latest "Microsoft Visual C ++ Redistributable Package" to bypass this specific .dll issue.
Depending on your OS's architecture, you need to download the package accordingly. After installing the package, restart the PC and this should take care of the missing .dll files.
32-bit: http://www.microsoft.com/download/en/details.aspx?id=5555
64-bit: http://www.microsoft.com/download/en/details.aspx?id=14632
Solution-1: Scan and Repair System Files
File corruption in the system is mostly responsible for msvcr100.dll Windows 10. As you all know, SFC scan can resolve the corrupted files, so you need to run it. You can do that following the given set of instructions.
Step-1: Start the process by typing cmd on Cortana, beside Start Menu icon. The Best match section displays Command Prompt on the top. Put a right click on it and from the few option, conduct a click on Run as Administrator.
Step-2: On the Command Prompt window, there is a blinking cursor. Copy-paste or type the following syntax there:
sfc/ scannow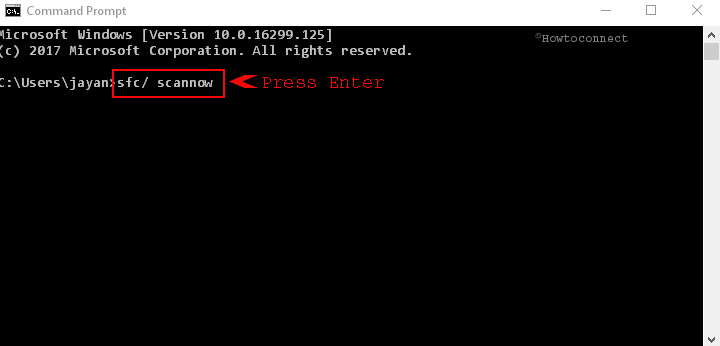 Step-3: Press the Enter button and the system performs a thorough scan in the computer for corrupted files for about 15 minutes.
After completing the scanning process, the system starts fixing the dreadful files automatically. And hopefully, this should resolve the error successfully. In case, it doesn't work on your computer, you need to go for DISM scan with a view to resolve this error.
See SFC /Scannow, DISM.Exe, CHKDSK Windows 10 to know more.
Solution-2: Perform DISM Scan
Step-1: Open the "elevated Command Prompt" in the same way as guided above or launch it using the method you prefer.
Step-2: Type or copy/paste the below-given line of command at the end of blinking cursor and press Enter key:
DISM /Online /Cleanup-Image /RestoreHealth
Scanning will begin and the process may take about 20 minutes for troubleshooting. Therefore, we recommend you to be patient and not to interrupt the process. Depending on the scan result, you can notice Windows fixing it. Once the repairing is done, you can check for the existence of error. This method should resolve accurately. If not, you need to move on to next method.
Solution-3: Download MSVCR100.dll and MSVCP100.dll files manually
As these files are missing from the computer and causing the error to appear, you can easily download these two from the internet. There are thousands of websites with an intention to provide these files. But you should not trust any third party website rather get those from this link.
Instead of downloading, you can also look for these files on your PC even. For the full process, here are the guidelines:
Step-1: Look for the files in Windows.old directory on your PC. This directory contains the older version of Windows and sometimes, it also include necessary files in the System32 directory.
Step-2: Copy these files from Windows.old directory and paste it to the System32 directory on your running Windows version.
If you fail to locate dll files in Windows.old directory on your computer, you can get them from any other PC running in Windows 10. When this copying job is done, the error should be resolved.
Solution-4: Restoring msvcr100.dll from Trash
Most probable reason for these files to be missing can be unintentional removal. You can look up these in your Recycle Bin. If you find that here, put a right click on it and select Restore. You can easily get rid of the error in this way.
Solution-5: Install Available Windows updates
Update service packs, as well as patches, contains a huge number of Microsoft distributed DLL files. Msvcr100.dll file can be one of those. As a result, installing any available update might resolve this error completely.
Step-1: Get access to the Settings application by hitting Windows – I hotkeys. Reach out to Update & security icon and click on it.
Step-2: On the right pane, click the button Check for Updates.
Step-3: If updates are there, download and install the same to fix msvcr100.dll Windows 10 missing error. Installing the latest updates should take care of this dll issue.
Solution 6 – Reinstall Adobe Reader and Skype
Many of the users reported that Adobe Reader and Skype is causing the error to appear in computers. As a solution of that, you can uninstall these programs as well as remove them completely and install again if necessary. We recommend all to download the latest versions of any software tool every time. This task can fix msvcr100.dll Windows 10 error we expect.
Solution-7: Conduct anti-malware scan
Some of the msvcr100.dll errors are associated with the infection of malicious invaders. Running the built-in anti-malware or antivirus scan can fix the error too. If you are using any reliable third-party antivirus solution, you can run that also. Conducting a full PC scan will detect the presence of malware on the system. If it traces out an infection, the tool will suggest you the necessary actions.
When the malware infection is cured, there should not be any existence of the error on your computer.
Solution-8: Uninstalling PlayMemories Home from Sony
The MSVCR100.dll files go missing from the computer due to the installation of third-party software. Many users complained that this PMBVolumeWatcher.exe program is responsible for this error. Upon thorough research, it was revealed that Sony's PlayMemories Home application is actually guilty of this. As a matter of fact, you need to remove this application with a view to fixing the error. If you are a regular user of this and you don't want to remove, you can reinstall the latest version rather. That would also work the same.
Updating iCloud can also fix this error frequently. If you cannot resolve using all these methods above, you can try downloading the latest version of iCloud. It seems this latest edition will also install the missing .dll files in Windows 10 successfully.
Causes of msvcr100.dll Windows 10 error
There are few reasons responsible for this error. Few of them are here:
Corruption as well as erasing of msvcr100 DLL file can cause the error.
Incorrect entries in Registry might be responsible for this error.
Hardware issues including infection of malicious invaders cause msvcr100.dll Windows 10 error too.
Conclusion
.Dll files are important for the computers from so many points of view. If these go missing, the error appears and hampers the smooth functioning of PC. This is unexpected and errors should be resolved immediately. We have learned many resolution processes in above discussion. You can try them on your PC following guidelines appropriately. Hope that you will be able to resolve the error easily. If you have fixed this using any other workaround, do write them to us.
Repair any Windows problems such as Blue/Black Screen, DLL, Exe, application, Regisrty error and quickly recover system from issues using
Reimage
.