A pretty number of users are detailing about Overwatch FPS Problems in 1803 Windows 10 April Update. The big release from Microsoft has made them annoyed with the performance of the gameplay.  Overwatch FPS drop and unstable 160-180 FPS are the obstacles you often encounter. The solution is simple and upfront as you just need to update the graphics driver and modify the NVIDIA or AMD settings.
Both of NVIDIA and AMD has released the driver update compatible with 1803 version of Windows 10. So most important fix is to get these on your PC. You can review your current video card outlines with the assistance of the tips – 2 Ways to Check Graphics Card Properties on Windows 10.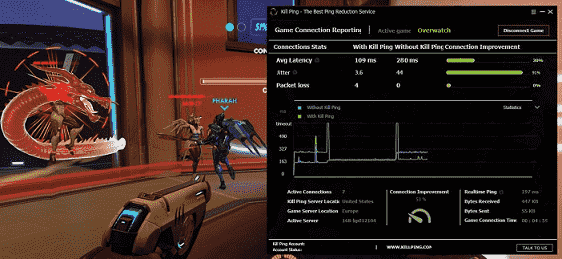 Overwatch FPS Problems in 1803 Windows 10 April Update Solutions
Here are the 3 solutions to fix Overwatch FPS Problems in 1803 Windows 10 –
Solution-1: Update Windows to Windows 10 April Update 2018
The first thing you must need to complete is a Windows update if you are still using the previous version. There might be pending updates even you are using the latest one. However, you can check the updates following the below steps and update further following on-screen notices:
Step-1: Open the Start menu and do a click on the Gear cog.
Step-2: Once the Windows Settings app unrolls on display, move the cursor to "Update & Security" and make a click.
Step-3: When shifted to a new settings page, choose Windows Update from the left pane and move over to alongside pane.
Perform a click on Check for updates under to see whether any pending one is waiting for you.
If found any, let it download and follow the on-screen instructions to install on your PC.
Solution-2: Update the Graphics Drivers to latest
Once the Windows is up to date finally, you need to move on to updating your Graphics drivers to the latest ones. Both of the NVIDIA and AMD have released their latest driver compatible with Windows 10 April Update 2018. The download links are listed below:
NVIDIA Driver Updates for 1803 version latest Windows 10
AMD Driver Updates for 1803 version latest Windows 10
Note: If you are already using NVIDIA 1060 Graphics card, we recommend you not to download the latest one. Rather keep the version 397.31 as the latest one might end up causing endless bugs.
Solution-3: Modify the settings of your NVIDIA/ AMD Graphics Cards
For getting maximum benefits out of a Graphics card in Windows 10, you need to make the following customization to particular settings:
Set the Maximum Pre-rendered frames to 1.
Enable the Power management mode.
Turn on single display performance mode.
Disable anisotropic filtering, DSR factors, ambient occlusion, and anti-aliasing.
Allow the texture filtering as well as set the filtering quality to "High Performance". However, for the preferred refresh rate, set to application-controlled.
Turn Off Vertical sync and triple buffering.
Note – For tweaking the Overwatch only, perform a click on Program settings only. Thus, you can retain the Graphics settings for everything except the game in Windows 10 PC.
Therefore, these Solutions can be valuable so far for you to regain the stability in Overwatch gameplay. Hope you will successfully recover-performance issues and enjoy the play by now.
Repair any Windows problems such as Blue/Black Screen, DLL, Exe, application, Regisrty error and quickly recover system from issues using
Reimage
.