Blue screen errors are unexpected system failures that show up all of a sudden and render Windows 10 nonfunctional and sometimes inaccessible. PORT_DRIVER_INTERNAL is one rare BSOD you may encounter while installing a driver. With bug check code 0x0000002C, this particular blue screen of death indicates that your Windows-operated system failed to install a driver due to missing elements. Since the error itself doesn't give any hint about what is actually triggering it you may find difficulty in resolving the issue.
PORT DRIVER INTERNAL can be a result of software failure as well as damaged hardware. However, you can guess the cause by reviewing the behavior of Blue Screen 0x0000002C. When a BSOD arises due to a software issue, the error code appears a few minutes after booting up and let the user observe the code. On the other hand, hardware-related blue screen errors show up instantaneously when any of the hardware fails.
PORT_DRIVER_INTERNAL
Here is how to Fix PORT_DRIVER_INTERNAL Error BSOD or Blue Screen 0x0000002C Windows 10 –
1] Start Windows 10 in Safe Mode
PORT DRIVER INTERNAL blue screen error oftentimes prevents users from accessing the device. If the same happens to you, manage access first to deploy further workarounds. Even if you have access, Safe mode is recommended since this special startup makes a suitable environment to work with. This mode restricts unnecessary programs, drivers and services; therefore blue screen error that evolved from third-party ones will be resolved immediately. To boot the PC in Safe mode, here are the steps to follow –
Press – Windows + S.
Type in – advanced startup.
Hit – Enter.
From the right pane, click – Restart now.
When the system powers up, select Troubleshoot => Advanced options => Startup Settings in order.
From the next page, click – Restart.
After starting up, either press 5 or f5 key to boot Safe Mode with Networking.
Instead of the usual Safe mode, opt for Safe Mode with networking so that network drivers remain enabled to carry out further workarounds.
2] Scan full system for malware to fix PORT_DRIVER_INTERNAL
Though the internet is a blessing in most sectors, it can be detrimental if you don't take initiative to keep your system safe. Windows 10 PC generally doesn't get affected by malware easily since it has a built-in security suite to ensure safety. Still, viruses can manage entrance and affect the system elements badly. When essential system components go missing or become unreadable, issues like PORT_DRIVER_INTERNAL evolves. To eliminate existing threats, follow the way –
Click the search icon present on the taskbar.
Type in – Virus & threat protection.
Hit – Enter.
From the right-hand side of the appearing page, click – Scan options.
Select the radio button present before Full scan.
Click – Scan now.
When the system finishes scanning, hit – Clean Threat if any threat is found.
After that, click Remove and then Start actions.
Reboot Windows 10.
3] Restore missing system files to resolve PORT_DRIVER_INTERNAL
System elements are mandatory to ensure the smooth functioning of Windows. Due to software conflict or virus attack, oftentimes these components become faulty or the system fails to trace the same. As a result, the OS can't accomplish some of the tasks moreover give rise to error codes. To resolve the corruption concurrently recover the lost system components, go through the below steps –
Press – Windows + R.
In the Run command, insert – cmd.exe.
Press – Ctrl + Shift + Enter.
Allow User Account Control by clicking – Yes.
When elevated Command Prompt shows up, type in – Sfc /scannow.
Hit – Enter.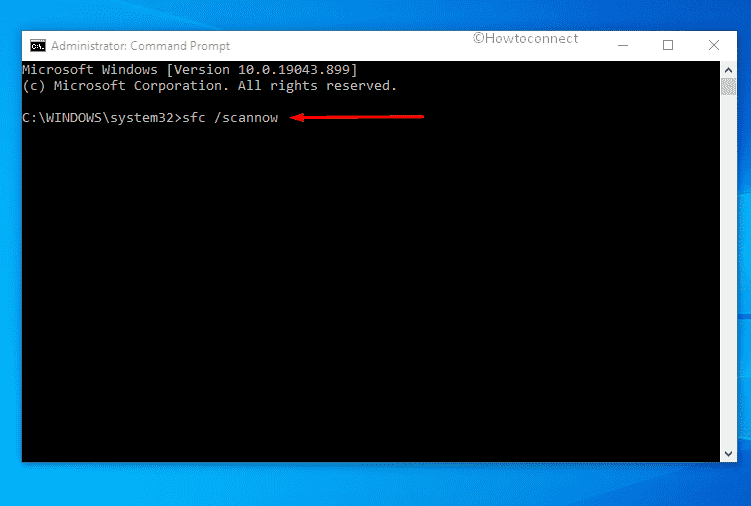 When the utility finishes the scanning process, review the report.
If the associated issue is resolved, close Command Prompt and restart the device.
Or else, execute DISM /Online /Cleanup-Image /RestoreHealth in the same Command Prompt.
Let the scanning process complete.
After that, again run sfc command.
4] Uninstall conflicting software
There are thousands of applications available online that too for free of cost. That's why we often end up installing too many software programs even if they are unnecessary. Though some applications are pretty much needed for day-to-day life, some only occupy hard disk space as you hardly use them.
Unwanted apps not only take up space but also give rise to errors like PORT_DRIVER_INTERNAL. When more than one app tries to perform the same task, they end up conflicting with each other. During the conflict, some of the system elements go missing which is the main cause to generate BSOD. Therefore, uninstall the apps that are more likely to create conflict. Here's how –
Press – Windows + X.
Choose – Apps and Features.
From the right-pane, find the application that is useless.
Select the same and click – Uninstall.
To confirm the deletion process, again hit – Uninstall.
Comply with further instructions if any.
Following the same way, uninstall all applications that have similar congruence.
Once you are done, restart the device.
5] Check for hard disk error to resolve PORT_DRIVER_INTERNAL
Hard disk is the permanent data storage of a device and when you use it for long, it can form bad sectors internally. The disk can also go corrupted due to excessive power surge, malware infection, or forcibly disconnected cable. If the problem arises from software issues, resolving the same is comparatively easier. But physical bad sectors caused by fall off or excess heat demands a full replacement. Before you go to change the hard disk with a new one, let's check if the built-in disk checking utility can solve it –
Press – Windows key.
Type – cmd.exe.
Right-click on Command Prompt and choose – Run as administrator.
In the Command Prompt, insert – chkdsk C: /f /r /x .
Hit – Enter.
Don't interrupt the process in between and wait patiently.
Review the diagnosis report.
If the issue is fixed, reboot the device.
Or else, do what the report suggests.
6] Install latest Windows update
Microsoft keeps releasing updates for Windows 10 and all of them include bug fixes and improvements. Since many people already reported about PORT_DRIVER_INTERNAL, Microsoft may provide fixes for the same too. If so, you just need to install the latest patch and the error will be gone automatically. To check for update manually –
Press – Windows + I.
When the Settings page appears, click – Update & Security.
From the right pane, hit – Check for updates.
If any update is available, click – Download
The installation process usually takes place automatically.
Still, if the system asks then click – Install now.
In the end, hit – Restart now.
7] Test your RAM to fix PORT_DRIVER_INTERNAL
Bad RAM oftentimes found to cause PORT_DRIVER_INTERNAL blue screen error in Windows 10. RAM usually forms bad sectors therein because of overheating or sudden power surges. To find out the condition of this memory stick, run the dedicated diagnostic tool that Windows 10 offers. If the issue is originated from software failure, it will be fixed easily. In case of physical damage, you will have to change the stick with a fresh one. Before taking any advanced step, find out RAM issues by following the below process –
In the text bar, insert – mdsched.exe.
Click – OK.
Select – Restart now and check for problems (Recommended).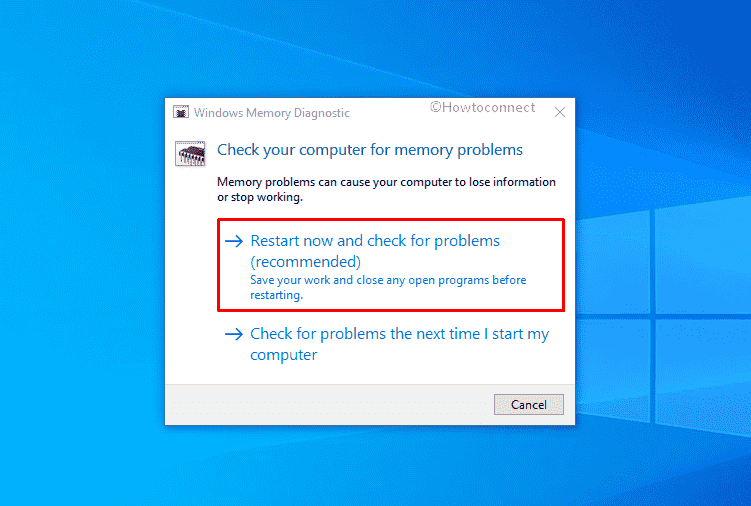 Don't interrupt the process in between and let the Memory diagnostic tool detect memory-related issues.
When Windows 10 PC starts after finishing the process, check the diagnosis report from the notification area.
Go through the report thoroughly and take further steps accordingly.
8] Restore system to an earlier state
After making some changes in the system, sometimes the registry gets tweaked wrongly. For this reason, you may conflict with unexpected error codes like PORT_DRIVER_INTERNAL. To revert the changes you made, go back to an earlier point where Windows 10 was working fine. For that –
Press – Win+S.
Write down – rstrui.
Hit – Enter.
When System Restore wizard turns up, click – Next.
Opt for a restore point available there.
Click – Scan for affected programs.
Select the applications you installed lately.
Go back to System Restore wizard.
Click – Next.
To start restoring process, hit – Finish.
Methods list:
1] Start Windows 10 in Safe Mode
2] Scan full system for malware
3] Restore missing system files
4] Uninstall conflicting software
5] Check for hard disk error
6] Install latest Windows update
7] Test your RAM
8] Restore system to an earlier state

That's all!!!
Helpful tools to research or fix:
Repair any Windows problems such as Blue/Black Screen, DLL, Exe, application, Regisrty error and quickly recover system from issues using
Reimage
.