The problem we are going to discuss here is quite annoying and occurs when you're trying to install a driver. This is error code 0x80070103 that appears after failed installation of Windows update. Moreover, this trouble nags installing device drivers for Intel, HP USB, Realtek, HIDClass, NVIDIA, and other through Windows updates.
Error 80070103 is likely to happen when trying to install a driver that's already installed or a driver that might be less compatible than one you already have installed on your PC. Furthermore, this occurs due to corrupted system files, broken Windows update cache, incorrect settings in Services, and glitches in registry entries. Similar – Fix Windows 11/10 update error 0x800f0988.
Windows 11 update install error 0x80070103
Here is how to fix update error 0x80070103 in Windows 11 or 10 –
Way-1: Show or Hide Windows update
Because the problem occurs when OEM drivers are being installed you can manually choose them whether which driver you will like to install. Use the following tool and select which driver you want to hide –
Click on wushowhide_tool.zip.
Extract the file and open wushowhide.diagcab.
Check – Advanced > Apply repairs automatically.
Click Next.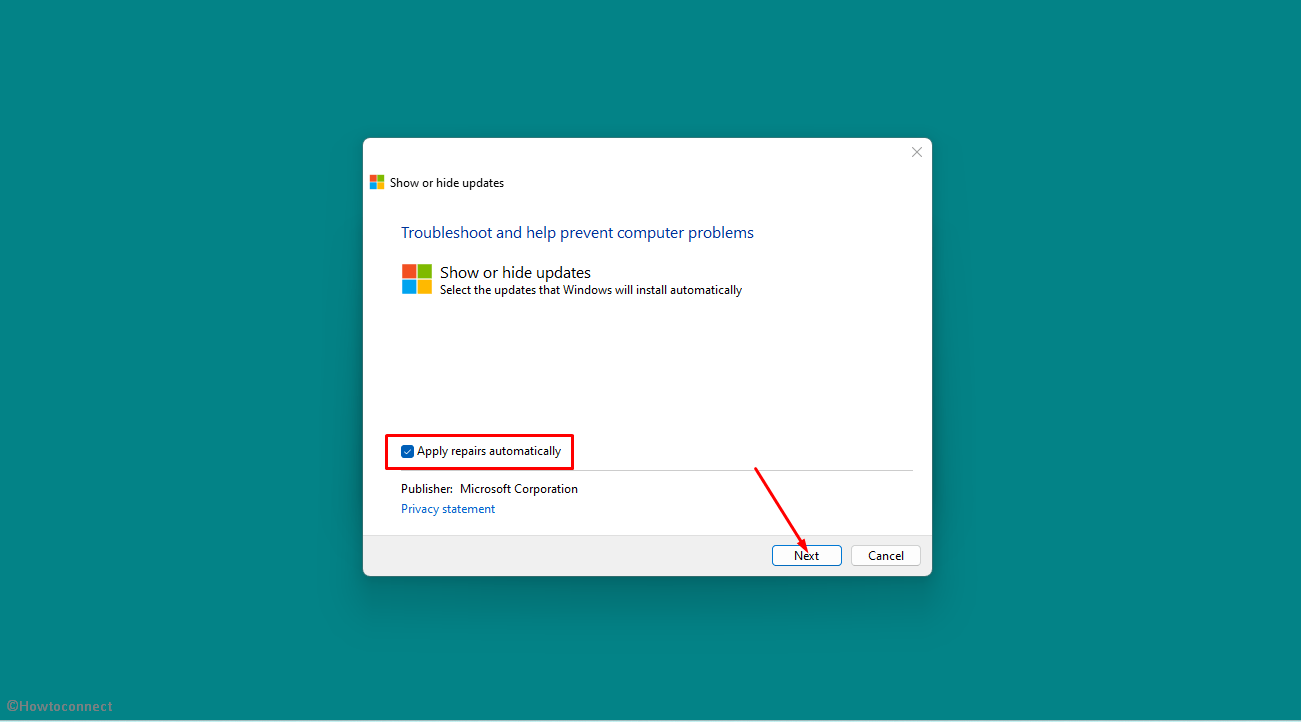 Select – Hide updates.
Check the driver in the list you don't want to install and select "Next".
See – How to Block Windows 10 Update for Specific Drivers.
Way-2: Install the same through Optional updates
The same driver is made available through optional features so you can use this alternative method using the below guide –
Hold down Windows and hit on I.
Select – Apps.
Click on Optional features.
Click on View features.
Type the driver's name in the search box of Add an optional feature.
Check the box for driver.
Click on Next.
Select Install.
Allow the drivers to be installed and reboot the device.
Way-3: Install the same driver from Manufacturer's website or Microsoft update catalog
Two more options are there to install drivers and these are the Manufacturer's website and Microsoft update catalog. Navigate to either of the websites, download the proper setup file and install it.
Way-4: Use Windows Update Troubleshooter
If you encounter any errors like 0x80070103, you may use the built-in Windows Update troubleshooter to resolve them. Windows 11 or 10 frequently receives patches and builds but these have led to a rise in the frequency and severity of error and malfunction.
Windows upgrading is the only way to keep up with the times and take advantage of newly available improvements. When users ran into problems, they often had no idea how to fix them until development of this tool. So, follow the steps separately for Windows 11 and 10:
Windows 11
Press Windows + I.
Select – Troubleshoot.
Then, click Other troubleshooters.
Select Run next to Windows update.
The utility will now begin identifying anomalies.
If the utility provides a solution, click – Apply this solution. Otherwise, follow the tool's instructions.
Close the troubleshooter and restart Windows.
Windows 10
Launch Windows Settings (Windows and I).
Select Update & Security.
Choose Troubleshoot.
Switch to the right side.
Click – Additional troubleshooters.
Select – Windows update after moving to the next page.
Click – Run the troubleshooter.
To finish the procedure, follow the on-screen instructions.
Way-5: Replace Damaged System Files
Some critical files are always at work for Windows, allowing it to function smoothly and complete tasks without a hitch. These files make up the system and are considered essential.
However, these are extremely delicate; they are easily compromised by hostile intruders. When a software conflict or power surge happens, some of these may also disappear.
Reason for displaying error code 0x80070103 when Windows Update is impeded by missing or damaged system files. There's a built-in tool called SFC that can fix these parts and even replace the corrupted files with good ones. The following procedures must be followed in order to initiate the scanning process:
Click on – Start.
Simply type cmd.exe.
Press Ctrl+Shift+Enter.
Click Yes if User Account Control appears.
Enter – SFC /scannow.
Press – Enter.
Wait until the procedure reaches 100% completion.
When the scan is complete, restart Windows.
Retry updating after signing back in.
Way-6: Start Windows Update Service
Windows Update is one of the most important system components since it enables the download and installation of fixes, builds, and versions. This is how Windows is kept up-to-date with new features and protected by security enhancements.
It's unfortunate that Windows Update is frequently plagued by service problems since if the service doesn't function correctly, the downloading process won't begin or will become stuck.
The Windows Update service is enabled by default on the system, although the default settings can be changed by third-party applications or the user. To resolve Windows Update Error 0x80070103 for drivers, verify and Start the Update Service Again, if necessary:
Enter – Windows + R.
Enter services.msc in the Run command.
Click the OK button.
Locate – Windows Update in the resulting window.
Right-click it and select Reboot.
Then, Reboot Windows.
If, the error code still gets displayed in your Windows 11 or 10, then follow the next way.
Way-7: Reset Update Components
Windows Update plays a critical role in the system since it ensures the operating system is always up-to-date and protected by the latest and greatest security measures. Users frequently encounter error codes throughout the upgrading procedure.
Broken system parts are mostly to blame for update error code 0x80070103 Intel, HP USB, Realtek, HIDClass, and it won't be rectified until the problem is fixed. It's a good thing that we can always force Windows Update to pick up where it left off by resetting its individual components.
This will reset Windows Update, MSI Installer, BITS, and Cryptographic services. The system will simultaneously rename two crucial files, SoftwareDistribution and Catroot2. The unique parts of the update are briefly stored in the files throughout the updating process. By following the steps below to reset your computer, you can get rid of Update Error 0x80070103 in Windows 11.
Press Windows + Q.
Type cmd.
Select – Run as administrator.
When prompted by User Account Control, select Yes.
Copy-paste the following lines into the elevated Command Prompt one at a time, pressing Enter

after each –
net stop bit
net stop wuauserv
net stop appidsvc
net stop cryptsvc
Del "%ALLUSERSPROFILE%\Application Data\Microsoft\Network\Downloader\*.*"
rmdir %systemroot%\SoftwareDistribution /S /Q
rmdir %systemroot%\system32\catroot2 /S /Q
regsvr32.exe /s atl.dll
regsvr32.exe /s urlmon.dll
regsvr32.exe /s mshtml.dll
netsh winsock reset
netsh winsock reset proxy
net start bits
net start wuauserv
net start appidsvc
net start cryptsvc
Command Prompt needs to be closed.
Restart your Windows PC.
Way-8: Remove Third-Party Antivirus
Malware can't be ignored since it's continually seeking to breach security. Spyware, worms, rootkits, and trojans may readily breach security without a 24/7 anti-virus. Windows security is a default feature and a strong tool for this purpose.
Users sometimes install third-party antivirus applications for extra security, but they don't help. Instead, Windows 11 and 10 block their files as suspicious, causing drivers update error 0x80070103. Similar Windows apps might cause software conflicts. So, you might want to uninstall third-party antivirus software to fix the problem.
Open Run Dialog (Win+R).
Type – appwiz.cpl.
Click – Accept.
In the window that appears, locate the installed third-party antimalware application.
Once located, right-click the application and select – Uninstall.
Follow the on-screen directions precisely to permanently remove the program.
After deletion, Windows must be restarted for the changes to take effect.
Way-9: Turn-Off Windows Defender Firewall
Windows Defender Firewall monitors incoming internet traffic and prevents dangerous ones for maximum system security.
Sometimes the application can block Windows updates for the drivers and trigger error 0x80070103. To fix the problem, deactivate Windows Firewall and re-enable it after upgrading. Here's how you can do it:
Right-click on Start.
Select Run.
Input  – control firewall.cpl.
Select – OK.
Choose – Turn Windows Defender Firewall on or off.
Select the radio button before "Turn off Windows Defender Firewall (recommended)" for both Public and Private network configurations.
Finally, click the OK button.
Way-10: Modify Registry
Drivers Install Error 0x80070103 in Windows 10 or 11 can also be caused by problems with the Windows Update download path. To fix this, you need to make changes or modify the Windows Registry and may need to delete some keys.
This way, the path will be cleaned up, and when going for an update, no more problems will come up. Changing the Windows Registry is a job for a professional because a mistake can damage the system in a manner that can't be fixed. Before trying, you should make sure you have an adequate backup of everything you need. If you need help, you should ask a professional.
Press Windows and S.
In the search box, type regedit.
Press Enter.
Click Yes if User Account Control appears.
When the Registry Editor interface displays, browse to the following location –
HKEY LOCAL MACHINE\SOFTWARE\Policies\Microsoft\Windows\WindowsUpdate
Delete the WUServer DWORD value.
Similarly, remove the WIStatusServer key.
 Following this, restart Windows.
Let's believe with all the aforementioned ways you must have easily fixed the update error 0x80070103 in your Windows 11 or 10.
Methods:
Way-1: Show or Hide Windows update
Way-2: Install the same through Optional updates
Way-3: Install the same driver from Manufacturer's website or Microsoft update catalog
Way-4: Use Windows Update Troubleshooter
Way-5: Replace Damaged System FilesWay-6: Start Windows Update Service
Way-6: Start Windows Update Service
Way-7: Reset Update Components
Way-8: Remove Third-Party Antivirus
Way-9: Turn-Off Windows Defender Firewall
Way-10: Modify Registry
That's all!
Repair any Windows problems such as Blue/Black Screen, DLL, Exe, application, Regisrty error and quickly recover system from issues using
Reimage
.