Seamlessly working in a smoothly running computer can often turn into a nightmare in a fraction of second as WIN32K_POWER_WATCHDOG_TIMEOUT BSOD error is ruling out all over. The Blue Screen Error has a specific Bug check code of 0x0000019C which clearly indicates Win32k did not turn on the monitor in time it was supposed to do.
The issue has a firm root and that is mostly from an outdated or incompatible device driver. Along with the previous, Memory problems in Windows, junk making Hard Disk full, missing system components play a great role as well.
Methods list

1] Fix Existing Memory issues
2] Rectify Hard Disk bad areas
3] Clear Off Junk files
4] Update Windows 10
5] Use Device Manager and update drivers
6] Rollback drivers to default
7] Disconnect Hardware Accessories temporarily
8] Perform Automatic Repair
9] Kill malware using Windows Security
10] Defend Software conflict by uninstalling similar programs
11] Resolve System core components using sfc/ scanow command
12] Disable Fast Boot
13] Perform System Restore
14] Deploy Online Blue Screen Troubleshooter
15] Go with a single Anti-virus program
16] Use the Safe Boot mode
17] Go for Clean boot
18] Keep BIOS up to date
19] Uninstall faulty Windows update files
20] Rectify Defective Windows image files
WIN32K_POWER_WATCHDOG_TIMEOUT
Here is how to fix WIN32K_POWER_WATCHDOG_TIMEOUT BSOD Error in Windows 10 –
The issue will make the system unstable and unusable being hanging periodically and rebooting without notice. We have some effective fixes to resolve the snag but that might get tangled as of frequent rebooting. So to perfectly deploy the workarounds, let's disable this Automatic Restarting of Windows 10 using given instructions –
First of all, take necessary actions for all the running processes to prevent unexpected data loss. You can preferably save and close them and then proceed with following steps –
Press Win+D at once and invoke the Desktop area immediately.
Here on, make a right-click on This PC and select Properties option.
Once the System window pops out, select 'Advanced system settings' from the left pane.
From the forthcoming System Properties window, enter into the Advanced tab.
Move on to the Settings located under Startup and Recovery section and click on the same.
Hover to the new wizard comes in the display and eventually to System failure area.
Now, unmark the box before Automatically restart option.
Finally, OK button from bottom to proceed ahead.
Once the changes are effective, Windows will not go for Automatic rebooting anymore, hence you can now go for the below workarounds one after another and resolve WIN32K_POWER_WATCHDOG_TIMEOUT Error in Windows 10. Let's see the Method list in the below part –
1] Fix Existing Memory issues
Memory issues are always dangerous as smooth running of the Operating System depends in it. The drawback includes any damage in the RAM stick as well which precisely happens once it falls on the ground accident. In most of such cases, you have to go for a complete replacement, unless you can fix them using some tweak.
To detect memory problems, Windows has a default utility called Memory Diagnostic tool. You can try resolving memory issues using this tool to fix WIN32K_POWER_WATCHDOG_TIMEOUT Error in Windows 10. The Guidelines are as follows –  
Open the Taskbar Search pressing Windows and S keys combined.
Type "memory" in the empty text space followed by hitting the Enter key.
Shifting to the newly opened wizard, select "Restart now and check for problems (recommended)".
The machine will first reboot and when powers up next, you will see a blue screen detecting memory issues.
Once this progress reaches 100 %, Windows will reboot again.
After the desktop loads, you will find the result of diagnosis in the System tray- notification area.
2] Rectify Hard Disk bad areas
Hard Disk is the most important organ of a system you might consider as soul of the device you are using. It should be maintained healthy and obviously in good condition. Unfortunately, it may have bad areas formed inside after using for long time or even due to your negligence to maintain in good health. There are a good number of ways, with those you can keep it in perfect condition but once it has bad areas inside, situation gets worse.
WIN32K_POWER_WATCHDOG_TIMEOUT Error in Windows 10 is an outcome of these bad areas and you can only fix them using Disk Checking tool. The Utility will be active in Elevated Command Prompt if you move through below guidelines –
Press the Windows and type cmd.exe in the open text field.
When Command Prompt is visible in the result, do a right-click on the same.
Select Run as Administrator option from appearing menu.
After the UAC prompts for permission, choose Yes.
When shifted to the dark window, insert following command at the base of blinking cursor –
chkdsk C: /f /r /x
Now, press the Enter key and activate the Disk Checking Tool which would detect all the bad areas in Hard Disk and also make an attempt to bypass them all by itself.
The process may seem lengthy and you have to wait until finish up completely.
After it ends, restart the device and then returning back, see if there is any BSOD error present in the system.
3] Clear Off Junk files
Junk file includes cache, temporary execution files and similar stuff that Windows keep on producing every day. These files are created to serve specific purposes and get useless after a certain time. Yet, they occupy similar space in the disk making the storage low resulting in the slower operation of the device.
In addition, WIN32K_POWER_WATCHDOG_TIMEOUT Blue Screen error might show up as well. To eliminate these drawbacks, Clearing junk files are necessary and you can easily accomplish the task using Disk Cleanup tool. The instruction to avail this tool is as follows –
Press Win+R hotkey together and invoke Run dialog on display.
Type cleanmgr in the provided text area and eventually hit Enter.
A small pop-up will rise up immediately and ask to choose the drive name.
Select C: for this purpose, and also choose OK button.
The tool will now take minutes to calculate total memory space in Drive C: it can recover.
Once a new wizard arrives, come down to its bottom left end to click on Clean up system files.
From the forthcoming wizard, choose C: again and hit Enter key as well.
Up next, there will be new window opening, Disk Cleanup for (C:) appears. Here, check all the options sitting under Files to delete.
Finally, click the OK button and let the tool to initiate cleanup.
Note – Ensure the Downloads option and Recycle Bin unchecked as important files may exist there or you can check them for any important files
4] Update Windows 10 to fix WIN32K_POWER_ WATCHDOG_TIMEOUT
Windows Operating System receives cumulative updates very frequently to maintain it in best possible condition. These files carry latest features and potential fixes for deadly bugs and issues. If you have not installed the updates yet, WIN32K_POWER_WATCHDOG_TIMEOUT Error may show up in the system. As to keep the OS healthy and resolve BSOD error, you must try installing the latest patches moving through the below guidelines –
Note- Since the Updating process is autonomous, you may think this workaround unnecessary and it quite true. Unfortunately, sometimes this automatic process disappoints you as it might entangle in a loop of poor internet connection and gives birth to additional bugs and problems. Therefore, it's preferable to move with manual updating process as guided below –
Open Windows Settings app by pressing "Win+I" keys together.
In the upcoming layout, click on Update & Security and move to the next page.
On the left side panel of this page, choose Windows Update.
Now, jump to corresponding right and hit Check for updates button.
Once the patches are available, hit Download button located there.
After downloading the files, installation starts automatically
Follow the instructions further and complete the task.
5] Use Device Manager and update drivers
Drivers maintain relationship of the specific Hardware and the Computer Bus as well as provide software interference. They play a very important role in the device and when to engage with any of the drawbacks, it can be much dangerous then you can even think of. Most of these issues inherited with an outdated driver which may happen when you do not maintain them in good condition. The negligence will definitely lead the device to have WIN32K_POWER_WATCHDOG_TIMEOUT Blue Screen error.
Microsoft made their updating process autonomous; hence you don't need to work on it. Still, snags are coming as they often get stuck in the unexpected loop and create complicated issues. To avoid all these happenings, step up to update them manually using inbuilt Device Manager as shown in below guidelines –
Invoke Run dialog using "Win+R" keys
When the wizard arrives, type devmgmt.msc in the empty text area.
Select Ok button located beneath the box.
When Device Manager is upfront, expand the device having a mark of exclamation.
Now, perform a right-click on driver having Yellow sign only.
Once the menu shows up, select Update driver to begin the process.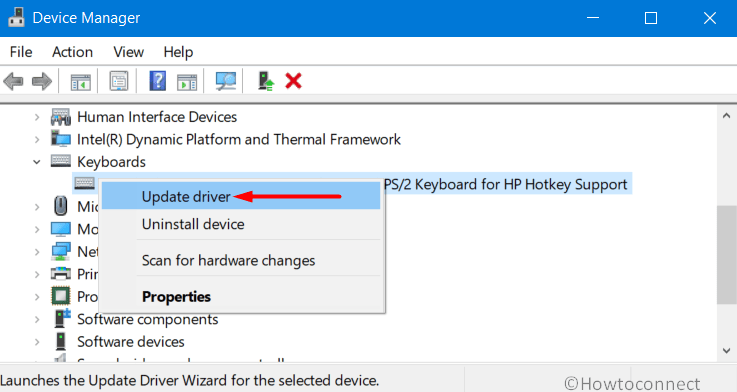 6] Rollback dreadful drivers
As we have discussed before about making driver updating automatic by Microsoft, you can clearly understand these items will get their latest version frequently. That's quite an amazing step by Tech giants, but automatic processes are not always as helpful as we think. When connected to the internet, some of the buggy drivers may come in without bothering your permission whereas some incomplete downloads may also get installed.
This happens usually when the internet connection gets disturbed and you fall in big trouble such as WIN32K_POWER_WATCHDOG_TIMEOUT BSOD error in Windows 10. If such things happen quite regularly, you have to disable the dreadful driver or rollback that to default state using the below guidelines –
Open the Device Manager once more following the same instruction to the above resolution.
Have a closer look on Device Manager console and locate the device whose driver you want to disable or rollback.
Once reached to the desired one, double-click on the same to unveil the driver list.
Do a Right-click on the driver that was modified earlier, and then choose Properties.
On the upcoming window, shift to its Driver tab and click either Disable or Roll Back Driver.
7] Disconnect Hardware Accessories temporarily
Recently a lot of forums evident that, some people are becoming prey to Blue Screen error like WIN32K_POWER_WATCHDOG_TIMEOUT after using a Hardware item. They have mentioned a few names of accessories like a wired or USB mouse, keyboard, printer or a speaker. If you look closely, you may have already understood how important these hardware items in our day to day life. Getting sang when using them is truly unexpected and hard to keep working once things get out of your imagination. Well, the issue has got a simple fix as well.
When you will disconnect them, the issue takes leave and few users brought this news to daylight. You can too perform the same i.e. disconnect these accessories for some time and restart Windows 10 later on. If the issue doesn't appear in the further Startup, connect them to use for daily working on computer.
8] Perform Automatic Repair to Windows 10
Automatic Repair is an inbuilt Windows utility that runs eventually when a potential bug is detected and it is activated at the third boot. A good number of tests are carried out in the process to troubleshoot smoothly. Some of the diagnoses might be useless as well and consume lots of valuable time. The workaround being so helpful, you can perform it by your own moving according to below instructions –
Launch Windows Settings app hitting gear icon from Start menu.
Select the Update & Security tile from app UI and proceed to the next page.
Here on, choose Recovery option on left pane and shift to the adjacent right side.
Click Restart now button located under 'Advanced startup'.
When the Windows finishes rebooting, select Troubleshoot =>Advanced options => Startup Repair
In the following Automatic Repair page, provide your Microsoft account credentials
Lastly, choose Continue button to start the repairing process.
9] Kill malware using Windows Security
Security on the internet is becoming a laughing stock day by day as malware is carrying powerful codes to sneak any defense strategy. Viruses are actually programs who can replicate themselves into other files and make the system elements corrupted. They get spread easily moving through spam emails or USB and when they get into the system, it deteriorates core components necessary for Windows. This will lead the system to get affected with WIN32K_POWER_WATCHDOG_TIMEOUT Blue Screen error.
To provide maximum security, Microsoft released the latest OS equipped with Windows Security which has a robust infrastructure. The utility can effectively scan and fix malware both Online and Offline. Eventually, you can get rid of BSOD issues as well as keep you invincible from these deadly bugs. The ways to deploy this tool is as follows –
Hit the Windows key and write "security" in the blank text area.
Select Windows Security app from the appearing result to launch the same.
When in the visible app area, Select Virus & threat protection from left pane.
Jump to adjacent right side and click Scan options link.
When all methods being available, hit the radio button before Full scan.
Choose Scan now option and let the process begin.
If the method finds any of the malware, hit Clean threats option.
On the following window, select Remove first and followed by clicking Start actions.
All threats will be dismissed once the process ends normally.
10] Defend Software conflict by uninstalling similar programs
Software programs provide aids to the day to day tasks and help to execute works in a very easy mean. We the people also very much eager to get the job done easily by application and install them at a very good number. Sometimes, similar applications too which eventually possess same core components. When such dual apps run in the same system, they might engage in conflict and resulting in system losing necessary files. The act misleads to a WIN32K_POWER_WATCHDOG_TIMEOUT Blue Screen of Death Error.
As to prevent the issue and software collision, you have to uninstall similar programs as mentioned in the below instructions –
Open the Run dialog and type "appwiz.cpl" in the blank text field.
Hit the Enter key and immediately Programs and Features window will hit on display.
Reach out to the desired program you opt to remove and also select Uninstall option located at the top ribbon.
If UAC asks for permission, select Yes to proceed.
Follow the guidelines on screen until the task finishes completely.
Later on, restart the device and upon returning to desktop, check if WIN32K_POWER_ WATCHDOG_TIMEOUT BSOD error is dismissed.
11] Resolve System core components using sfc/ scanow command
Due to malware infection or after a software conflict, the Windows system files get affected in a very nasty way. These dreadful files then lead to having Blue Screen error with abnormal bug check code 0x0000019C. To make these files up and running again, you have to rectify them as soon as possible. This is the place where you need the System File Checker tool that is powered up in the Elevated Command Prompt. The guidelines to avail the tool is as follows –
Open the Taskbar Search and type cmd.exe in the typing area.
When Command Prompt appears, do right click on the same and also select Run as Administrator option from menu.
When UAC prompts for permission, give consent by clicking on Yes.
After moving to the black window, enter the following command
sfc /scannow
Execute the utility by pressing Enter key.
The tool will, therefore, detect and fix all corrupted Windows resources and DLL files automatically.
Once it completes, perform a restart to Windows to save all the changes.
12] Disable Fast Boot to fix WIN32K_POWER_WATCHDOG_TIMEOUT Error in Windows 10
A joint feature of the usual shut down process and hibernate makes all together with the Fast Boot on a computer. This process usually performs a startup without hampering a single file in the system. Hence, even if you restart the machine after troubleshooting, WIN32K_POWER_WATCHDOG_TIMEOUT Error will be carried over and you will not get the utmost result.
Therefore, to fix the Blue Screen error, you must disable this Fast Boot proceeding through the below guidelines –
Right-click on the battery icon located at the rightmost corner of the Desktop.
Now, from the visible menu, choose Power Options.
Moving to the consequent page, "Choose what the power buttons does" link from left column.
When shifted to the following page, perform click Change settings that are currently unavailable to unveil the hidden options.
Roll down below and uncheck the box set for Turn on fast startup (recommended).
Lastly, hit the Save Changes button from the bottom.
13] Perform System Restore and head back to the previous point
An affected system usually has a defectively modified registry which happens when you install a new program or remove an existing one. When WIN32K_POWER_WATCHDOG_TIMEOUT BSOD error occurs due to such changes, you can easily head back to the previous State performing System Restore only. The instructions to perform the task is as following –
Open the Run dialog pressing Windows key and R at once.
Enter text 'rstrui' in blank typing area.
Hit Enter key and the command will put forward System Restore immediately.
From the upcoming wizard, select Show more restore points.
Choose the latest one and hit Next option in the process.
Once the succeeding page is displayed, choose Finish to start restoring process.
14] Deploy Blue Screen Troubleshooter
Blue Screen Error has suddenly gone past all previous records in terms of creating havoc and it has created trembling in the user's mind. As to regain trust as well as to save the Operating System, Microsoft introduced Blue Screen Troubleshooter with Windows 10 Fall Creators Update edition.
In the past, the inbuilt utility was available in the Windows Settings app which recently shifted to Control panel coming to the latest version. You can deploy this utility to recover a device affected with WIN32K_POWER_ WATCHDOG_TIMEOUT BSOD moving with below instructions –
Press Widows+Q to activate the Taskbar search in Desktop.
Now, write down bluescreen in the empty text bar.
Choose Find and fix bluescreen problems option from appearing results.
Further, the Troubleshooting wizard will be active.
After the utility detects a BSOD issue, it will automatically suggest the steps on the screen.
Follow those guidelines and fix WIN32K_POWER_WATCHDOG_TIMEOUT BSOD error eventually.
15] Go with a single Anti-virus program
Anti-virus programs provide sufficient shields to the machine to block the Malwares sneaking defense. There is a lot in the market and most of them have a good reputation as well as they are free. You can take up and continue with that obviously, but Windows 10 offers you Windows Security which is by far the best anti-virus program.
Whatever may be the application, you must not have both as they may cause a software collision and lead to WIN32K_POWER_WATCHDOG_TIMEOUT Blue Screen error. Therefore, if you have both, uninstall any using below-mentioned guidelines –
Call in Windows Settings app pressing Win+I keys.
Select Apps from this layout and shift to the consequent page.
Select Apps & Features from the left side pane and eventually jump to the right.
Once the list of installed apps is available, hover to the Third-party antivirus tool.
Click on the app and choose Uninstall from the expanded pane.
If UAC asks your intention, choose Yes to continue.
Follow the on-screen guidelines to uninstall it completely.
16] Use Safe Boot mode to resolve WIN32K_POWER_WATCHDOG_TIMEOUT Blue screen error
Windows Operating System usually gets affected by Bugs and this is truly nothing new. Right from the introduction, same thing happened and resolved as well with the application of resolutions. One of the workarounds came up every time a critical drawback comes in the light, booting the OS in the Safe Mode.
This is a special type of Startup method where Windows powers up with basic programs and settings. You can deploy this resolution as to fix WIN32K_POWER_WATCHDOG_TIMEOUT BSOD error. In case the issue becomes persistent again, you can at least be sure that, no default programs or settings s responsible for the snag and deploy further resolutions accordingly. Here is how you can Boot the OS in Safe Mode –
First thing first, save and close all running programs and make your way to desktop area pressing Win+D keys at once.
Now, Press Alt+f4 together and click on Restart using the drop-down list located beneath What do you want the computer to do?
After the OS completes the first cycle of reboot, you see a blue screen holding few options, Choose Troubleshoot.
From there select Advanced options consequently Startup Settings.
Up next, press the Windows key and click on Power icon available.
Choose Restart and let Windows 10 reboot for second time.
On the further Startup, you will have options to Boot in Safe Mode in the startup menu.
17] Go for Clean booting Windows 10
In the Clean boot mode, Operating System launches the basic applications only and try detecting vulnerabilities accurately. The mode also improves the overall performance of the device as well as reduces the plausible software conflict risks.
Deploying this workaround might be helpful to fix Blue Screen error with bug check code 0x0000019C. Let's try this workaround using below guidelines –
Press Windows key and hover to Windows Administrative Tools from the appearing list.
Make a double-click on the same to expand it.
From the stretched-out list, reach to System Configuration and execute a right-click on it.
Select Open and then choose the radio button before Selective startup.
Proceeding ahead, uncheck the box against Load startup items.
Next up is to transfer the self to Services tab and put a tick mark to the box against Hide all Microsoft services.
Select the Disable all button from same wizard.
Moving ahead, reach to Startup tab and click the labeled link Open Task Manager.
When the Task Manager pops out, perform a right-click on each program listed in this console one after another and chooses Disable for all.
Lastly, Go back to System Configuration wizard and click on Apply button first followed by OK.
18] Keep the BIOS up to date always
BIOS comes in the Operating System preinstalled and this one runs first when you start the machine for the first time. This is basically a Firmware that performs Hardware initiation at the time the device starts booting. It plays an important role like offering Runtime services for Windows and other installed programs.
Outdated BIOS can be root to a lot of drawbacks including Blue Screen error with bug check code 0x0000019C. To prevent such happenings, updating this will be helpful proceeding with below guidelines –
Press the Win+X hotkeys to launch the Power user menu.
Choose Run from there and invoke the dialog.
Type msinfo32 in the text box eventually hit Enter key.
Once the System Information page comes in, type BIOS version in its search bar.
Hitting on the Find button will show up some information here.
Keep them noted and then close the window.
Now, open a web browser and visit the manufacturer's website for your BIOS using the info you get a few moments ago.
Finally, download compatible files for your system and install them as well.
19] Uninstall faulty Windows update files
As the Windows Update process is Autonomous, in the presence of a valid internet connection, update files will get installed anytime. Unless the process falls in any unexpected loop, this will be helpful to the Operating System as keeping OS up to date is a basic need.
Whenever the process abnormally terminates, few incomplete files will be installed and the dreadful condition will lead to WIN32K_POWER_WATCHDOG_TIMEOUT BSOD error. In that case, you have to uninstall update files moving through below instructions –
Open the Settings app and head to Update & Security region.
Select it to load the additional settings page.
On the consequent page, select Windows Update from left pane.
Jump to corresponding right and hit click on link saying View update history once you come across.
A new window will open up and from there click on Uninstall updates link available here.
By default you will be redirected to "Installed Updates".
Move out for latest received patch in the appearing list and do a right click on the same.
Hit the Uninstall option showing in top ribbon and keep following on-screen guidelines until these are deleted completely.
20] Rectify the Defective Windows image files
Windows Image files are the components of ISO who are released before any Windows Major update. Once these files get corrupted, Blue Screen error will show up in the system which is very hard to fix.
Well, you can step up to rectify those problematic files first in case having WIN32K_POWER_WATCHDOG_TIMEOUT error using DISM tool. The default utility will activate only in the elevated Command Prompt when you proceed with below guidelines –
In the Dark window appearing, type the following command –
DISM.exe /Online /Cleanup-image /Restorehealth
Press Enter hey and immediately Deployment Image Servicing and Management (DISM) tool will arrive.
This utility will rectify all the dreadful windows image files accordingly. The process may be a lengthy one.
On completion of the process, restart the device and when signing back in, perform an inspection for BSOD error.
That's all!!!