Do you need to fix wuapihost.exe in Windows 10? If you are getting any error with this executable file then, first of all, be assured that is a genuine file developed by Microsoft rather than a malware or virus. In this article, we will explore wuapihost.exe and way to solve the issues if any occurs because of this .exe.
Let's start with the full form of wuapihost.exe which is Windows Update API Host. Having an extension .exe means this is an executable file and being digitally signed by Microsoft means this is linked with Windows 10. It has been available since 29-07-2015 and the latest version number of this file is 10.0.18290.1000.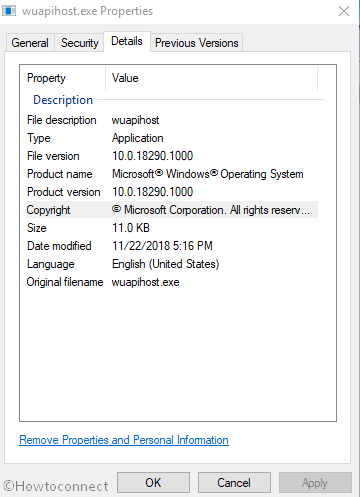 wuapihost.exe in Windows 10 Solutions
Here is how to fix wuapihost.exe in Windows 10 –
Before following the solutions let's see what are the errors that occur due to this .exe.
What are the general wuapihost.exe errors?
You might get a single or more than one wuapihost.exe error(s) on Windows 10. Some common are –
1) wuapihost.exe – exe is not a valid Win32 application.
2) Error starting program: wuapihost.exe.
3) exe Application Error.
4) exe has encountered a problem and needs to close. We are sorry for the inconvenience.
5) Faulting Application Path: wuapihost.exe.
6) Cannot find wuapihost.exe.
7) wuapihost.exe failed.
8) wuapihost.exe not found.
9) wuapihost.exe is not running.
Why wuapihost.exe in Windows 10 errors occur?
There are only two reasons behind these errors. Firstly, when it fails to work in sync with other files/programs on your computer and secondly when the genuine Windows 10 file is replaced by some malware. A brief description of both the reasons will help you understand better –
Fails to Sync: In Windows 10, many background processes and programs are always active and most of them run in synchronization with each other. The problem occurs when a particular program fails to work with another and sends errors on your screen. When a wuapihost.exe error occurs on your screen, this can be the case.
Malware: Some virus programmers, with the intention to harm you, create malware and give them the name of important system files. Such threats either damages vital files on your computer or steals crucial information from your PC. So, you should also make sure that the wuapihost.exe file in Windows 10 is not a malware.
How to fix wuapihost.exe in Windows 10?
There are total 5 solutions to fix this error but before that, you need to check whether the wuapihost.exe file in your system is a malware or a genuine Microsoft file. In order to check its originality, you can follow these steps –
Step-1: Visit the official website of Microsoft and download Sigcheck v2.60. When the download completes, extract it on your desktop and execute it. Copy all the files from the Sighcheck and paste to the desktop.
Step-2: Now, open the Search Bar by pressing "Win + Q" on your keyboard. Then type cmd.exe in it.
From the list of results, select Run as administrator by right-clicking.
In the Command Prompt window, enter the following command one after another –
cd\
cd Users\*USERNAME*\Desktop
sigcheck.exe
As you type the command and press Enter on your keyboard, a complete preview including all the functions of a signature viewer will appear. In the end, enter Y to verify that the agreement is read and accepted.
Now, enter the below mentioned command in the same window. This will display all the details of wuapihost.exe.
sigcheck -v c:\windows\system32\wuapihost.exe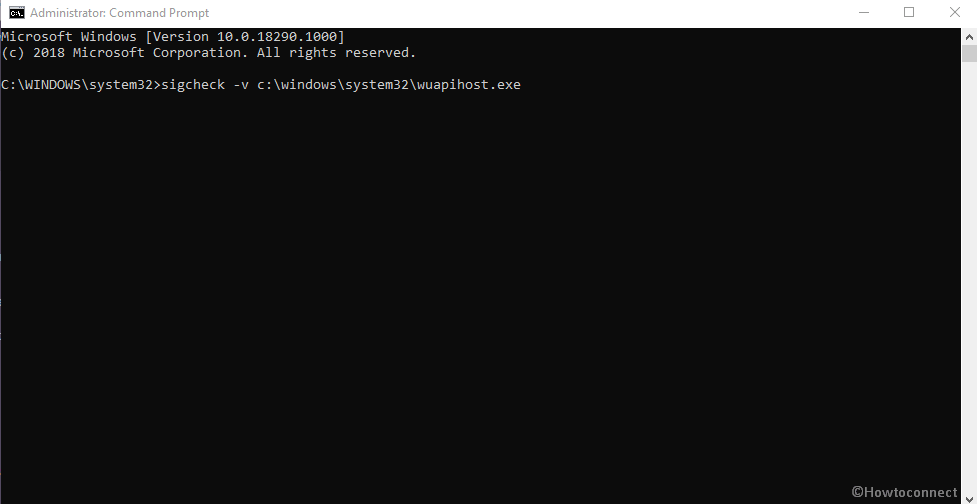 If the file is signed digitally by Microsoft, it is safe and you don't need to worry but to get rid of wuapihost.exe in Windows 10 error, you should try the following solutions one by one.
Run Anti-virus
It is the simplest solution. Just run the anti-virus program present in your system and scan it for viruses and malware. If wuapihost.exe is a virus, it will appear in the result list. Quarantine it and get rid of this malware.
Perform System Restore
To fix wuapihost.exe in Windows 10 you can restore the OS to a point or the backup system image prior to the error. You can follow these steps:
Click on Start Button on your desktop.
In the Search Box, write System Restore and hit Enter.
When the result list will appear, find 'System Restore' and click on it.
On the System properties wizard, select 'System Restore…'
Now, choose a relevant restore point by clicking Next 2 times on following the prompts.
Restore your PC to that point.
Use System File Checker (SFC)
If wuapihost.exe in Windows 10 is corrupt, running SFC (System File Checker) will help you. The tool will not only scan but also and restore the original files from the cache. You should follow these steps –
Press Windows + S keys and let the Search menu appear.
Write cmd in it but DON'T HIT ENTER.
Now, press Ctrl + Shift + Enter on the keyboard.
A permission dialog box will appear, click on Yes.
A blinking cursor on a black screen will emerge. Write sfc /scannow and press Enter.
All the system files along with wuapihost.exe get scanned for any errors.
Note that this is a time-consuming process. so, be patient and restart Windows 10 to end the process.
Update your Windows 10
In some cases, the wuapihost.exe in Windows 10 error occurs when the Windows 10 is outdated. So, the best solution is to update the Operating System.
Press Windows logo key and I simultaneously and select Update & Security after the settings app comes into the view.
On the following page click on Check for Updates.
Replace wuapihost.exe in Windows 10
If the above solutions fail, find a genuine source providing the downloadable wuapihost.exe file, download it and replace with the corrupted one present in your system. If you don't know in which directory to paste it, don't worry it is here –
C:\Windows\System32\
When you will restart Windows 10, you will find that the error no longer occurs.
If all the above solutions are unable to fix wuapihost.exe in Windows 10 error, then you should reinstall Windows 10. However, remember that reinstallation of the Operating System wipes out all the files on that particular drive where it exists. So, backup all your important files and folders.
That's all!!!
1) How to Disable and Fix w3wp.exe in Windows 10
2) How to Disable and Fix W32tm.exe in Windows 10
3) How to Disable and Fix AppResolverUX.exe in Windows 10
4) How to Disable and Fix AppInstaller.exe in Windows 10
5) How to Disable and Fix WUDFHost.exe in Windows 10
Repair any Windows problems such as Blue/Black Screen, DLL, Exe, application, Regisrty error and quickly recover system from issues using
Reimage
.