No one likes to be interrupted while enjoying and playing their favorite games, especially when it's Fortnite, isn't it? But Fortnite Blue Screen error such as Critical_Process_Died or IRQL_Not_Less_Or_Equal is a common issue for users that can occur with system crash. Furthermore, Fortnite keeps crashing and randomly closing on PC preventing users from playing the game. The problem is likely to happen on PC, Xbox, Epic Game Launcher, or PS4.
This error can abruptly interrupt your gaming experience and lead to system crashes. So, in this blog, we will explore the various reasons behind this infuriating problem and provide practical solutions to help you resolve it, allowing you to enjoy uninterrupted gaming sessions once again. This concerned issue in Fortnite may be caused by several factors such as outdated or incompatible drivers, overclocked hardware, corrupted game files, or incompatible software. See: Fix Error Code LS-0016 Fortnite Launch Failed in Windows 10 or 11.
Fortnite Blue Screen Error
Here is how to fix Fortnite Blue Screen Error in Windows 11 or 10 –
Restore the System
Trying a system restore is one of the quickest fixes to solve this Fortnite Blue Screen error, as it allows you to bring back Windows 11 or 10 to an earlier point in time. To perform it, you can follow these steps:
Click on Search.
Type rstrui.exe.
Press Enter.
On the System Restore utility and select Choose a different restore point.
Select a restore point (time and date) when the blue screen error did not appear.
Click Next.
Reanalyze your selections and click Finish.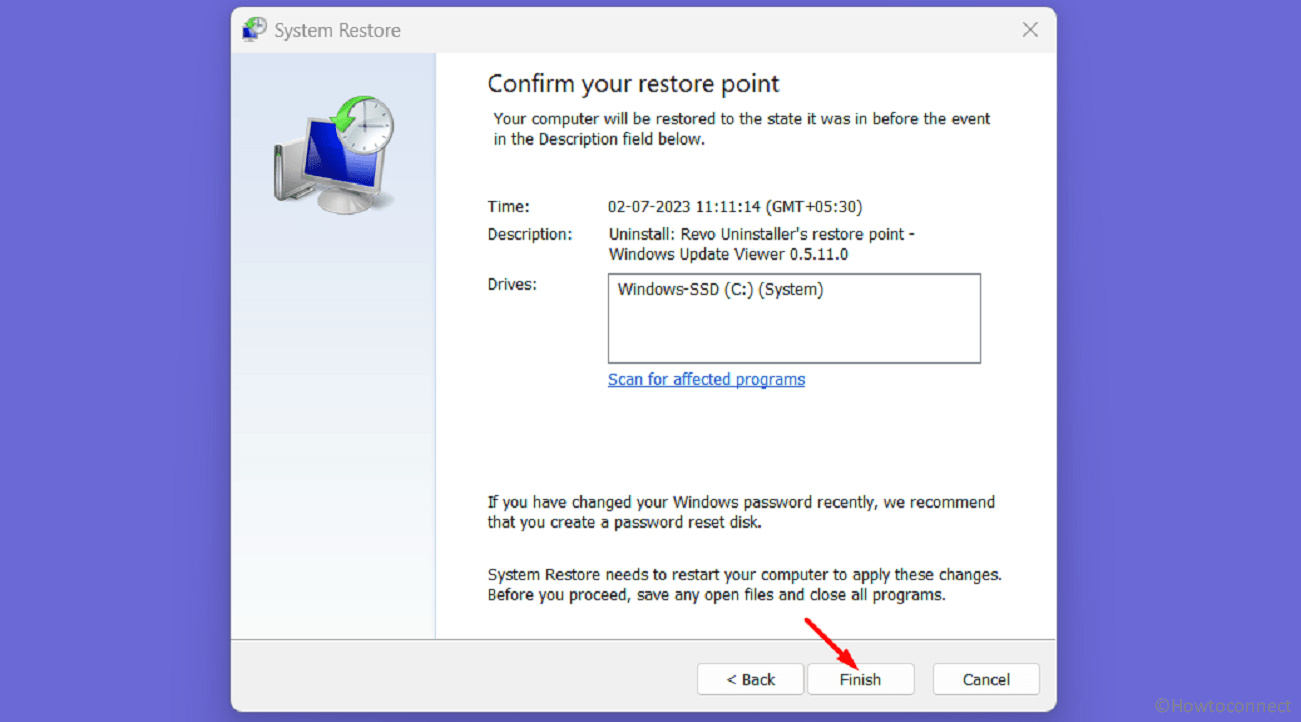 Click Yes when prompted with a warning popup.
Wait patiently as the process will take longer to complete.
Turn off Turbo Boost in BIOS
Moving on to the next solution, you should turn off or disable the Intel Turbo Boost Technology in the BIOS for an unhindered Fortnite experience. As this technology allows Intel CPUs to raise their clock rates dynamically for improved performance leading to instability and compatibility issues, leading to system crashes, and blue screen errors.
Shut down the computer and turn it on.
Press Esc during powering on your PC to access BIOS (or follow the manufacturer's guidelines for function keys).
Enter BIOS/Platform Configuration (RBSU).
Select Performance Options.
Disable Intel Turbo Boost Technology in BIOS.
Use ThrottleStop software if "BIOS" lacks this option.
Save and Exit the BIOS.
Uninstall the Game and Game Launcher and install them again
The Fortnite Blue Screen Error may be resolved by removing and reinstalling the entire game. When you uninstall the game and again install it can fix any issues with corrupted or missing game files. Here's how to remove the game from your Windows 11 or 10 and reinstall it properly:
Click on Start and type appwiz.cpl.
Press Enter.
Find Fortnite from the Control panel Programs & Features window.
Click on Uninstall and follow the onscreen instructions.
Restart your PC after removing.
Download the latest version of Fortnite from the official website or Epic Games Launcher.
Install the app following the steps.
Launch the game and check for Blue Screen Error.
Repair the Fortnite Blue Screen Error with SFC and DISM
Unable to solve the error yet? It's time to concentrate on the command lines applications such as SFC (System File Checker) and DISM (Deployment Image Servicing and Management) that will potentially resolve the aforementioned issue. These Windows built-in tools can scan and fix system files and components, including those that may be causing Fortnite problems. Here's how you can put them to use:
Click on Search. 
Type cmd.exe.
Select – Run as administrator.
Click Yes on the User Account Control dialog box.
Type SFC /SCANNOW in Command Prompt and press Enter.
Reboot the PC after the process completes.
If the BSOD persists, run the following commands in Command Prompt sequentially.
dism /online /cleanup-image /checkhealth
dism /online /cleanup-image /scanhealth
dism /online /cleanup-image /restorehealth
Restart your PC after executing the commands.
Use Memory Diagnostic Tool
Can't tolerate the disturbing Fortnite Blue Screen Error anymore? Why not, try using the Windows Memory Diagnostic program? As this issue sometimes might have to do with the computer's memory, by running this tool, you can check for any errors or malfunctions in your computer's RAM modules.
Press Windows and R keys.
Type mdsched.exe.
Press Enter to open the Windows Memory Diagnostic tool.
Click Restart Now and check for problems (Recommended).
The Tool reboots and repairs memory issues if found.
Uninstall and Reinstall Network Driver
Another viable option to fix this BSOD error can be uninstalling the network driver. Certain users over online forums have claimed that this issue also occurs due to internet connectivity.
Download the latest Qualcomm Atheros driver from the manufacturer's website.
Open Device Manager by right-clicking the Start button.
Expand Network adapters.
Right-click on the Qualcomm Atheros driver and select Uninstall device.
Check Attempt to remove the driver for this device on the warning pop-up.
Click Uninstall.
Reboot and install the downloaded driver.
Check if the issue persists.
Try Clean Install
Well, if the above 6 ways are proved ineffective, you should now turn to execute a clean install as it can potentially solve the Fortnite Blue Screen Error. A clean install entails fully deleting the Windows installation and reinstalling everything from scratch. This procedure guarantees that any damaged files or conflicts that are causing the BSOD are removed.
This immensely popular battle royale game has captivated millions of players worldwide with its fast-paced action and engaging gameplay but its recent encounter with unforeseen errors and technical glitches in the form of "Fortnite Blue Screen Error" has made everyone frustrated. We hope, with these 7 ways you must be able to fix the Fortnite Blue Screen Error on your Windows 11 or 10.
Methods:
Restore the System
Turn off Turbo Boost in BIOS
Uninstall the Game and Game Launcher and install them again
Repair the Fortnite Blue Screen Error with SFC and DISM
Use Memory Diagnostic Tool
Uninstall and Reinstall Network Driver
Try Clean Install
That's all!!
Utility tools to solve this BSOD:
Repair any Windows problems such as Blue/Black Screen, DLL, Exe, application, Regisrty error and quickly recover system from issues using
Reimage
.