The Samsung Galaxy center has launched the latest smartphone Galaxy Mega 5.8 of series GT-19152. A lot of advanced features like WiFi, Bluetooth, Multi Window, Face Unlock, Pattern Unlock and so on are found in this Device. To enjoy any feature needs activation and operation. However we have written many tips for activation of different features in different Galaxy phones and tabs, but for Galaxy mega, we are presenting few tips to get the way of activation stepwise which will lead you to use your phone with quite easiness and simplicity.
How to Activate Lock and Unlock Feature in Galaxy Mega 5.8
You should lock your device anyhow to protect from undesired users who may harm. You can lock your Galaxy Mega automatically. Firstly, You should press Power button or Home button  to turn off the screen and put it into lock mode. After then your device will automatically get locked if it is left for a few moments. Again to unlock the device, press Power button or Home button while the touch screen is turned off. Then tap on the screen anywhere and swipe your finger on it to unlock.
How to Set up Security in Galaxy Mega 5.8
Besides Locking and Unlocking, android phones are getting new security tools. You can save your data or personal information stored in the Galaxy Mega from the unwanted users. Some important types of security preferences are mentioned below. You can set any one of them by following few steps.
Setting a Face Unlock – Hit Settings at the home screen of Galaxy Mega and choose My device. Here, hit on Lock screen and then Screen lock where you will get the option like Face unlock. Now fit your face in the frame to be captured.
Setting Pattern – Hit Settings on the home screen of the device to select My device. In that option, press on Lock screen and then Screen lock where you will get the Pattern option. Now draw a pattern by connecting four or more dots. Once again you have to draw the same pattern to get confirmation.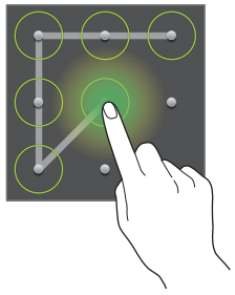 You can also set a PIN or Password to lock your Galaxy Mega in the same way. If you have forgotten your setting password then do not put wrong password, but go to the Samsung Service Center to reset it.
How to Activate Multi Window in Galaxy Mega 5.8
Multi Window is an advanced feature of Galaxy Mega. It provides you to run two applications on your phone at the same time. If you want to run multimedia files like music and videos both at the same time you are able to do this by using only Multi Window. This feature is not dependent on the region or service provider. To activate Multi Window, you can follow here few steps written below.
1. On the Home Screen of your device, hit on the Settings to choose My device.
2. In the My device option, select Display and then hit on Multi Window.
3. You can see Multi Window panel at the left part of the screen. Select one application to launch it and drag another one to a new application. To hide the panel, hit and hold on return icon and enjoy this feature.
How to Activate WiFi in Galaxy Mega 5.8
WiFi is a wireless networking which is often used to connect the devices like mobiles and PC by providing Internet connection for sharing desired files or media files. But it is available for only indoors not for outdoors it means it is used for the limited area.  You should turn off this feature if it is not used to save your battery power. To activate this feature, follow few steps.
1. Start with hitting on the Settings from the application icons on the Home Screen to single out Connections.
2. Turn on the WiFi network in the WiFi options.
3. To activate WiFi network, choose a network from the identified list. Then enter a password if it is needed and press on Connect. Write password when the networks appear in with lock icon. Now Galaxy Mega will automatically connect to the WiFi network.
4. To share WiFi network, press Add WiFi network residing in the lowermost area of the list.
5. Enter the network name in Network SSID to the security type.
6. Then after, write the password and if it is not connected and press on Connect.
7. In case of losing credential (password) hit on Forget.
How to Activate Bluetooth in Galaxy Mega 5.8
For network sharing Bluetooth is a vital tool in a phone so in the Galaxy Mega. It provides wireless connection between two devices for the limited area.
1. Begin with hitting on the Settings option from the application menu on the home screen.
2. Then go to Connections.
3. Now choose the Bluetooth option and press it. After then you have to create pairing Galaxy mega to another device to share your notifications.
Pairing Galaxy Mega to another device:
1. Press the Settings on the application screen.
2. Go to the option of Connections.
3. From that option, choose Bluetooth and hit on Scan. Then your Galaxy Mega will take very few moments to detect the other devices. After then enter the Password to pair another device. Now you can transfer the files as you want.
How to Connect with Samsung Kies in Galaxy Mega 5.8
Samsung Kies is an application which is often used to manage media libraries, contacts, and calendars, and sync them with other Samsung devices.
1. Connect Galaxy Mega to the PC using USB cable. After then it will be prompted automatically in your computer. Otherwise, you can also launch it by double clicking on the Samsung Kies icon in your computer.
2. Now transfer files between computer and your device. To get more details you should choose help option in Samsung Kies.