If you need to get Get Latest Details of All Formats of Cricket then Cricbuzz is a very nice app which connects you to the cricketing world. This is an android app for free. All you need is to have an internet connection. That's it. Just open this app and start browsing for different games being played nationwide, outside etc. This app basically is a complete package for all those who love Cricket and want to keep themselves attached to this world even having a tight schedule of their own. The Cricbuzz app avails ball by ball cricket being played around the world.
Cricbuzz welcomes you all to the world of cricket. Just go to your respective App Store and install this app onto your device to provide you Get Latest Details of All Formats of Cricket.
Get Latest Details of All Formats of Cricket using Cricbuzz
Once you have installed this app on your device, open this app by tapping on its icon present on the home screen. This will open up a window which is shown in the first slide of below shown screenshot. This is the Home Screen of this app. Here, you can see all news related to cricket just on its interface. At the top of this app, you can see the latest game between different nations which is currently going on. All you have to do is to just slide next, and it will continue to give you a glimpse of the current matches being played between different nations.
You may like to read:
Be updated with Sports News using Sports Republic On Android
At the right topmost corner, you can see a three dotted structure. Click on this to open a box consisting of settings, Feedback, FAQ etc. You could also share this app among your friends on Whatsapp, FB, Wechat etc using Share the App option. In the settings option, you can select your favorite team. Selecting your favorite team will enable this app to provide you latest match information about that team and it appears first on its home screen. You can also opt for news notification about cricketing world to Get Latest Details of All Formats of Cricket.
At the left topmost corner, there is three lined structure. This is the main part of this app. This has been shown in the third slide of the below shown screenshot. This Dropbox consists of varying options starting from Home to Cricbuzz Social. In between these, there are various other options. Some of the interesting links are Numbers where you can get to know about different statistics, This day that year, Current matches, latest news etc.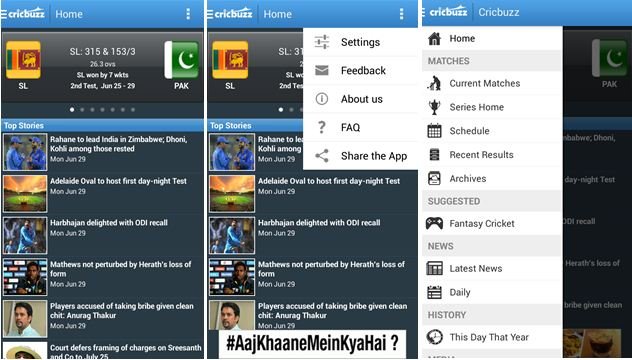 This day that year is one of the exciting things about this app. When you will click on this link, it will open the same date with a date of the memorandum. Thus, it helps you in recollecting what is famous on a particular day in the cricketing world.
Current Matches is the section where you could see all the matches which are currently being played all over the world. Pressing against any particular match will open the full details on that particular match along with the commentary.
You can also look out for various other things like Schedule, Recent Results,  Archives, etc.
Here, below shown is a screenshot which shows you a glimpse of the various functions provided to you. In the first slide, you can see the Rankings of different teams in Test. Here, you can see the Ranking of South Africa as the 1st in the Test. You can slide it over to ODI as well as T20I to see the rankings of different teams in respective game mode.
In the second slide, you can look out the statistics of Most Wickets taken out by different Bowlers in different game modes. Here, you can see Muralidharan as the highest wicket taker in 133 matches with 2.5 economic rates in Test. Slide to the ODI and T20 to see other performances and compare in between them.
The third slide shows you the Series stats like Most Runs, Most Sixes, Most Hundreds etc.  Just click on any of them and you can know the details as well as comparing list between different batsmen and bowlers.
Conclusion
Overall, Cricbuzz is a nice android app to have on your smartphone to Get Latest Details of All Formats of Cricket. If you are a fan of Cricket, this will prove to be a worthy app. It not only provides you the statistics and games being played currently but also different news related to Players of various nations. Install this app on your device and tell us your views about this app in the Comments below.