Like 'Tabs Outliner' application Google Chrome has plenty of apps in its web store. A few of them as Highlight Custom Words on Google Chrome Webpages have been discussed by me in my earlier article. The particular article leads you to make aware of Google Chrome extension named Tabs Outliner.
Whenever you have to do an extensive online search, it is required to open multiple tabs in same windows of the Web browser. But lots of open tabs could not give a complete view of existing webpages. This makes it very difficult to find a tab, for which you are looking for.
To fix this problem, Google Chrome has Tabs Outliner extension. In fact, Tabs Outliner is a free to use browser tool to easily manage currently opened Tabs. Once you install this extension, You will see an icon added to address bar. When you click on the icon a new window is opened that shows all chrome windows and open tabs as well. You may see also which Tabs relate to existing windows. Now, I am going to mention each successive step to install Tabs Outliner in Google Chrome browser.
How to Download and use Tabs Outliner in Chrome
Access Chrome Web-store and after then find Tab Outliner apps. To move to the desired location Click Here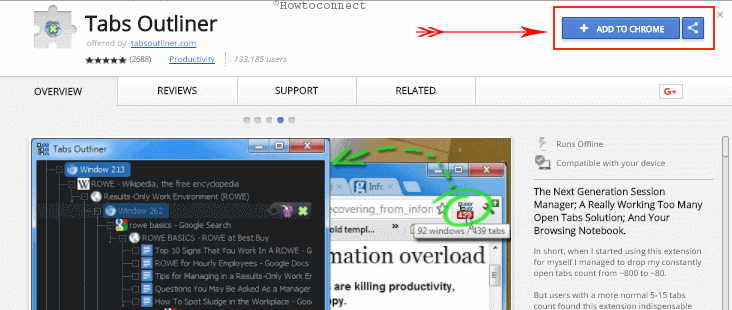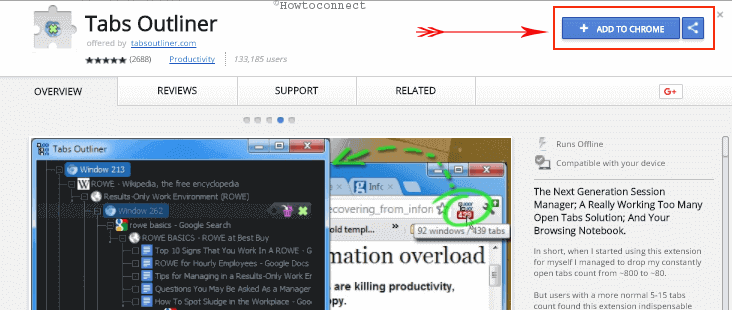 Now click to 'Add to Chrome' button and allow permission to add extension to Google Chrome.
As extension enabled in Google Chrome add to chrome button changes into Checking button.