Microsoft allows you to Automatic Turn on Quiet Hours for Set rules effortlessly with the introduction of Windows 10 build 17074. This new feature provides certain customization options so that you don't get interrupted by the unwanted notifications on a specific occasion. It offers four different activities and lets you choose the time slot when you don't prefer to be disturbed. However, any notification that hits the PC while Quiet Hours is on will continue to stay in the Action Center for you to review it later.
So, here, we will take you through all those new Automatic rules and steps to enable as well as use them.
How to Automatic Turn on Quiet Hours for Set Rules in Windows 10
Step 1 – Hold down Windows-I keys and access the built-in Settings program. Go to System category on the homepage of the app as indicated in the given image.
Step 2 – Click Quiet hours section in the left pane of the System settings page.
Step 3 – On its facing right side, scroll down to Automatic rules section. Here, you can see four activities, toggle On or Off the one you prefer. When you enable any rule, Quiet hours will be turned on all by itself. Given below are the four rules –
"When I am playing a game.
During these times – for time schedule.
When I am duplicating my display – to suppress notifications during presentation mode.
When I am at home".
Step 4 – Now click on each activated rule in order to change its settings.
Step 5 – On its next page, you can change the Start time, End time accordingly. Just click on the time and set the time slots as per preference.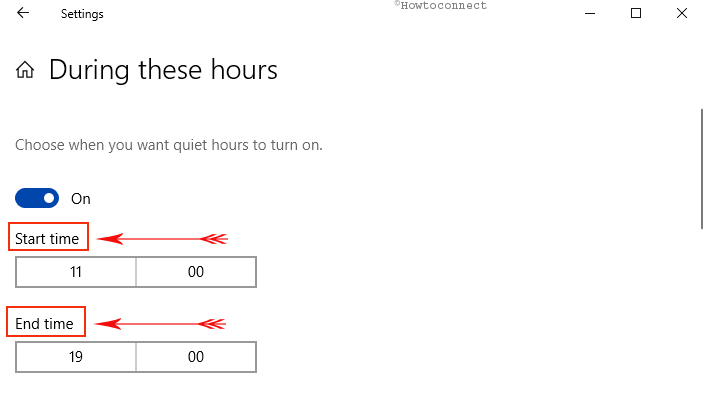 Step 6 – Moving ahead, click the Repeats drop-down and choose when you want to Automatic Turn on Quiet Hours for Set Rules to perform. It contains three options – Daily, Weekends, and Weekdays.
Step 7 – Next click the Quit hours drop-down and set any of the two options – Priority only and Alarm only depending on what you need.
Step 8 – Once you configure the settings, head back to the Quiet hours page and check the box entitled Show me a summary of what I missed while quiet hours were on if you want to.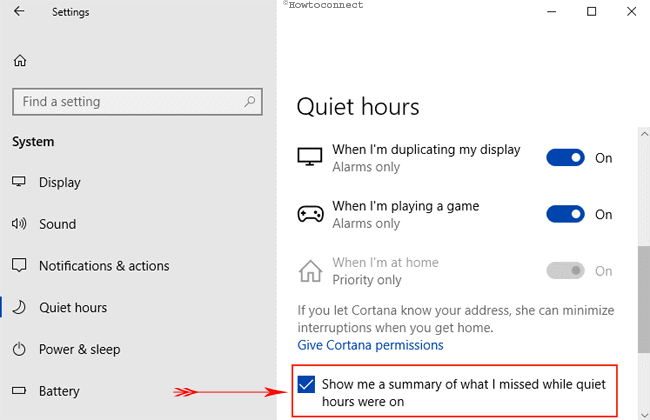 Thus, Automatic Turn on Quiet Hours for Set rules service is enabled for your Windows 10 operated PC.
Microsoft is planning to add more of the same in soonest possible.
Quiet Hours Automatic Rules
Quiet Hours will automatically activate when you make an attempt to duplicate your display. Never get interrupted during presentations again!
This feature will turn on all by itself when you are playing a full-screen exclusive 'DirectX' game.
You can set the schedule accordingly that works for you so that Quiet Hours are always on when you want them.
You can anytime manage your own priority list so that your significant People and apps always breakthrough when the feature is on.
It lets you review everything that you missed while you were in Quiet Hours.
Lastly, if you're using Cortana, you can also have this awesome feature turn on while you're at home.
Quiet hours actually indicates the time period when you really don't want to get bothered by any notification. This special feature affects the default settings for notification and hence, no notification disturbs you. Instead, they appear in the Action Center so that one can review them later on.
Conclusion
Notification interrupts our concentration sometimes. While relaxing or doing an important task, we usually don't like to receive notifications. Microsoft introduced Quiet hours in system settings as to restrict notifications for the time being. Good news is that you can again review these from Action Center. We have discussed the process thoroughly with a view to Automatic Turn on Quiet Hours for Set rules. Hope you can enable the setting using the guidelines in the process can get rid of notifications in the period you really don't like to receive them.