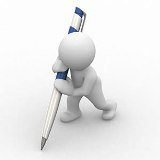 Search engines like Google keeps changing rules and algorithms so does state of SEO been changing oftentimes.  Google keenly looks at all the published contents and rank them accordingly contents quality. Blogs or Websites using duplicate or inferior contents are been picked and subsequently penalized by Google. The particular article gives you clear idea about, how to avoid plagiarism.
To avoid duplication / plagiarism of contents you need to strictly follow these tips as: Always Depends on Own Contents, Keep Reworking, Hire Several Blog Writers, Check Your Article with Plagiarism Checkers and Keep improving contents quality.
Always Depends on Own Content
Naturally Web writers or blogger will have to provide adequate information about certain matters. They do extensive searches, related to asked and most awaited issue, after then put their views. In the way of providing information, how much user depends on contents originality so much it becomes valuable. Depending on other's contents causes negative growths.
Keep Reworking & Regrouping 
Suppose, You have to write syndicate article for SEO. In such scenario ensure to give them original contents each time round. To keep articles original in shape you should depend on Words regrouping and tweaking as much as possible. These act ensures better ranking for your websites.
Hire Several Writers 
If you are a website or blog owner and want to see improving condition of your websites / blogs then hire more writers. Give them specific tasks also clear the concepts of searching keywords. Different writer brings versatility in writing. This will boost originality index and improve website SEO.
Check Articles with Plagiarism Checkers 
The Plagiarism Checkers help to produce original articles. The greater thing Plagiarism Checkers have' it can trace out copied contents from existing articles'. Possibility of copied matter could be minimal after cross checking through Plagiarism Checkers. There are man
y duplicity checker applications are available to ease up checking of duplicate matters. One of the reliable Plagiarism Checkers is 'Plag Tracker'.