Users can now Enable Disable Photon Animations in Firefox Quantum according to their choice using a simple tweak. If you have the new edition of the browser (Version 57), you are already familiar with its new features such as Firefox Photon, Legacy Extensions or more. Firefox Photon is actually a new User Interface.
Photon has already introduced many adjustments in the Firefox interface. The latest features are web page motion menu with three dots in tackle bar. It also comes with brand new user interface (UI) density choice to tone down among compact, regular as well as contact show mode. Latest animations also offer effectively by photon venture. It has a plan to come up with five new animations soon. Therefore, users will feel amazing while using Firefox.
However, users who were using an old version of Firefox browser may not like this photon features. Either way, they may feel these animations are waste of time as well there may be an error associated with the effects too. Considering all these facts, Firefox initiated an option to Enable Disable Photon Animations in Firefox. It will offer full freedom to the users. You can use this option if you like or else disable it.
How to Enable Disable Photon Animations in Firefox Browser
Firefox Photon in Quantum edition offers the following animations:
• Stop and Reload button: The button will animate when the page will start loading, between the transition stage as well as when you reload a page.
• Download button: It will animate at the start and end of any download action you initiate.
• Pin to Overflow: There will be an overflow menu icon with the command of the main menu.
• Pocket and Library: This will start animating when you save a page or any item in the pocket.
• Firefox menu: It will add animation effects to the menu button also.
Step-1: First of all, launch the Firefox browser on your computer.
Step-2: Go to the address bar from a new tab and type about:config. Press Enter key to proceed further.
Step-3: You will see a message This might void your warranty, come down and click on the option I accept the risk button as shown in the given screenshot.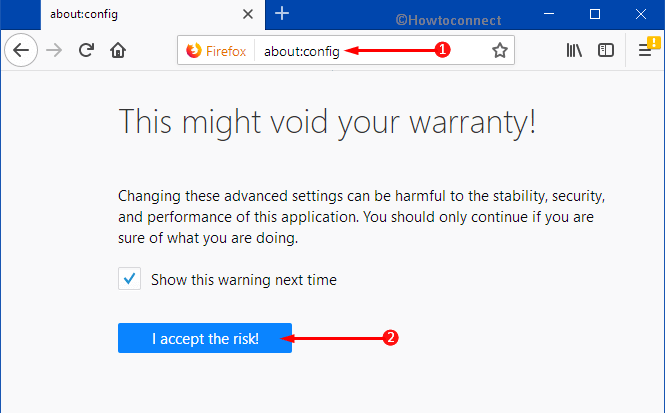 Step-4: Proceeding forward, go to the search box on the next page and type toolkit.cosmeticAnimations.enabled. When you finish typing, hit 'Enter' key to continue.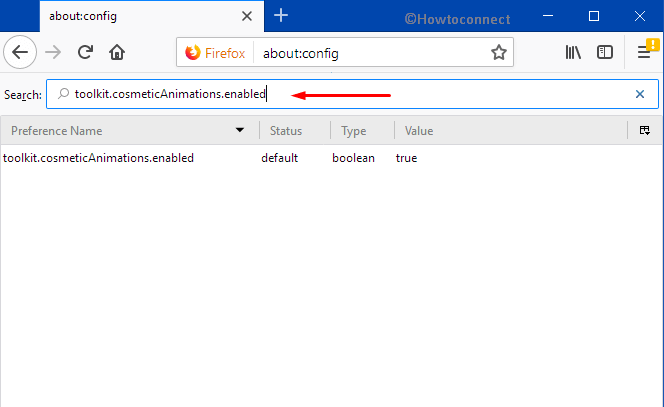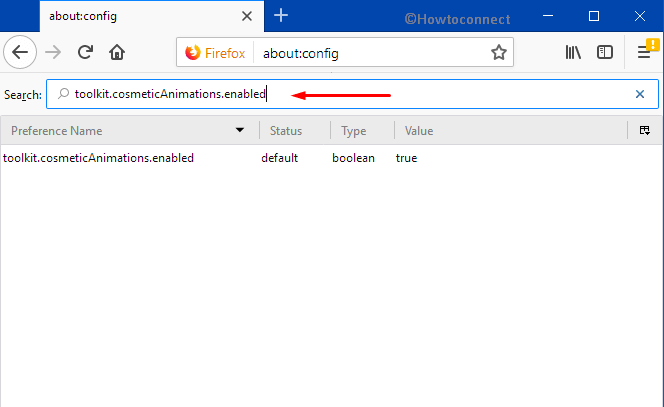 Step-5: Put a double-click on the toolkit.cosmeticAnimations.enabled option and change its settings.
Step-6: If you want to keep the Firefox Photon animation running, set it as True. In case, you don't like this feature and want to change this, select the option False.
Step-7: After finishing all the tasks successfully, you can close the about:config tab if you want.
Hopefully, with the above-mentioned steps, you can successfully Enable Disable Photon Animations in Firefox Browser. You can accomplish this task using simple tweak according to your choice.
If you are using Windows 10, read 2 Ways to Turn off Animations.
Conclusion
Firefox photon will be an amazing experience to use as animations and features will attract the users. We are not at all sure about the effectiveness of the Photon yet. It may bring some errors too. Considering this fact, the authority has provided an option to change the animation based on the users' choice. Users will be able to Enable Disable Photon Animations in Firefox Browser. However, you have the full freedom to ignore and disable the feature using the instructions above. Apply the steps in proper places to go with your choice.