Ways to Fix Beep Sound While Installing Updates on Windows 10 with steps. – I found a weird issue on my Windows 10 PC. While I was installing the downloaded update on scheduled time my system Starts whistling with a loud sound. I looked here and there into the laptop, pressed several keys and patted but no result was found. Finally, I installed the update with the continuous beep sound. You can see another solution with alike sound How to Fix Keyboard Beeping Sound in Windows 10.
Windows 10 users expect a perfect performance from the OS but many times it fails to do so. You all know that Microsoft pushes Windows 10 updates quite frequently. But, in many cases, while installing updates, the computer makes a continuous piercing beeping sound. Forcibly shutting down the computer rolls back the system to the previous build but does not resolve the issue. Find solutions to a similar problem Fix: 0x80240439 Error Code While Installing Update Windows 10. So, in this guide, we present you the instructions to Fix Beep Sound While Installing Updates in Windows 10.
The main cause of this strange behavior of Windows 10 is the Microphone Properties. If an option Listen to this device is enabled, you are likely to hear the beep sound. This never ending noise occurs when an earphone or microphone is not connected to the PC. So, the best solution to Fix Beep Sound While Installing Updates in Windows 10 is to disable Listen to this device option.
For reference, you can read the methods to Disable and Enable Microphone in Windows 10. Let us now move towards the steps and see how to settle down this problem of Windows 10.
Beep Sound While Installing Updates in Windows 10
Step 1 – Right-click Sound icon that appears on the far right of the taskbar and when few options pops-up, click Recording devices.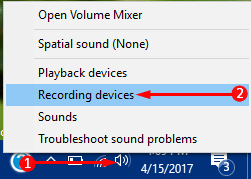 Step 2 – Sound Properties box will come into view with Recording tab on focus. Few recording devices will be visible, double-click Microphone.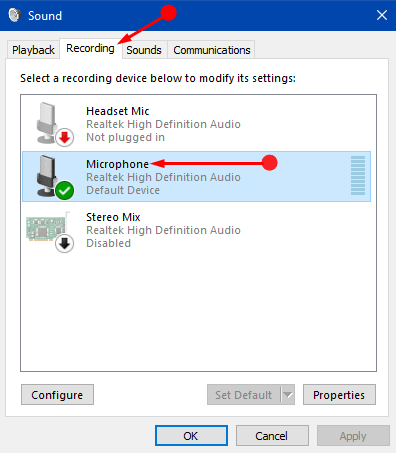 Step 3 – This will launch Microphone Properties wizard on the PC screen, switch to Listen tab.
Step 4 – Deselect the option with a name Listen to this device. Finally, click Apply and OK buttons to Fix Beep Sound While Installing Updates in Windows 10.
Pursue another guide to Windows 10 – How to Turn Off System Beep Sounds.
Conclusion
Well, Windows 10 users often encounter issues with sound volume and mic. But the non-stop beep noise while installing updates is quite an unexpected issue. Hopefully, completing the above steps will Fix Beep Sound While Installing Updates in Windows 10. If you resolved the same problem using any other solution, please post them in the comments below.
Repair any Windows problems such as Blue/Black Screen, DLL, Exe, application, Regisrty error and quickly recover system from issues using
Reimage
.