Screen Mirroring has grown to be the latest fad that many people want to try out, whether its gamers looking to game on a big screen TV or regular streaming. This has become further evident with the plethora of products introduced in the market such as Google Chromecast, Apple TV, Amazon Fire TV and much more. With mobile and other small devices being able to connect to TV, one does enjoy the big screen it offers, making for an immersive experience. In this particular article, let's learn how to mirror iPhone to Firestick.
How to Mirror iPhone to Firestick
Though equipped with endless features, many Apple users haven't been able to harvest the full potential of their devices. This happens as they are caught unaware of its varied attributes. Using a feature called "AirPlay", you can straightaway mirror the iOS device. Be it iPhone or iPad's screen, it lets you view photos, videos and other media on a larger screen. But as you can see the above feature works only when coupled with Apple TV or iOS/ Mac devices, leaving you to wonder if there was another way to achieve the same.
This is where the Amazon Fire TV (or Firestick) can step up to the task with the aid of a third-party application. Being at a comparatively lower end of cost than the Apple TV, the Amazon Firestick can prove to be the perfect solution to mirroring your iPhone or iPad. In this article, we will let you know about few of the apps and instruct on how to go about it.
Prerequisites to Mirror iPhone to Firestick
Amazon Fire TV does not carry any inbuilt software to support any iOS or Mac device. So you require an additional 3rd party application to connect the two devices. Browsing on the Amazon Web-store, you can find several apps that serve the purpose. However, please note that many of the apps are chargeable.
Two of the most prevailing apps on the Amazon store involve Reflector and AirReceiver.
The Reflector is a great app that you can install on your "Amazon Fire TV". However, it comes quite on the expensive side costing about $4.99. In that case, the AirReceiver app is the second best choice costing about $2.99.
How to Mirror iPhone to Firestick through Reflector
The Reflector app functions by enabling your TV to connect to the iPhone via the AirPlay feature.
Step-1: Once you install the application on your TV, head to your Apps tab. Select the app from the list of and launch it.
Step-2: Now with the application running on your TV, take your iPhone and navigate to the "Control Center". You can access it by swiping up from the bottom.
Step-3: In Control Centre, select AirPlay which will prompt you to choose a media device.
Step-4: Finally, connect to your Firestick from the displayed results. Next, to enable screencasting/ mirroring, turn on the Mirroring option.
After enabling mirroring option, you can directly view the iPhone's screen on the TV. But without it, having your device connected via AirPlay can enable you to share media and other content files with your Firestick via the respective apps. You can share photos, documents, etc. through their respective apps using AirPlay.
How to Mirror iPhone to Firestick through AirReceiver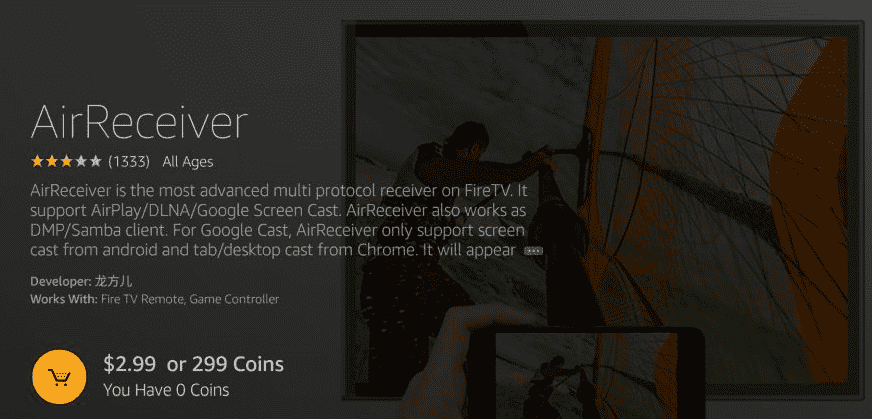 The working of this App is much similar to the above-mentioned application.
01. Purchase and install the AirReceiver app from Amazon Web-store on your Fire TV.
02. Now head to the app from the available list and click on it to launch.
03. Select the AirPlay feature when prompted by the app, which in turn, enables your TV to be an AirPlay receiver. Furthermore, it also lets you even modify the name of your "Fire TV".
04. Finally, with the app running on your TV, scan for nearby devices.
05. The FireTV will now appear alongside the devices; select it and turn on the "Mirroring" option.
Conclusion
You will also have other apps that help you mirror iPhone to Firestick. However, they may not be free with some of them only offering a "Free Trial" version for you to try out. The two apps we've mentioned are some of the best out there.