I am about to discuss the method of Electricity Bill Payment to BSES. Making Electricity Bill payment at collection counter of electricity board is not relevant today. BSES knows consumers needs and kept open lots of option to accept electricity bill. BSES has variety of options like: Bill Payment  Kiosk, ITZ Cash, Bill on Email, Credit Card / Net Banking, Jeevan Counters, Cheque in Mail, OxiCash & Oxygen etc to accept Electricity Bill Payment. As far as convenient way concerned to Online Electricity Payment to BSES,  consumers may choose Credit Card / Net Banking Services of either of banking unions Citibank, IDBI Bank, Axis Bank, OBC, SBI, Punjab National Bank. Moreover, services of Visa / Master Card, Diners or Amex Credit Card are another options to make payment quite efficiently. To make the payment either of two options you should take these successive steps.
Useful Post:
BSES Delhi Electricity Bill Payment Procedure Using NetBanking or Credit Card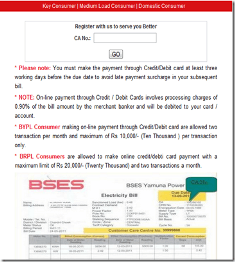 Put your CA No. (BSES Account Number) in the given box. Click on Go Button.
Now you will be able to see your current bill. Click on to 'Pay' button. 
It will be directed to the payment gateway, where you will be asked to choose payment options as Credit Card or Netbanking. Choose either of two options. 
If you choose Credit Card option, you will have to enter your credit card details & complete rest of formalities. In case you are selecting Net Banking, then choose the Bank from which you want to pay your bill, you will be taken to your net banking site, where you have to input user id & Password to make payment. If you are choosing Credit Card option fill up your Credit Card details. Now pay your bill. After successful payment is made you will get a transaction reference number. The payment made by you will be credited in the Account of BSES in 5 working days.
How Do you Subscribe to E-Bill Service in BSES
Here question is that how do you find information about monthly Electricity Bill. BSES provides online information about Electricity Bill through Bill on Email service by which you can get E-Bill. Process of enrollment to Bill on Email is derived below.
Register yourself for Bill on Email service through clicking E-Bill service link. Then enter your CRN No. and RSN No. (these numbers are printed on the bill) to the login page and submit it.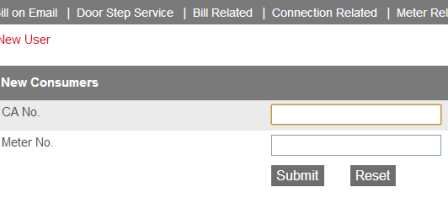 Now fill Registration form and submit all such information. 

You will receive a mail confirming your registration details and again asked to follow Inbox link to activate Bill on Email service. 
If you are already registered in Bill on Email for E-Bill service you can login by following the link login page. Fill up username and password and click on submit button. Check for update.
If you have forgotten your password Click on Forgot Password. Write your CA No. and click Submit button. A link will be sent to your email address. Open your Email and Inbox. Click on the link sent to you and reset password.
How Subscribe BSES Electricity Bill for SMS
You can get your Electricity Bill SMS every month. For this, you will have to subscribe for SMS. Follow the steps to activate SMS Service:
Click the link SMS Service for BSES Electricity Bill.
Fill up CRN No. and RSN No. (these are printed on your Electricity bill).
Click Submit Button.
A new web page will open. Check the box against SMS Service.
Click Submit Button.
How to Pay BSES Electricity bill through Bill Payment Kiosk
You can pay your electricity bill on Bill Payment Kiosk running on different locations in Delhi. These Kiosks are working from Monday to Saturday 8 AM to 8 PM. For this:
Click the link to know the locations of bill payment Kiosk.
If you come under BYPL Area click on BYPL and if under BRPL Area click on BRPL.
Choose the Kiosk and note down the address where you fill comfortable to pay and pay your BSES Electricity bill.
How to Pay your BSES Electricity Bills on Counter
Many Cash Counters, SkyPark, Easy Bill, Jeevan Counters, Suvidhaa Counters and Oxygen Counters are working in different areas to get the BSES electricity bill payment. You can pay your bill easily through these counters. To know the counters location, follow the process given below:
How to Pay BSES Electricity Bill through Cheque
You can pay your electricity bill through Cheque. For this purpose Cheque on Mail service is here. You can send your bill amount as cheque through courier or by post.
You will have to draw Cheque in favour of " BYPL, CRNO ABCDEFGHIJ" or "BRPL, CRNO ABCDEFGHIJ".
Enclose a copy of the bill with the Cheque.
BRPL Consumers will Send it to the address:
Head – Customer Care, BSES Rajdhani Power Ltd
BSES Bhawan, Second Floor,
Nehru Place, New Delhi-110019
BYPL Consumers will send it to the address:
Head-Customer Care, BSES Yamuna Power Ltd
B Block, Second Floor,
Shakti Kiran Building, Delhi-110032.
How to Pay your Electricity Bill by Auto Debit to Bank or Credit Card Account (Pay by Phone)
You would activate the facility of Auto Debit to your Account through BSES. This feature will ease all your work. At the certain date, electricity bill amount will be automatically deducted from your Bank or Credit Card Account and deposited in BSES Account within 3 working days every month and you will get a confirmation on email or SMS. Pay by Phone or Auto Debit to Account can be activated by following the process given below:
Call on Number –  011-39999707  or 011-39999808. BSES will dispatch a registration form on you address. How these registration forms can be got from any customer care center or Dropbox. You may download this form by clicking the link: Pay By Phone Registration Form.
Fill up the form and submit to any customer care center. BSES will send to the Bank whose name is given by you.
After getting Approval Pay by Phone will be activated within 3 working days and it will be informed to you through SMS or email.
These are the modes by which you can pay your BSES Electricity Bill in Delhi. If you fill any trouble in paying your bill we will always help you through comment.