A handy small tweak lets you Increase the Icon Cache Size in Windows 11 or 10. Icon cache is a special file that accumulates icons for many file types and apps as well. Windows stores all of them in a cache so that it can launch them quickly without manually loading them every time. But by default, its size is just 500 KB. Because of this small magnitude, you may notice that File Explorer launches files slowly when you open a folder containing multiple items.
Windows 11 or 10 does not include any special option to manage the icon cache size. However, with the help of Registry Editor, you can modify its dimension accordingly. As mentioned above, the default size is 500 KB that creates issues but the ideal size is 4 MB which gives you the best result. But to carry out the following task, you need to be signed in with admin rights. See a relevant article – How to Delete and Rebuild Icon Cache in Windows 10.
Way to Increase the Icon Cache Size in Windows 11 and 10
Here is how to increase the icon cache size in Windows 11 or 10 –
If you are not friendly with Registry Editor, we suggest you take a backup of it.
See the way to Import and Export Registry Editor on Windows 10.
Step-1: Open Run dialog box by hitting the keyboard shortcut keys "Win + R". Here, type in regedit and click OK to access Registry Editor.
Step-2: Click Yes button on the prompt of UAC.
Step-3: Go to the below-mentioned path on the left column –
HKEY_LOCAL_MACHINE\SOFTWARE\Microsoft\Windows\CurrentVersion\Explorer
Step-4: Switch to the adjacent right pane and right-click on the empty area. Moving ahead, hover the cursor over New and select String Value (see screenshot).
Step-5: Name this newly created string (REG_SZ) as Max Cached Icons.
Step-6: Double-click on the Max Cached Icons and change its value to 4096. This will set the size to 4 MB. You can even further increase the size to 8 MB as well. To do so, set the value as 8192.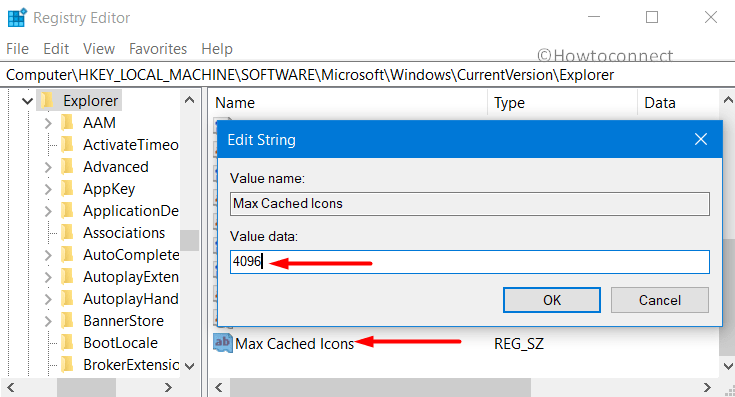 Note – You need to enter the size in KB. So, 1 MB = 1024 KB.
Step-7: To decrease the size of the icon cache, provide the value accordingly. For example, set the value as 2048 for 2 MB.
Step-7: Finally, to Increase the Icon Cache size successfully, you need to Restart Windows 10 PC.
That's all!!!