Windows 11 has a bigger list of minimum system requirements particularly for hardware which your computer may be unable to compete with. When you try to install Windows 11 Secure Boot and TPM requirements may prevent and fail the process. In this case, PC Health Checkup program also confirms this issue and shows an error This PC can't run Windows 11.
However, you can install Windows 11 without TPM and Secure Boot with a small registry tweak. Microsoft itself has explained a method to do this. This way you can avoid the error appearing during the installation such as "Windows 11 cannot be run on this PC".
Install Windows 11 without TPM and Secure Boot
Here is how to install Windows 11 without TPM and Secure Boot –
First of all, create a reg file and copy this to a USB stick. For this,
Right-click on the desktop and select – New => Text document.
Copy the following content –
Windows Registry Editor Version 5.00

[HKEY_LOCAL_MACHINE \ SYSTEM \ Setup \ LabConfig]
"BypassTPMCheck" = dword: 00000001
"BypassSecureBootCheck" = dword: 00000001
Paste into the document.
Select  – File => Save as.
Name the file something with .reg extention(remove .txt).
Click – Save.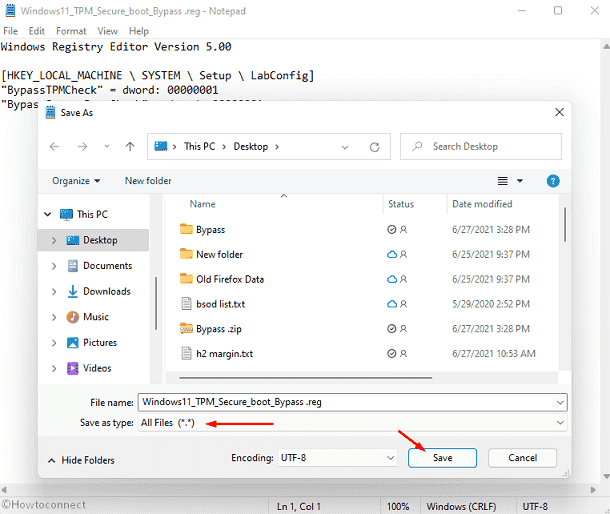 Alternatively, you can simply Windows11_TPM_Secure_boot_Bypass.zip file to Install Windows 11 without TPM and Secure Boot. You will have to extract the zip before pasting it to the USB.
Copy this file to a USB stick.
Insert the stick into the port.
Install the new version
Now, start from the Windows 11 installation file and choose the Language.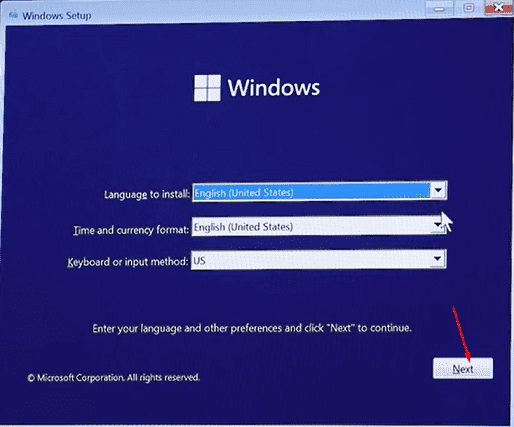 Click – Install Now.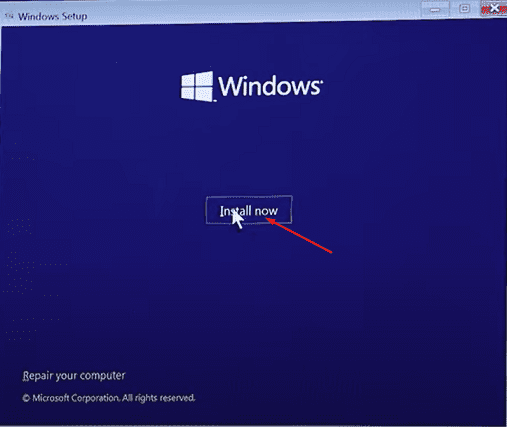 On the next window, select – "I do not have a product key".
Choose the version you are going to install.
Click – Next.
If you come across an error message stating that Windows 11 cannot be installed on this device you need to use the reg file. You may also notice "Windows 11 cannot be run on this PC". Now, you return back to the version selection.
Press the – Shift key + F10.
When the command prompt opens, type notepad.exe and press – Enter.
On the notepad, click File => Open.
In the open window, switch to "All files" under file type and locate the USB stick.
Once you have found the reg file, right click and select – Merge.
Click Yes on the confirmation dialog.
The command prompt and Notepad window will now be closed.
On the Windows 11 Setup version selection, again click – Next.
Check the box of license terms and install Windows 11 as usual.
That's all!!