InstantDictionary is one of the most exciting dictionary app of windows. This app is designed to translate textual contents from a specific language to another one. Microsoft Translator has powered this beautiful app. There is a sum total of 39 languages in InstantDictionary. All you have to do is to type the language in a box and the desired language translator would produce its translated meaning in the output file. The language in which you are going to write the source language and the language in which you want the answer are previously fixed before any translation. It also helps you in pronouncing new words, translate small sentences, etc.
This is a freely available app under the tools category of windows 8 store. The most important thing about this app is that it actually reads whatever is there in any of the two boxes, thus reducing the chances of getting any absurd answers. The interface of this app is quite impressing owing to its simplicity and effectiveness. It has been categorized in several sections to help the users in translating the word meaning in any language as soon as possible. A screenshot of this app is shown below: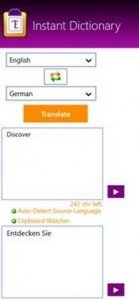 You can possess the access to InstantDictionary app from the link provided at the last of this article.
How to translate any word using InstantDictionary Windows 8 app
As said earlier, InstantDictionary app is designed to work with 39 different languages. Yes, it supports 39 languages. To name some of them are English, German, Japanese, Korean, Hebrew, Hindi, Chinese Traditional and Simplified, Russian, Spanish, French, Italian, Portuguese etc. Along with its translating functioning, it is also used to swap the languages between the source and the resultant. You can listen to the translation sounds too using this app. All you have to do for this is to click on the Play button present besides the source as well as the resultant field space.Whatever you write on these boxes and press play button, this will reads out your texts. This is indeed a cool thing about this app. Thus it serves two purposes which are written below:
Translate the source word in whichever the language you prefer.
Helps you in pronouncing the words right before you use them.
There are some languages in which, InstantDictionary app doesn't provide the read out the text facility. They are Hindi, Portuguese, etc. You won't necessarily have to write down the words in the source field. You could also copy and paste the words in the fields provided. It does the same thing. No promotion of ads makes InstantDictionary even more adorable one. You can translate up to 250 characters in the source field using this beautiful app.
There are some other options too available here on this app to make its translation abilities even more powerful. They are mentioned below:
Auto Detect Language: Applying this feature would detect the language automatically on behalf of you and then it would detect for its source and resultant languages.
Clipboard Watcher: On the other hand, this feature automatically detects the content that are copied to clipboard, and automatically translates them. However, it is found that this feature didn't work well while testing the app.
You can switch On the above mentioned two features using the Windows charm settings or simply visiting to the settings section of this app and clicking on the feature which you want to activate.
Note: It is promised by windows 8 that this would be a good language translator app which it is, however, there are some things which need a little modification here and there. They are small bugs and could be solved easily in its next version. There is no problems related to its translation part which is the main part of this app.
Key features of InstantDictionary app for Windows 8
Completely free app
Any content could be translated into 39 different languages
Straight and simple to use interface
Source or target content can be listened if the language is supported
Swap source and target languages easily
Provides you the facility of clipboard watcher
Detect the source language automatically once the text is copied into clipboard
Powered by Microsoft Translator
Conclusion
InstantDictionary is a really nice app. It translates the language in an efficient manner in least possible time. However, it needs some correction in terms of operations. Overall, this is good dictionary app and you will love the simplicity with which it presents words before you. It is a worth trying app.