KaKa is an interesting windows 8 app to all the Music freaks and budding singers. It is a free app that you could find at the Windows 8 App Store. It is a kind of karaoke app for windows 8 having a massive online database of karaoke tracks combined with on-screen lyrics. It consists of over 20,000 songs to choose from. New songs are added on a regular basis to KaKa app.
The interface of KaKa app is beautifully designed. Designers have chosen the right color for its background, as well as a nice presentation of different songs in the form of tiles. From its look, one can say that a lot of work has been done before creating such an awesome app. This app also creates a rough image of DJ dance when you listen to its songs with tube lights switched off and sound of the music at a higher level.  A screenshot of this app is shown below: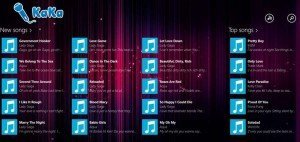 A link has been provided at the last of this article using which you can access to this beautiful app.
How to use and play with KaKa app
Launching this app after its proper installation, will present the above shown picture on your screen. It consists of a list of all the popular karaoke tracks. You can choose among any of the tracks to begin with so that you could build up playback of the tracks you like here on this app. A the top corner of KaKa app, you would find the search button. The search facility of this app is here so that you could search for any tracks you wish to listen to. You could also use the button right next to the Search option to arrange all the tiles of the songs based on alphabetical order. This app also provides the instrumental version of various songs to which you generally listen to. Karaoke is generally a track consisting of instrumental tracks.
Once the playback is started, the lyrics of the songs will be displayed on the screen. The word or sentence which is being played would be highlighted for you. Thus, it also helps you in learning ways on how to sing a song correctly with its lyrics. Those singers, who are new to this app would love this app very much. However, there is also a drawback of this and that is it is too addictive. It might be good for some people but for the most being addictive is not so good. So, think upon before using this app.
Key features of KaKa App
A large collection of beautiful music tracks.
Smart Searching: song's name, singer, artist, and others.
Supports of sharing of songs.
Sing Karaoke Online.
Record and Manager your songs.
Integrated with windows charm facility.
A perfect app for different parties.
Conclusion
KaKa is a great windows 8 app which would help you in converting your windows machine into a high-quality karaoke machine without spending a single penny out of your pocket. This is a very loving app especially for those who love listening to music or a budding singer. While running this app, I don't encounter any bugs or crashes.
Link: KaKa Windows 8 App