Total Video Converter is a beautiful software that helps you in converting any video format to a large number of different available formats. Not only it converts one format to another but also is equipped with a video editor in case if you are willing to edit a part or section of the video. This software is compatible with almost all types of video formats. It is supported in all windows machine. Some of the formats whom it supports are MPEG, AVI, MP4, MKV etc. Total Video Converter is also designed to extract only audio part from any video files. Thus, you can produce any audio song of a video song using this software.
The interface of this software is neat and clean. It has been designed in a very simplistic manner so that users would follow this software easily. The overall design of this program is simple and easy for navigation. A screenshot of its home screen is shown below: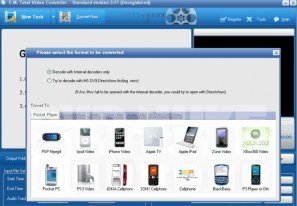 You can own this software from the link provided at the last of this article.
How to convert video format of any file Using Total Video Converter
Running this software, would open a window as shown in the above picture. All the main features of this software could be easily accessed from the main window. This software provides you the proper instructions on how to use this software at the starting of this software for the first time just after the installation. The conversion time for any video depends on the size of the file which is going to be converted. Conversion also depends on the formats itself. It supports drag and drop options.
There are other features too like Import Media Files and Import Photos available here on this software to make the process of finding and uploading files easier. Using this software you could also create a photo slideshow consisting of many photos. Here, quality of the photo slideshow depends on the quality of photos which you have with yourself. There is one exciting feature about this software and that one is that it could also create HD format from the video making of simple formats. Audio could also be grabbed from your favorite CD discs, a feature we liked for adding a soundtrack to your videos.
Along with this software , an editor named with Total Video Editor is also installed on your windows machine. If you don't wish you can uncheck the box when you were asked to during the installation period. I recommend you not to do so, as it would be very powerful to use this software with this editor. It adds a feather to this software.
Key Features of Total Video Converter
Free software.
Neat and clean interface.
Converts Video to different kinds of formats like PDA, PSP, iPod, iPhone, Xbox360, PS3.
Also Supports Mobile phones Video formats.
Applies 300 different effects to the photo slides.
Includes a video editor in itself.
Supports 16k samples per second of Nellymoser codec.
Provides Multiple files combination.
Extraction of audio files is also possible with this software in mp3, ac3, ogg, wav, etc.
Supports compatible video formats with DVD/VCD/SVCD.
Conclusion
Total Video Converter is a good software for those who want to change a video format to different formats. This is also very useful when one wants to see a video or a movie in his cell phone. As phone doesn't support some of the formats, it would be easy to convert the format of a video file compatible with the different formats of a mobile phone and then using that directly. It is really a lovable and worth trying software.
Link: TVC