KB4023057 Once more Rolled Out After Failed to Install on Windows 10 for versions 1507 to 1803. This specific re-released cumulative update includes reliability enhancements to the Windows Update Service (WSUS). Moreover, it may also assist you to free disk space on your device if you run a shortage of it to install Windows Update.
This patch addresses the issues that prevent Windows Update from being installed. It includes resources and files to deal with this problem. However, these improvements ensure the seamless installation of updates on your device to provide the best security and to upgrade reliability as well. The patch was re-released previously in January 2018 to fix 0x80070643 error code.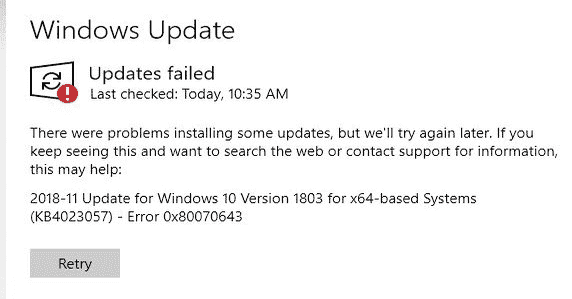 Cumulative update KB4023057 Once more Rolled Out
You will get this update through Windows Update only. It means no downloads are available in neither "Microsoft Update Catalog" nor distribution via "WSUS". Following are the focus points of KB4023057 for Windows 10 Rolled Out Again After Failed to Install.
To ensure complete and successful installation of updates, this patch may request you to keep the device stay awake for a longer time. However, the installation will take care of the active hours and your sleep configurations as well.
If it detects any issues, the update may make an attempt to reset network settings. Furthermore, it will also clean up the registry keys that prevents updates from successfully being installed.
The re-release of KB4023057 will also repair the faulty or disabled Windows components. This will eventually determine the applicability of updates to your current version.
This patch will make an attempt to compress files in your "user profile" directory. Doing so will help free up sufficient disk space in order to install significant updates.
In addition, this update may also reset Windows Update database. It will repair the problems that can prevent updates from successfully installing. Hence, you must make a note that your Windows Update history is cleared.
Update Shows Error 0x80070643
Users who have installed the older version of this update encounters an error code 0x80070643. The remedy to this error is very simple. Just uninstall the existing update restart Windows 10 PC.
That's all!!!