KB4338817 cumulative update has arrived at Windows 10 Version 1709. The patch is specifically for Build 16299.579 and includes several important quality improvements and fixes. You will receive the package automatically moreover you can download KB4338817 from the link at the bottom of this page.
The in the current update, Microsoft focused on problems with PPKG, black screen, power options in Windows security, unknown publisher. In addition, a lot more issues are in this release Microsoft has addressed. They have released KB4338822 and KB4340917 on the same date.
KB4338817 –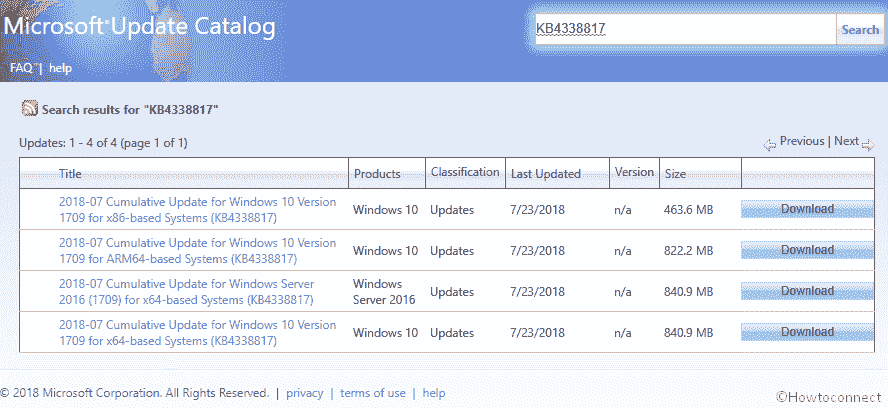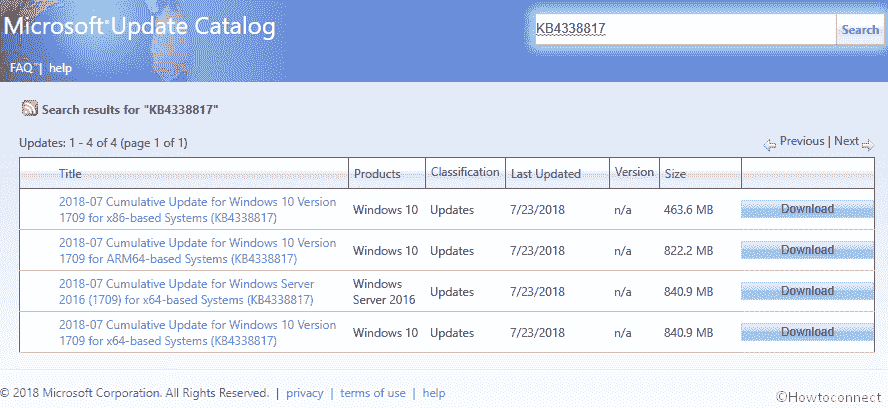 KB4338817 Windows 10 1709 Build 16299.579
Here are KB4338817 Windows 10 1709 Build 16299.579 Cumulative Update details –
In this patch, Microsoft attempts to solve the problem that troubles after you install PPKG. This installation enforces devices within Active Directory or Hybrid AADJ++ domains to suddenly unenroll from Microsoft Intune or 3rd-party MDM services. The problem arises on devices that apply AAD Token Group Policy that for Auto MDM Enrollment. If the situation has taken place because of script Disable-AutoEnrollMDMCSE.PS1 then you can use Enable-AutoEnrollMDMCSE.PS1 command from a PowerShell (Admin) after installing this update.
Enter a CR before LF if there was none.
Windows 10 team, in KB4338817, Enables debugging of WebView content in Universal Windows Platform applications using the Microsoft Edge DevTools Preview app. This is available in the Microsoft App Store.
Microsoft Edge DevTools failed to respond when the console was getting a huge number of messages  In this patch, the issue has got a solution.
They Work on the black screen issue that was occurring after Windows update installation.
Windows 10 team addresses the additional issue associated with updated time zone information.
Microsoft works on the PDF file in several criteria such as file open, reliability and print issues that will enhance the user experience.
In KB4338817for Windows 10 2018, the tried to solve moving a Microsoft Foundation Class (MFC) application window that might leave behind a dithered pattern on the desktop.
Microsoft works on the appearance of power option on the Windows security display. It was showing up even after setting up hide power options from Group Policy.
They attempt to solve a right lock screen image was not showing. It happens if the following options are true –
In Gpedit.msc, "Computer Configuration\Administrative Templates\Control Panel\Personalization\Force a specific default lock screen and logon image" is enabled.
The path "Computer Configuration\Administrative Templates\Control Panel\Personalization\" "has Prevent changing lock screen and logon image" which is enabled in "GPedit.msc".
In Regedit.exe, "HKEY_LOCAL_MACHINE\SOFTWARE\Policies\Microsoft\Windows\System\DisableLogonBackgroundImage" the value data is set to 1.
Microsoft, in this patch works, on unknown publisher error. It happened when you run an application as an elevated user (Administrator).
They try to fix out sporadic authentication issues when using Web Account Manager.
Windows 10 team works on the single-sign-on scenario to fail and sends the logon tile when connecting to a Remote Desktop server.
They are also active on the memory consumption of LSASS continues to rise until it is necessary to restart the system problem.
In Windows an issue in which the default domain for an Azure Active Directory-joined machine is not set on the logon screen automatically.
KB4338817 for Windows 10 1803 Build 16299.579 comes with an effort from Microsoft on SQL Server memory usage to steepen over time when encrypting data using a symmetric key that has a certificate. At that time, you run queries that start and stop the symmetric key in a recursive loop.
When you insert an invalid password in a wireless PEAP environment it submits you 2 authentication requests. This occurs when SSO is enabled. The unwanted authentication request may produce premature account lockouts in environments with low account lockout thresholds. To make the changes, add a registry key named DisableAuthRetry on the string "HKEY_LOCAL_MACHINE\SYSTEM\CurrentControlSet\Services\RasMan\PPP\EAP\26" and set the value data to 1.
Windows 10 team Addresses unresponsive BITS service problem when the service cannot connect to Internet resources.
They are preparing a workaround for a bug that restricts printing on a 64-bit OS when 32-bit applications impersonate other users (typically by calling LogonUser). This problem occurs after receiving monthly updates beginning with KB4034681, August 2017. To resolve, install KB4338817 update, and then do one of the following:
Apply the Microsoft Application Compatibility Toolkit to universally turn on the "Splwow64Compat App Compat Shim".
Change the underneath key, and then reboot the 32-bit application: HKEY_LOCAL_MACHINE\System\CurrentControlSet\Control\Print Setting: Splwow64Compat
Type: DWORD
Value: 1
Windows 10 team is resolving DNS Response Rate Limiting that leads to a memory leak when enabled with LogOnly mode.
Your system at some occasions goes into hibernation instead of shutting down. This problem occurs on the first boot after finishing disk encryption on an SSD drive. Microsoft takes care of this issue in this cumulative update.
Windows 10 team is trying to resolve an issue IP address is unable to access to SMB shares when SMB hardening is enabled.
They work on Class not registered (0x80040151) error code which comes due to use of mandatory (read-only) user profiles for RDP.
KB4338817 arrives with Microsoft's effort to fix all network printers are connected after a user logs on. "HKEY_USERS\User\Printers\Connections Key" displays the appropriate network printers for the affected user. Although, the network printers list including Microsoft Notepad or Devices and Printers doesn't show the applications in this registry key. Printers may be missing or become non-functional.
Microsoft is actively settling down on in-place upgrades to Windows 10 V1709 to stop responding at Making sure you're ready to install screen. This takes place while executing device inventory on devices that have installed monthly updates after April 2018.
They try to solve a loading issue that occurs while dynamically modifying the classname or ID of elements on a page.
Windows 10 team is resolving a problem that doesn't allow to function Memory Analyzer and Performance Analyzer from working correctly in Internet Explorer 11 (IE11) Developer Tools.
KB4338817 Windows 10 1709 Build 16299.579 Cumulative Update Known issues
Symptom
Workaround
Certain non-English platforms may show the underneath string in English replacing the localized language – Reading scheduled jobs from file is not supported in this language mode. This issue occurs when you attempt to read the scheduled jobs you have already enable Device Guard.
A team is trying to set and you will receive a resolution in an upcoming release.
You can view below message in the same situation as in the above cell – Cannot use '&' or '.' operators to invoke a module scope command across language boundaries.

During the enabled state of "Device Guard", Script resource from PSDesiredStateConfiguration does not remain compatible. Kindly apply Script resource published by PSDscResources module taking from the PowerShell Gallery.

"
How to download KB4338817 Windows 10 1709 Build 16299.579 Cumulative Update
Microsoft has a system to distribute patches so you will get the Windows update. But if you want to get it at this time
Hold down Windows log and I simultaneously on the keyboard and choose Update & Security on the Windows Settings.
Click on Check for updates on the right column of the following page.
Here is the download KB4338817 link – Get.
That's all