KB4480062 security update has been rolled out on 8th Jan 2019 for Windows Server 2008. As you know that the .NET Framework is a very important part of Windows OS. Therefore, any vulnerability in it may be a big concern for Microsoft.
This time Microsoft has rolled out KB4480062 update because there are chances that the .NET Framework might root the leakage of information that bypasses CORS (Cross-origin Resource Sharing) configurations. If an attacker succeeds in exploiting this vulnerability, he or she can easily retrieve the restricted web content of any particular web application.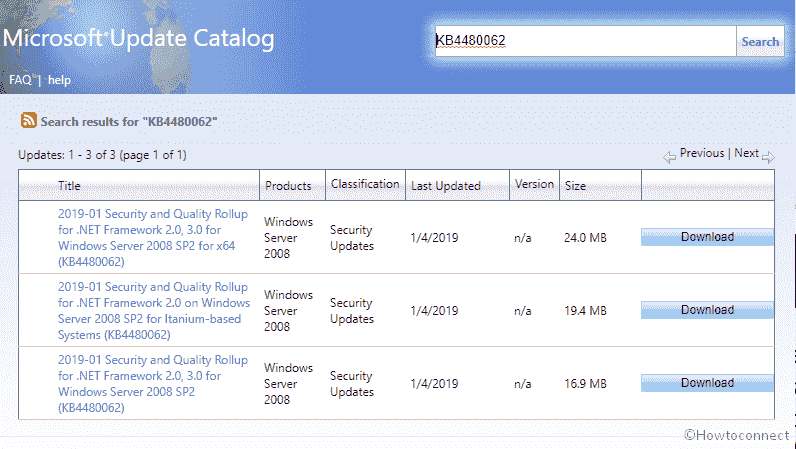 KB4480062 Security and Quality Rollup for .NET Framework Details
KB4480062 contains the fix of this susceptibility as it enforces CORS (Cross-origin Resource Sharing) configuration and stops it from bypassing. For more information about it, you can refer to Microsoft Common Vulnerabilities and Exposures CVE-2019-0545 by clicking here.
How to get KB4480062 update
There are three different methods to get this update and free your system from this critical vulnerability. Here are they:
Using Windows Update
You'll get this KB4480062 security when you update your Window. All you have to do is to start 'Automatic Update' (if it is turned off).
To activate automatically install apps updates, follow these steps:
Open the Store and click on the menu icon, on the top right corner of the page.
Select the Settings option.
Now turn on the toggle button under Update apps automatically.
To complete the installed update, click on Restart now button, available on the right adjacent to the Windows Update option in the Settings Wizard.
From Microsoft Update Catalog
You can get the KB4480062 Security by visiting the 'Microsoft Update Catalog' website. In the next page type 'KB4480062' in the search box and hit Enter key. You'll see, three results appear along with a Download button. So click on it and the downloading process will start instantly. However, if you want to avoid writing in the Search Box, click here and download the appropriate update to your PC
WSUS (Windows Software Update Services)
For this, you have to access your WSUS server and follow this simple procedure:
Click on Start => Administrative Tools => Microsoft Windows Server Update Services 3.0.
Now, expand ComputerName, and after that choose Action.
Here, click on Import Updates.
You will notice a browser window opened by WSUS will prompt for ActiveX control installation. In order to move further, install the latest version of ActiveX control.
After the installation of ActiveX control, the screen of Microsoft Update Catalog will appear. Now, you have to write KB4480062 in its Search Box. Then, click on Search.
The Search results will appear. You should find the .NET Framework package matching your processors, languages, and Operating Systems. Click on Add for getting the appropriate updates in your Basket.
Select all the required packages and do click on View Basket.
If you want the packages to be imported to WSUS server, click on Import.
When the task complete, click on Close. You will come back to WSUS.
Congratulations! The update is now ready for installation via WSUS.
Important Things to Note Regarding KB4480062
Though it is not recommended to remove security updates. But if you still want to do it then go to the Control Panel and use the Program and Features option.
KB4480062 is the latest update and it replaces the earlier released updates KB4467227 and KB4471990.
Source – Release note.