KB4480116 Cumulative update has just arrived at Windows 10 Version 17763.253 build. This patch includes significant quality improvements in ESE database and PowerShell remote endpoints. Moreover, the release has the security update for various Microsoft products too.
You will get the patch via automatic update; in addition, you can download KB4480116 on your Windows 10 from Microsoft update catalog website. This push is applicable to Windows 10, V1809 and all versions of Windows Server 2019.
KB4480116 –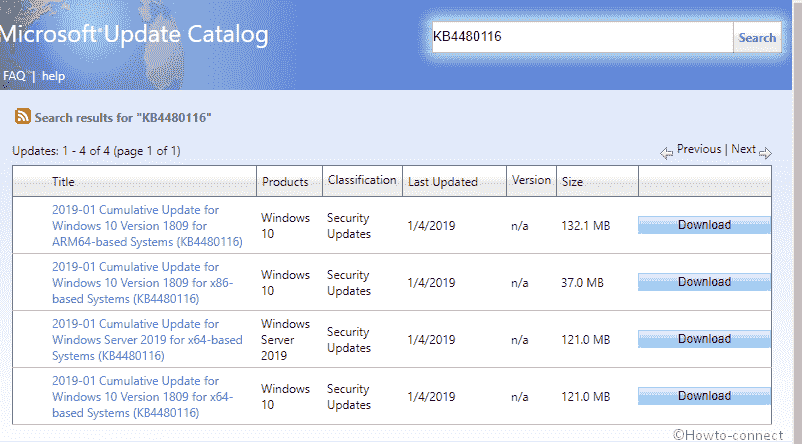 KB4480116 Windows 10 17763.253 08 Jan 2019 Patchday Update Details
Here are the details of significant changes in the KB4480116 –
The patch addresses a PowerShell issue that creates an error when running the tool with a non-administrative account. A security vulnerability in session isolation has an impact on the remote endpoints. With the built-in feature, PowerShell is capable of remoting only with administrator accounts furthermore; this allows configuring it with non-administrator accounts. After this cumulative update, you are unable to set up "PowerShell" remote endpoints to work with the later mode of too. You encounter the message – "New-PSSession: [computerName] Connecting to remote server localhost failed with the following error message: The WSMan service could not launch a host process to process the given request. Make sure the WSMan provider host server and proxy are properly registered. For more information, see the about_Remote_Troubleshooting Help topic."
The cumulative update works on the database that gets empty when running esentutl /p to extricate a corrupt Extensible Storage Engine. You cannot mount the ESE database as it is malfunctioning.
The patch includes Security updates to "Windows Wireless Networking", the built-in web browser Edge, IE (Internet Explorer), MSE, "Windows App Platform and Frameworks", MSXML, "Windows Kernel. In addition, the same release is also for "Windows Virtualization tool "Windows Storage and Filesystems", "Microsoft JET Database Engine", "Windows Linux, plus", and "Windows Virtualization".
In case, you received predecessors of this cumulative update, out of this patch, only new fixes will be downloaded and installed.
To know detail of the fixed security vulnerabilities, kindly navigate to the Security Update Guide.
KB4480116 Known issues
| | |
| --- | --- |
| Symptom | Workaround |
| 3rd-party apps may encounter trouble authenticating hotspots. | The Redmonds are working on a resolution and in the last January solution will be available. |
You must have to receive the latest SSU before installing this cumulative update.
How to download KB4480116 and Install
If you haven't installed this patch, don't be late, go to Settings => Update & Security => Windows update directly and click on Check for updates.
However, if you want to download KB4480116 as stand-alone package, go to the Microsoft Update Catalog.
That's all!!!
Source – Release note