KB4487006 is a cumulative update rolled out on Feb 19, 2019, for Windows 10. This patch comprises several fixes and improvements for Version 1607 keeping other features almost the same. Microsoft predominantly considered and focused the issues in this update are – "Remote Desktop Protocol", Windows ecosystem, win32kfull.sys, and some others. Besides, this patch is introduced as a quality improvement whereon taking the operating system to Build 14393.2828. In addition, the update includes bug fixes and stability enhancement to make the OS more reliable.
You may download KB4487006 as an MSI file format form the Microsoft update catalog. Normally you will get this patch automatically from the Windows update.
KB4487006 –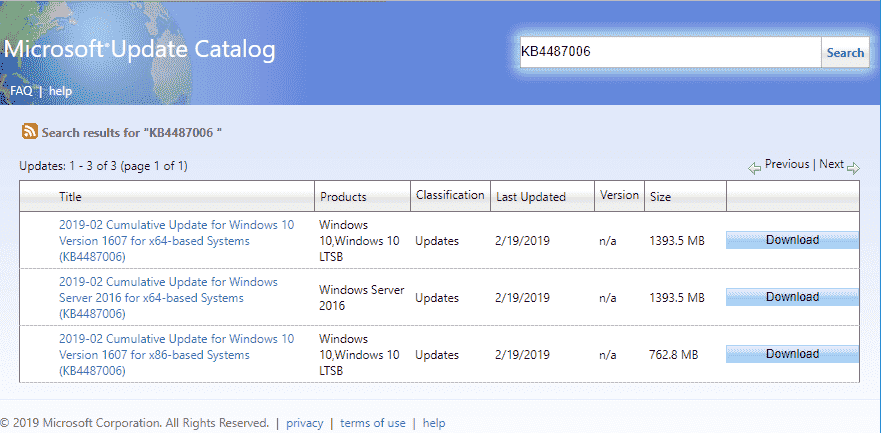 KB4487006 for Windows 10 1607 Build 14393.2828 Cumulative update details
This is literally a bug fixing patch carries no new feature to the operating system but consist of multiple quality improvements like –
Time zone information has been updated for Chile.
Windows 10 team works on "Remote Desktop Protocol" (RDP) client application that displays a black screen at user login.
KB4487006 cumulative updates enhanced the performance of case-insensitive string comparison functions such as _stricmp() in the Universal C runtime.
The patch tries to fix evaluating Windows ecosystem compatibility status problem. This will confirm the compatibility of application and device with entire updates.
This update tries to increase the stability of the UE-VAppmonitor.
Windows 10 team addresses to fix the issue of displaying user names in the "Routing and Remote Access Service" servers.
Microsoft expert works on the updates failing to a relying party trust using PowerShell or "ADFS management console". The problem happens when you configure a relying party trust to use an online metadata URL that publishes multiple PassiveRequestorEndpoint. The error message is – MSIS7615: The trusted endpoints specified in a relying party trust must be unique for that relying party trust.
The patch addresses the error message displaying for external complexity password changes. It happens just because of Azure Password Protection policies.
Microsoft Experts work on the error "The operation failed". This issue occurs at the time of viewing the Microsoft Exchange Address Book. Moreover, the error appears on Microsoft Outlook clients that use locales other than EN-US.
KB4487006 works on stopping you to entitle Storage Maintenance Mode on timeout if the storage is under load.
Focuses on preventing a server from working when controlling a request of a compound client that a rename.
Windows 10 team tries to fix the "Error 0x165" flashing on the screen. It generally occurs when you pause a node and take it down for maintenance.
The patch tries to fix the error at Stop 24 on a virtual RDS server.
Microsoft specialists focus on the first character of the Japanese era name. As it gets failed to identify as an abbreviation causing date parsing issues.
The reliability issues explained in KB4487026 is now fixed in this patch.
KB4487006 cumulative update works on the images on the Internet Explorer. They got failed to load on the browser with a backslash (\) in their comparative source path.
Microsoft expert addresses the conjecturally stop working of applications that use a Microsoft Jet database with the Microsoft Access 95 file format
Known issues in this update
Symptom
Workaround
"SCVMM" doesn't mention one by one and manages logical switches deployed on the host after installing the update.

Moreover, it may be stopped to occur in vfpext.sys on the hosts, specifically if you do not follow the best practices.

1) Run mofcomp on the underneath mof files on the affected host:

Scvmmswitchportsettings.mof
VMMDHCPSvr.mof

2) Pursue the best practices while patching to keep yourselves away from a stop error in vfpext.sys in an SDN v2 environment (NC managed hosts).

Windows might be stopped working on several specific laptops ("Lenovo, Fujitsu") having less than 8 GB of RAM when you install KB4467691

Initially, restart the affected machine using the Unified Extensible Firmware Interface and subsequently, Disable Secure Boot and then restart.

Moreover, if BitLocker is enabled on your machine, wait till the Secure Boot is disabled. Consequently, go through this BitLocker recovery.

However, Lenovo and Fujitsu are aware of this issue. Therefore, you may contact your OEM and ask for a firmware update for your device.

When you install KB4467684, the cluster service might be unable to start, flashing an error "2245 (NERR_PasswordTooShort)". This situation occurs if the group policy set up with greater than 14 characters.
Configure of less than or equal to "14 characters" of lower reaches Password Length.

Moreover, Microsoft is working on a resolution and will provide an update in the forthcoming release.

There's a probable chance of authentication issues in Internet Explorer 11. This problem occurs after installing the cumulative update KB4487006 and the same account is being used by multiple users including Remote Desktop Protocol (RDP) and "Terminal Server logons"

Symptoms reported, but may not be limited to:

Cache size and the location can be seen as vacant.
The shortcut of a keyboard doesn't perform appropriately.
Webpages may stop to load or represent correctly.
Issues with credential prompt.
Issues when downloading files.

To avoid the same account during logging on a Windows server machine, you should create a masterly user accounts

Furthermore, you may disable different RDP sessions for a specific "Windows Server".

Over and above, Microsoft is working on a resolution. It will provide an update in the forthcoming release.
How to download KB4487006 for Windows 10, 1607 and install
Prior to receiving the latest cumulative updates KB4487006, we strongly recommend you install the latest servicing stack update. Doing this, it would enhance the performance of the update process in order to mitigate the potential issues. To get KB4487006 through Windows update –
Step-1: Press Win+I to launch Settings.
Step-2: Click Update & Security option.
Step-3: After that, select Check for updates button on the right side of the following page.
You are able to Download KB4487006 from Microsoft Update Catalog.
Source – Release note.