KB4493440 is a new cumulative update unfolded out on April 25, 2019, for Windows 10. This patch comprises a collection of several fixes and improvements for Version 1709 keeping other features almost the same. Microsoft predominantly considered and focused the issues like – the Japanese era, CALDATETIME, IME and lots more in this update. In addition, this patch is introduced as quality improvement to take the operating system to Build 16299.1127. The update covers bug fixes and stability enhancement to make the OS more reliable.
Users are able to download KB4493440 as MSI file format from Microsoft update catalog website. Generally, you grab patches like this automatically through Windows update. However, the manual installation is an easier option when you fail to get the patch by itself. We suggest you upgrade your machine to the newest versions for having a better UI and to sustain security updates. If you prefer to see all the patches on a single platform then follow – Windows 10 Cumulative Updates List.
KB4493440 –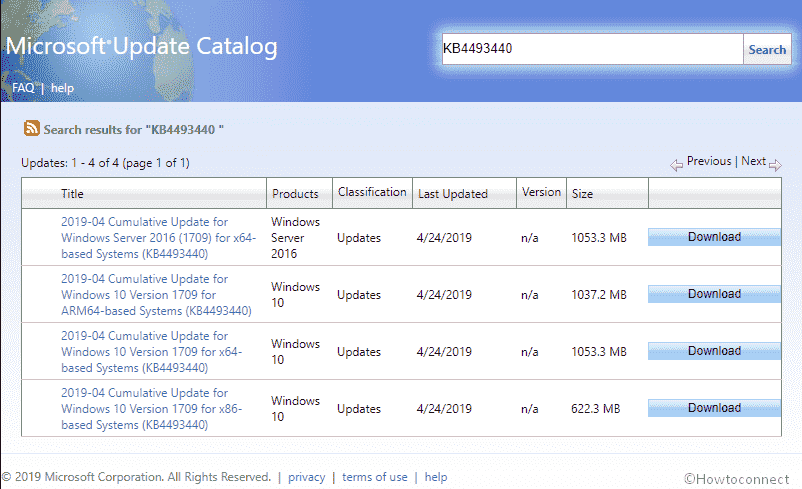 KB4493440 for Windows 10 1709 Build 16299.1127 Cumulative update details
This update is basically a bug fixing patch brings no new feature to the operating system but consist of a bunch of quality improvements like –
Microsoft works on Internet Explorer that hampers a sub-resource download. The issue appears while loading over the HTTP protocol on a page hosted over the HTTPS protocol.
Another issue which blocks the Custom URI Schemes for Application Protocol handlers in addressed in this patch. Commonly, it obstructs from commencing the corresponding application for a local intranet and trusted sites on Internet Explorer.
After downloading Microsoft Office setup installer using Edge browser, administrator account can run this.
In KB4493440, the Windows 10 team focuses on CALDATETIME structure that cannot handle more than 4 Japanese Eras.
Microsoft experts work on ShellExperienceHost.exe that stops working. This issue usually occurs when the start date for the Japanese Era is not on the opening day of the month.
NLS registry gets updated for promoting the new Japanese Era.
The new patch takes on DateTimePicker problem because of which it displays the date of the Japanese date format in an incorrect form.
Microsoft specialist works on the Date and Time Settings to control to cache old Eras and prevents the control from refreshing when the time enters the new Japanese Era.
The new patch updates fonts. It is done to support the new Japanese Era.
The team works on Input method editor that is not compatible with the new Japanese Era characters.
The tech giant tries to fix Clock and Calendar flyout control that shows the day of the week incorrectly mapped to a date in the month of the new Japanese Era.
Microsoft, in Windows 10 1803, offers alternative fonts for the new Japanese Era fonts.
With the reveal of KB4493440, it facilitates Text-To-Speech functionality to support new Japanese Era characters.
Windows 10 team in this new patch, empower the touch keyboard to support new Japanese Era character.
"0x3B_c0000005_win32kfull!vSetPointer" error has received an improvement in this update. The problem occurs when the kernel mode driver, win32kfull.sys accesses an invalid memory location.
Many devices quit functioning while logging on or off. It actually occurs at the time of running antivirus, endpoint detection and response software. The current patch addresses this issue.
Windows 10 team, in version 1709, addresses Touch screen that stops functioning when you reboot it.
The team tries to resolve the continuous memory leak in LSASS.exe on systems that have cached logon enabled.
Microsoft expert works on allowing a user to continue logging on to an account with the help of a smart card after disabling the account.
Windows 10 team focuses on preventing access to enterprise resources when using Kerberos with Windows Hello for Business (WHfB) credentials. This causes users to experience several prompts to give their credentials.
Windows Management Instrumentation policy provider occupies all available dynamic User Datagram Protocol ports. This results in affecting machines to become unresponsive, however, this issue is addressed in B4493440.
Tech Giant addresses a roaming profile user that loses customized Start menu settings after upgrading the operating system. Moreover, on installing this update administrator must enable "UseProfilePathMinorExtensionVersion" registry setting. All the information regarding these settings is illustrated in KB4493782 for roaming user profiles.
Provisioning printers enhance outcomes in the educational environments that comprise multifunction printers.
Known issues in this update
Symptom
Workaround
A certain operation, that you execute on a file that is on a Cluster Shared Volume may be failed due to a bug –

STATUS_BAD_IMPERSONATION_LEVEL (0xC00000A5)

This situation arises while performing the process on a CSV owner node from a procedure that doesn't own administrator privilege.

Do one of the following –

This would be fixed if you perform the task from a process that has administrator privilege.
Another approach is to execute the task from a node that doesn't have CSV ownership.

Over and above, Microsoft is working on a resolution. It will provide an update in the forthcoming release.

When you install this KB4493440 patch, Zone transfers between primary and secondary DNS servers over the Transmission Control Protocol (TCP) might be failed.

The company is working on a resolution. This will provide an update in a forthcoming release.
How to download KB4493440 for Windows 10, 1709 and install
Before obtaining the newest cumulative updates KB4493440, we strongly recommend you to install the latest servicing stack update. This will enhance the performance of the update process in order to mitigate potential issues. To get KB4493440 through Windows update –
Step-1: Press Win+I and let Windows open the Settings app.
Step-2: Click Update & Security on the consequent Application windows.
Step-3: This will take you to the Windows Update in the left pane, from here move alongside right.
Step-4: Select Check for updates option from here and wait for the searching ends.
Step-5: Click on the Download option available under the found update. Once you finish the downloading procedure, Install the update using the on-screen guidelines.
You are able to Download KB4493440 from Microsoft Update Catalog.
Source – Release note.