Windows 10 May 2019 version 1903 receives a cumulative update KB4497935. The patch brings a good collection of fixes and improvements to the build 18362.145. In this update, Microsoft mainly addresses the major issues like – Night light mode, Windows catalog file, event 7600, and more. Additionally, it comprises several quality enhancements to make Windows 10 more reliable whereas not a single known issue is found.
Users are able to download KB4497935 as MSI file format from Microsoft update catalog website. However, you can use the manual installation which is an easier and alternative option when you fail to get the patch automatically. According to the software giant, it would reliable to upgrade your machine to the latest versions of Windows 10 for having a better user experience. To check all the available cumulative update on a single platform – Windows 10 Cumulative Updates List.
KB4497935 –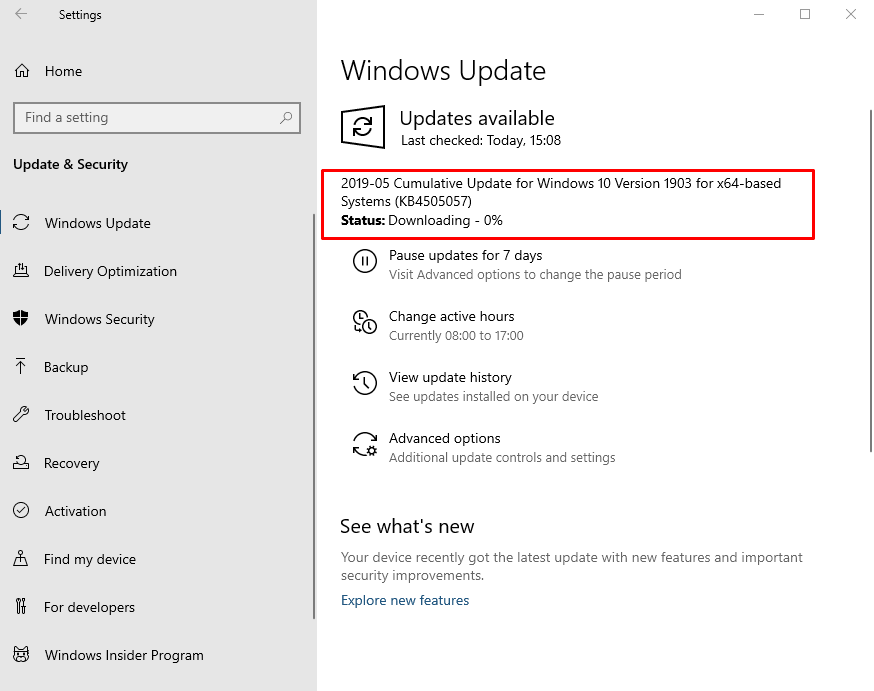 KB4497935 Windows 10 1903 improvements and fixes details
Major changes in this update for Windows 10 1903 –
The patch resolves an issue that obstructs Custom URI Schemes for Application Protocol handlers. It may not start a similar application for a local intranet on installing this KB4497935 cumulative update.
Another issue hampers a specific application from launching. This problem occurs when you set folder redirection for the Roaming AppData folder to a network path. Microsoft addresses the issue.
Night light mode will work perfectly during display mode changes.
On launching, a full-screen game may not deteriorate now as Windows 10 team has worked on it. This issue used to occurs when the Microsoft Game bar starts noticeably on top of the game.
On installing cumulative update KB4497935, the removal of Bluetooth devices became easy. Earlier it prevents to remove from some devices having specific Bluetooth radios.
The Tech Giant attempts to fix an issue that may cause event 7600 in the Domain Name System server event log to contain an unreadable server name.
The issue in dots per inch of the guest unmatching with host no longer occurs.
Microsoft expert addresses an external USB device or SD memory card to be re-assigned to an incorrect drive during installation.
The cumulative update KB4497935 lets facilitate the File Share Witness to remove Server Message Bock. Because of this issue, a server stops receiving SMB connections.
After installing this patch, the build 18362.145 allows the opening of an application protocol URL. Now, it will not experience the issue which prevents while hosting on an intranet page.
Microsoft specialist attempts to resolve the BranchCache when it is in distributed cache mode. This Bandwidth-optimization feature may use more disk space than assigned for the republication cache. The tech giant has stated that to fully address the issue, devices that have exceeded the disk space assignments should empty BranchCache using the netsh Branchcache flush command.
The release of this cumulative update basically focuses on an issue that hampers some Direct3D applications and games from entering full-screen mode. It happens when the orientation of the display changes from the default.
The Software Giant works on creating a Windows catalog file on an x64 system using Windows System Image Manager
That's all!!!