The Patch Tuesday for August 2019 is here with a bunch of cumulative patches for various versions of Windows, including KB4512508 for Windows 10 1903. It contains a few routine quality and security updates, as well as include fixes for certain issues that have been troubling the uses, as well as the security updates for various system components. The cumulative patch increases the operating system build to 18362.295
If you have the Windows Update Services or Microsoft Updates unblocked and uninterrupted, you wouldn't have to do much. You will probably have the patches automatically installed on your system through these services. Additionally, you have the alternative of downloading the update' standalone package in MSU file format from the "Microsoft Update Catalog website".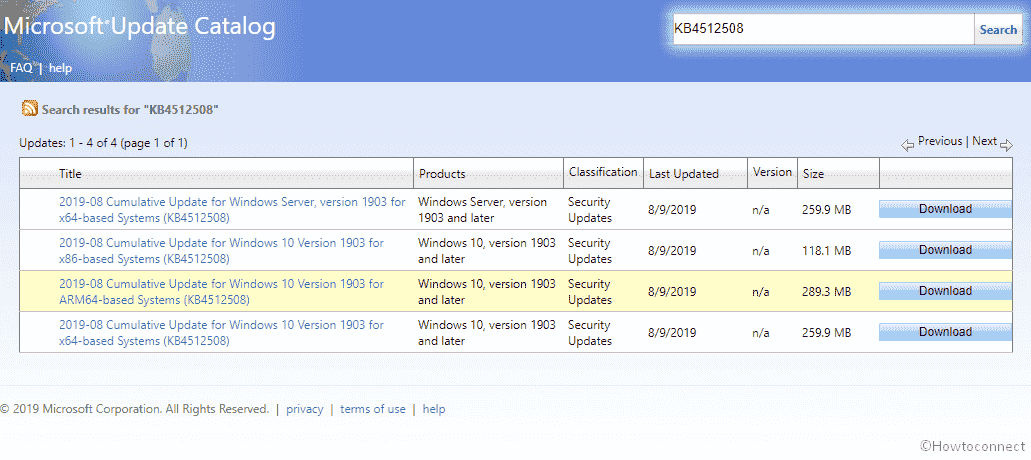 KB4512508 Windows 10 1903 Changelog
Following are the major highlights of this particular cumulative update.
As a monthly patch, KB4512508 basically consists of security updates to several Windows components.
Of course, it also has security improvements for the browsers, Internet Explorer, and Microsoft Edge.
KB4512508 Windows 10 1903 also consists of updates towards improving security while using the browsers, connectivity functions like Bluetooth and networking technologies as well as various input devices such as a keyboard, mouse, or stylus.
This cumulative update also addresses an issue preventing devices from starting up or causing them to continue restarting. This happens if those devices are connected to a domain configured for using MIT Kerberos realms. This would usually affect both domain controllers as well as domain members.
Additional: The release also consists of updates and improvement for Microsoft HoloLens (Build 18362.1028) released August 13, 2019.
Known issues of August 2019 cumulative update for Windows 10
Following are the known issues of KB4512508.
Issue 1:
One of the main known issues with this patch is the failure of Windows Sandbox with "ERROR_FILE_NOT_FOUND (0x80070002)".  It usually occurs on the devices in which the operating system language has been changed in the process of updating.
The developers are stilling checking and working on the solutions for this trouble. You may expect an update any time sooner in this context.
Issue 2:
Yet another issue is that the devices which start-up using PXE or Preboot Execution Environment images from WDS or System Center Configuration Manager are unable to start after installing this update on a WDS server. The following error message is shown along –
Status: 0xc0000001, Info: A required device isn't connected or can't be accessed.
Microsoft is actively working for a solution for this issue too and you may expect an update anytime sooner in this context.
How to receive KB4512508
We discussed earlier that usually, Windows users get the updates without having to do anything. However, in case, you have disabled the automatic processes, or are experiencing any sort of undue delay in getting these patches, you can also check for them manually. To do this, check out the following steps –
Start by launching the Settings app using the hot-keys "Windows + I" and when the Settings open, head to Update & Security.
Windows Update subsection will be the one that comes up by default in Update & Security settings.
Now, in the main panel, click on 'Check for updates' link. With this, there will be a fresh scan for any due for new patches.
Then, simply download the updates when the system lists any due ones.
Your operating system will now carry out the installation process automatically. Later on, when the system prompts for permission for restarting the device, simply enable restart.
Get the standalone package – Microsoft update catalog.
Sorce – Release note.