Do you have trouble installing the KB5028185 update on your Windows 11 21H2 system and getting error code 0x800f0922, 0x80070002 or other? Some users report facing Undoing changes made to your computer screen when receiving the 11 July 2023 security update. Originally, the KB5028185 is intended to improve the speed and security of your system by correcting bugs and other concerns. However, the installation procedure does not always go as well as planned, leaving you scratching your head and wondering what went wrong. So, this post will provide methods to fix KB5028185 Failed to Install with Error in Windows 11 21H2.
KB5028185 Failed to Install with error 0x80070002, 0x800f0922 or other might occur because of corrupted Windows update cache. Furthermore, conflicting applications or drivers on your PC could also affect this issue. Another possibility is system files are corrupted or there is inadequate storage space. When these problems arise, it is critical to troubleshoot and overcome them to successfully install the concerned update. See: Fix KB5027292 Failed to Install in Windows 11 21H2.
KB5028185 Failed to Install in Windows 11 21H2
How to Fix KB5028185 Failed to Install with Error in Windows 11 21H2 –
Install Using Microsoft Update Catalog
A quick solution for the abovementioned issue can be utilizing the Microsoft Update Catalog, which is nothing but a repository of patches, drivers, hotfixes, and more.
When facing such install issues in Windows 11 21H2, the catalog allows manual downloading and installation of updates bypassing the automated process and providing a reliable alternative. So, follow the below-mentioned steps:
Visit the Microsoft Update Catalog website.
Choose the version compatible with your PC and Windows.
Click on the Download button.
Once a popup page prompts, click on the link to the standalone package.
Go to the Downloads folder and double click on any of and following files:
windows11.0-kb5028185-x64_c78aa5899ba74efdd0e354dfab80940402b3efa4.msu
or,
windows11.0-kb5028185-arm64_500ec49c779da09dbffb0b8a42b6d6f383d9e062.msu
Click Yes on the confirmation pop-up.
How to Download and Install Update from Microsoft update catalog on Windows 11/10
Use Windows Update Troubleshooter
Still looking for a solution to the KB5028185 failed to Install with error 0x800f0922 or 0x80070002 on your PC? Try using Windows Update Troubleshooter.
This handy utility automatically searches for problems, applies patches, and guarantees that the update installs smoothly.
Press the Windows key and select Settings.
Select System.
Then, scroll downward in the right panel and click on Troubleshoot.
Select Other troubleshooters.
Locate Windows Update and click on Run.
Reset Windows Update Components
You ought to try this option to resolve KB5028185 0x800f0922 error as it can give a fresh start by clearing the update cache and then restarting the services. Move forward with the guide:
Click on Start and type cmd.
Select Run as administrator.
Once a UAC popup appears, click on Yes.
Stop the Windows Update services by typing the following commands one by one and pressing Enter after each:
net stop wuauserv
net stop cryptSvc
net stop bits
net stop msiserver
net stop AppReadiness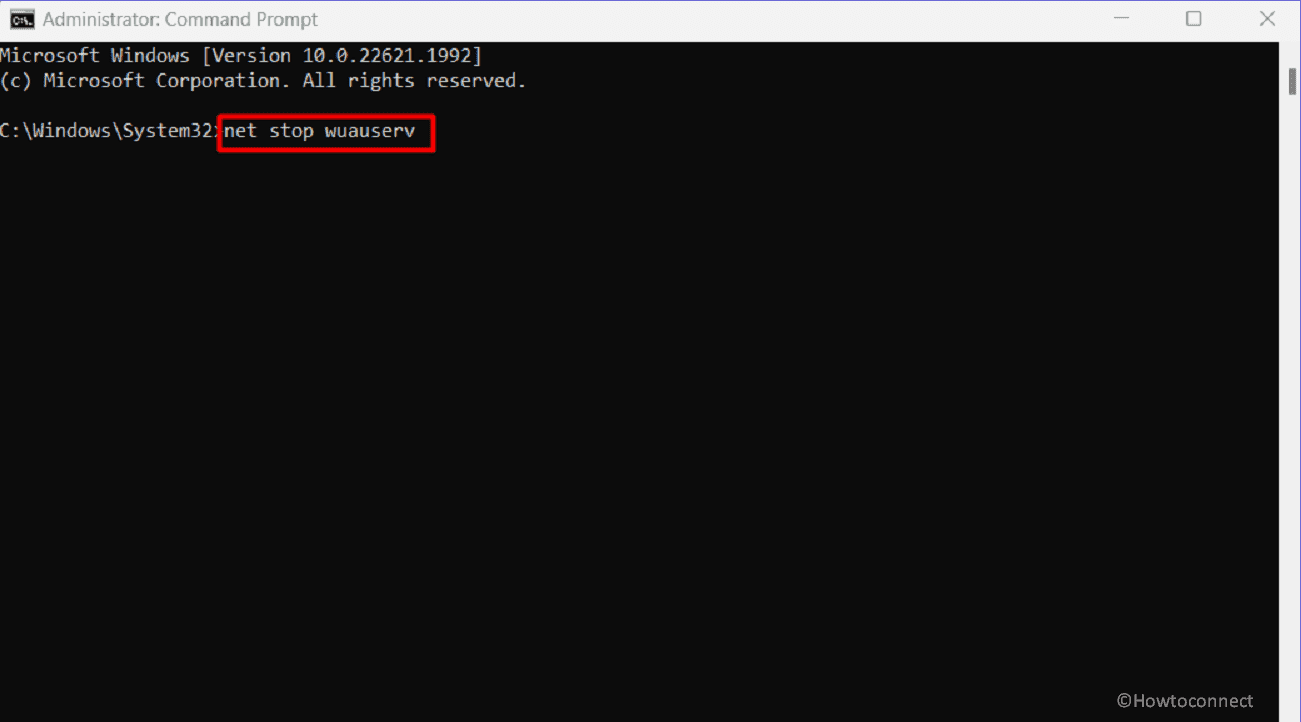 To Clear the Windows Update cache, type this command and press "Enter": del %windir%\SoftwareDistribution
Reset the BITS service by entering: bitsadmin /reset /allusers
Restart the Windows Update services using the following commands:
net start wuauserv
net start cryptSvc
net start bits
net start msiserver
net start AppReadiness
Close the Prompt and restart your computer.
If you want to use shortcut method to fix KB5028185 error by clearing Windows update database cache then directly download Reset_Windows_11_update.zip, extract the file, and run WuReset.bat.
Configure the Windows Services
Then, restart Windows services because it can be one of the possible workarounds in case of the KB5028185 failed to Install error.
Press Wiinkey+S.
Type services in the search bar.
Hit the 'Enter' key.
Locate Windows Update from the list and double-click on it.
Set the Startup type to Automatic.
From the Service status, click on Start.
Click Apply and OK.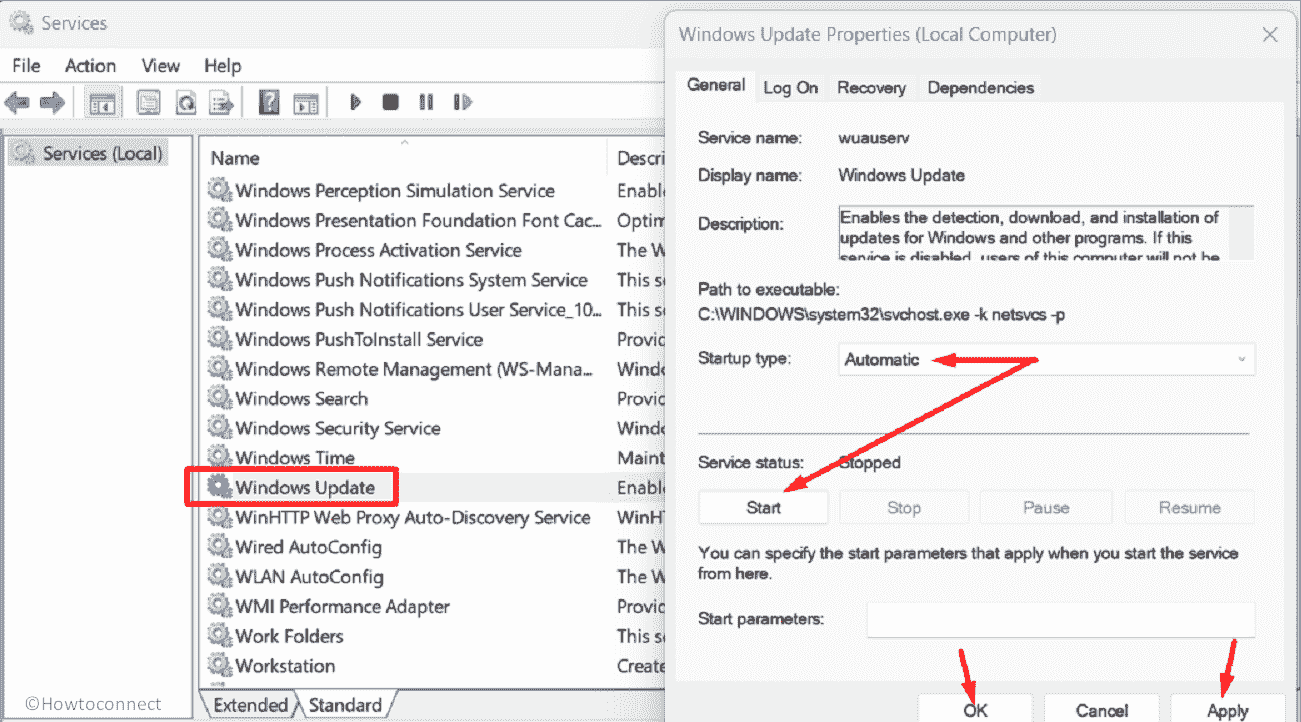 Repeat the same process for Background Intelligent Transfer Service.
Disable Third-Party Antivirus
Why not disable your third-party antimalware? Your antivirus might be the root cause of the KB5028185 0x80070002 or other error code. Turning it off may solve the issue at hand.
Go to the right side on the Taskbar and click on Up arrow.
Locate the antivirus icon in the system tray.
Right-click on it and choose the option that indicates to Disable or Pause the software.
Confirm the prompt if appears.
Proceed with the KB5028185 update installation.
Re-enable the antivirus software afterward.
Try Google Alternate and Preferred DNS
You can also bank on Google Alternate and Preferred DNS to fix your concerned update error in Windows 11. DNS IP addresses change to Google's can ensure a more stable and reliable internet connection. This, in turn, can improve the update installation process and solve the problem both effectively and efficiently.
Press and hold the Windows key and hit R.
Type ncpa.cpl in the Run dialog box.
Click on OK.
Then, right-click on the running Network adapter and select Properties.
Click on Internet Protocol version 4 (TCP/IPv4).
Select – Properties.
On the next window, check the option – Use the following DNS server addresses.
Enter the following IP addresses:
Preferred DNS server - 8.8.8.8
Alternate DNS server - 8.8.4.4
Click OK and exit the window.
Close all windows, restart the PC, and install the cumulative update.
How to Change DNS Server Address in Windows 11 (4 Methods)
Fix Corrupted System Files
To fix KB5028185 failed to Install issue you might need to repair certain corrupted system files. Corruption in these files might occur due to buggy third party program, obsolete drivers, or third-party antivirus.
The integrity of these files may be checked and restored with the help of utility tools like System File Checker (SFC), allowing for trouble-free upgrades. Furthermore, DISM will correct the installation media such as .wim or virtual hard disk .vhd or .vhdx.
Press Windows key and type cmd.exe.
Press Enter and click on  Yes.
Once Command Prompt as administrator appears, type  sfc /scannow and hit the 'Enter' key
After the files are repaired, reboot your system.
Check if KB5028185 0x800f0922 or other error is fixed.
In case,  the error still persists then again launch the "Administrator: Command Prompt".
Then run the following commands sequentially:
DISM /Online /Cleanup-Image /CheckHealth
DISM /Online /Cleanup-Image /ScanHealth
DISM /Online /Cleanup-Image /RestoreHealth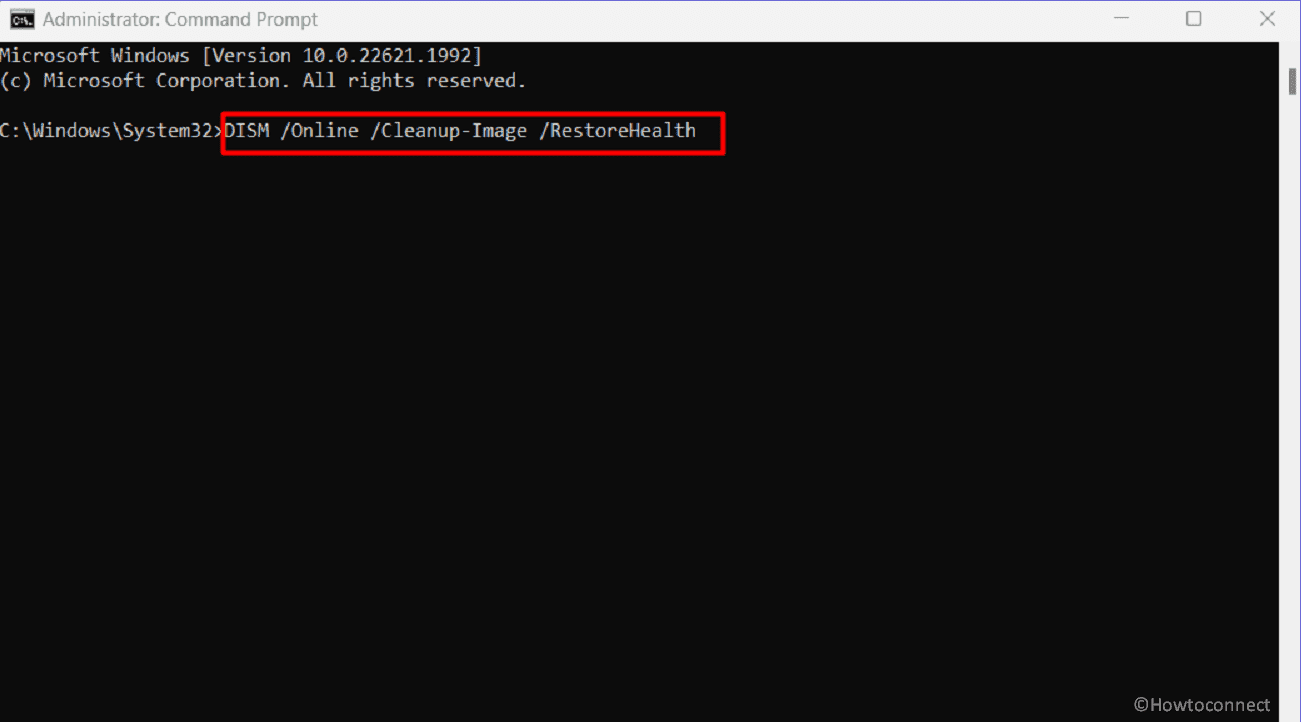 Use Clean Boot
Ever heard of a clean boot? It's a troubleshooting technique that can settle the KB5028185 failed to Install problem in your system.
Through clean boot, you disable unnecessary startup programs and services, eliminating potential conflicts that might hinder the update process. This streamlined procedure increases the chances of a successful installation.
Click on Search from the taskbar and type MSConfig.
When System Configuration window opens up, go to Services tab.
Check the option Hide all Microsoft services.
Then click on Disable All button.
Now select the Startup tab.
Click the link saying Open Task Manager.
Right-click on the third-party program and select Disable.
Repeat this for all programs in the list.
Close the Task Manager and return back to System Configuration.
Click on Appy and OK.
Select Restart.
If the issue disappears, a third-party app may be the cause.
Remove recently installed apps or programs one by one.
Read: Windows 11 KB5028185 22H2 22621.1992 with large number of improvements
Perform In-place upgrade
If these ways haven't generated any positive results for you, it's time to check out the In-place upgrade option that can aid you in solving the concerned Windows update error. Here is the procedure to follow:
Go to the official download webpage for Windows 11 – Microsoft website.
Scroll down to the "Download Windows 11 Disk Image (ISO) for x64 devices" section and click on Select Download.
Select – Windows 11 (multi-edition ISO for x64 devices).
Click on Download now.
Choose the correct product language.
Choose your USB drive.
Then click on Confirm.
Now click on 64-bit Download.
Allow the download to complete
Open File Explorer (Windows + E) and go to Downloads folder (location).
Right click on Win11_22H2_English_x64v2.iso and select Mount.
If a warning popup appears, click on Open.
Then double click on Setup.exe 
Confirm the prompt.
The Setup will show preparing for a while. When Install Windows 11 wizard opens, click on Next.
Checking for updates process will start.
On Applicable notices and license term window, click Accept.
In a short period of time, Windows 11 will be installed with KB5028185.
We hope with these 9 ways you will able to fix KB5028185 Failed to Install in your Windows 11 21H2.
Methods:
Install Using Microsoft Update Catalog
Use Windows Update Troubleshooter
Reset Windows Update Components
Configure the Windows Services
Disable Third-Party Antivirus
Try Google Alternate and Preferred DNS
Fix Corrupted System Files
Use Clean Boot
Perform In-place upgrade
That's all!!
Repair any Windows problems such as Blue/Black Screen, DLL, Exe, application, Regisrty error and quickly recover system from issues using
Reimage
.