Google Photos is a tool as well as photo editing and viewing Android app. It is developed by Google Inc. This app is completely free for its users. This app helps one in keeping all his photos and videos in an organized way. This basically works as the Home for all the photos and videos present on your Device. It makes the searching of any photo/ video very easy.
Google Photos android app can arrange all your pictures by the people, places and things that matter to you. It provides dozens of useful features which you can use and make your pictures even more soothing and beautiful. There is always room for improvement, but this is now the top way to organize, view and edit images for most of the people. The search feature of this app is simply killer.
This has been nicely developed, getting more and more superb in making everything neatly organized with additional suggestions and creative output. You can have this app directly from Google Play Store. Just go there, search for its name and then press Install. Rest would be taken care by the app developers itself.
How to use its different features of Google Photos Android App
This app provides you different features. Let's see what these features are and how to use them.
Visual Search: – All the photos which are present in your device could be searched upon by different keywords for example people, places and things which appear in your photos. If you are looking for a picture in which you visited Agra? Type Agra in the search bar and it will show all the photos taken at Agra.
You can search for any keyword you remember with which you might have tagged some of your photos. Below shown is a screenshot in which a picture related to dog has been searched upon. The moment you put a keyword in the search, it will automatically organize itself according to the particular keyword.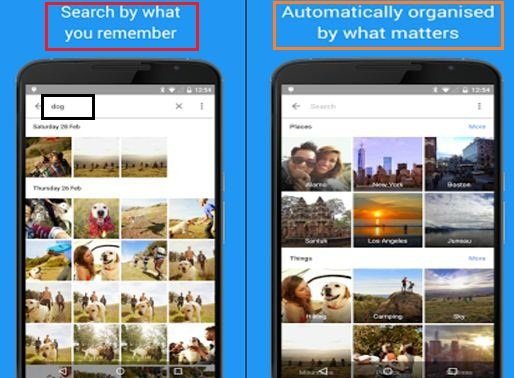 In the second slide of the above screenshot, you can see various albums with which they are saved into your device like Los Angeles, New York etc.
Note: Face grouping is not available in all countries.
Auto Backup: – Google Photos android provides you an ultimate reliability of safety and security to your photos and videos. You can keep all your photos and videos safe and accessible from any device. You can opt for free and unlimited cloud storage available to you and that too at high quality. You can use up to 15 GB of the original size for free.
Editing Photos and Videos: – Using Google Photos android, you can edit any photo and video. The editing process here is simple but yet powerful. You can apply filters, adjust colors and many more. You could also use some of the photos present on your device to create montage movies, interactive stories, collages, animations and many more. This app provides one home to all your photos.
Saving Spacing: – Most of the time, it occurs that we have two or more than two photos in our device which look alike. There is no need of keeping more than one photos which are same as they would only waste space of our device. Using the features of this app, we could look out for them and delete them easily. Using this app, you could also clear safely backed up photos and videos from your device.
Sharing: – This app also allows you to share any picture or video present in your device to be shared with your colleagues instantly on Social Media Sites/ Whatsapp etc. wherever you want to share.
There is an Assistant provided in this app, which could help you in creating new animations, new collages etc. on your device easily. A screenshot of which is shown below along with some of the reviews of its users.
Conclusion
Google Photos is a nice app to have in your Smartphone. It provides a Home to all your photos and videos. Viewing and searching them is pretty easy in this app. This is an intuitive, time saving and a fresh approach. Download and Install this app onto your device. This is a worth having app.