Hey friends, you might be wondering what this article is about. This article is about getting the track of time that you spent on the different things while you were enjoying, playing and doing different kinds of stuff on the Windows. In this scenario, where Computer and internet play a crucial role in our lives, "Task Management" has become one of the most important thing of our life. What if you are doing different pieces of stuff and you are knowing for how much long you have been doing this. This is exciting. isn't it??
There is a new app i.e. "Whatcha Doing". It keeps record of our time i.e. for how long we are doing certain things. It is an Adobe Air Application. It not only keeps track of our time but also creates a lot of Tasks to be done set up by us. It keeps on reminding you at a certain interval of time fixed by you that what were you doing and for how much long. It is basically a pop-up that appears when you are doing something at a fixed interval of time. You can keep track of your gossiping, workout, eating etc. using this feature.
You can add multiple task in this app.  The free version of this app is in the market and it helps you in getting the report in which you can see the time spent by you on different things. However, if you are willing to use some more stuff if this app, you have to become a premium or another member of this app. Purchasing this app will also help you in getting features like online manager for group tracking and reporting.
The simple interface of this feature is shown below.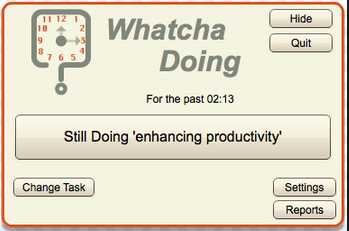 The above shown picture is showing that the user is doing the work of "enhancing productivity" for the past 2:13 min. you can change the task using the"change task " option at the left lowermost side. You can make this pop-up hide, quit, etc.
Downloading
You can download this app by visiting the following link: http://fish-bytes.com/whatchadoing/index.html. Note down that once you are willing to install this feature, you also have to install Air Adobe application as that app is the part of this application.
Working 
Working with this application is very cozy. Once you have installed this app on your desktop, you can select another task by just clicking on the change task. A new pop-up will appear just like below:
You can add a number of tasks using "Add New Task" option and then select any of them using" Select Task". It the keeps a track of your time from once you have started it.  Clicking on "Settings" will pop-up a new option which is shown below:
From, the above Settings option, you can select for the Check Interval, Days of keeping tracks, etc. You may also extend its uses by selecting the "Enable Premium Service" option.
That's it. now enjoy this feature using your different things.