Cameran is a very popular android app that has gained more than 3 millions of users across the countries of Asia for its extremely innovative and real time feature of turning casual and everyday images into an artistic picture. This camera app has been developed with the design technique under the editorial supervision of a famous Japanese photographer Mika Ninagawa who is a renowned personality in the field of photography and has won many awards. It is a free application and many celebrities are also using this app to post their new photos.
The interface is very user-friendly and there are options simple enough to deal with. The features are similar as you would find in any photo editor, but this app surpasses the others when it comes to the type of world class filters that it provides for converting your images.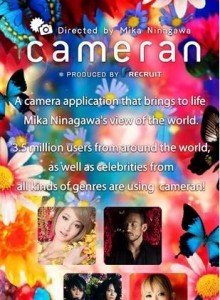 You could have the access to this app from searching it on Google Play Store. You could also click on the link provided at the last of this article to visit its official website.
How to use Cameran Photography App
Before using this app, you have to know about certain things which you would see in this app. All those things are described in brief with their importance.
Things to Know About
Vast Filter Resources: The application provides a wide range of filters that you might not find in any other app. There are 30 filters that are available and when applied it brings Mika Ninagawa's view of life through the photography. The filters are very pleasing from the aesthetic point of view and very colourful. Such filters enhance the image in an unprecedented way and you just have to apply the filter to the image that you select via browsing your device storage and see the wonderful changes that follow.
Follow Your Celebrity: This app has been particularly famous because of its usage by many famous celebrities that include Erika Sawajiri (famous Japanese actor), Hidetoshi Nakata (Soccer player) and Hyde (Japanese musician known worldwide). Now you can follow them and view their latest and popular photos posted by them in their account.
Share Your Photos: Once edited the images can be shared among your friends and you can also post your daily life updates from your account in this app. The share feature in your account allows you to do this in an easy way and on a click you can make other people watch the images that you have posted. The sharing can be done from social networking websites such as Facebook, twitter and others.
New Wallpapers: With this app you will also get a collection of wallpapers created by Mika Ninagawa that are exclusive in its beauty and colour. Currently there are 36 different types of wallpapers that are available. The app is also determined to add more wallpapers featuring famous celebrities in the later phase of its development. So you will then get more of these in the coming versions of the application. 
Key Features of Cameran Photography App
Wide range of filters including seasonal and classic photo processing.
Useful filters to create photos more stylish
Original and new wallpapers are free of cost.
No advertisements on the home screen.
Conclusion: It is a nice app considering the exclusive range of filters that it possesses. The originality of the app is commendable as it has developed the features under a famous photographer. So it is committed to give the first class experience. To enjoy sharing your daily photos with twist and amaze this app is very useful in this regard and serves the purpose. Some more features in the app in the coming versions will definitely be desirable.
Downloading Link: https://play.google.com/store/apps/details?id=jp.co.recruit.mtl.cameran.android