How to Make Windows 10 Control Panel Icon Size Bigger – Visibility of symbols and links is a considerable matter. Control panel includes a group of several icons and links. By Default, it opens in Classic view but if it is set to small icon view anyhow then troubles users due to lack of visibility. To make Windows 10 Control Panel Icon Size Bigger is a simple task that requires only 2 or 3 clicks.
How to Make Windows 10 Control Panel Icon Size Bigger
Click "Win and X" keys together and from the observed menu, hit "Control Panel" option.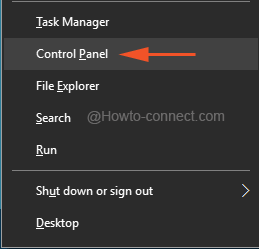 Soon "Control Panel" will be visible which showcases an option called "View by" on its top right portion.
This "View by" option has a drop-down menu alongside it, click on "Category".
The drop down menu lists three options, the first is "Category", the second one is for "Large icons" and lastly the third one describes the "Small icons".
Hit the "View by" drop down menu and choose the "Large icons" among the three. You experience the symbols or icons will look bigger in size.
If the "Small icons" is selected, all the symbols or icons that are showcased inside the Control Panel will become smaller in size.
Note – If you select the "Category" option, you will notice that the home screen of Control Panel will exhibit different categories where each category holds its related and associated settings.
Today in this article we have discussed one small yet important piece of customization that users are sincerely looking for it. The display of Control Panel plays a significant role is proceeding with any work. For instance, settings are observable in the "small or large icons" view but there are some settings that can be traced out underneath the "Category" view only.
Also, keeping the icons into a bigger size, i.e., choosing the "large icons" will make it comfortable for the people to understand who have weak eyesight.
People love to regulate and present their valuable things as per their likings and this is also applicable to the PC users. Loaded with many customization opportunities, the latest edition of Windows is ruling in the market and as well as on people's hearts. Focusing on one such significant piece of customization, in this article, we have illustrated the steps that will make Windows 10 Control Panel icon size bigger for better Visibility of Icons on Links available here.