Milo the Mosquito is a Windows 8 app for strategic gaming. This is a crazy fun game app in which there is a mosquito named Milo. The aim of this game is to trap this mosquito with the help of making dots and kill it completely once you trap it somewhere. It has been designed for 2D. Milo the Mosquito is basically a strategic game, however, this is not like any Big strategic Game like Age of Empires, Dota. It is a much simpler game with a single objective. You can check yourself how good are you at making strategy. The controls are very simple and easy. Milo the Mosquito game has been launched to be played in two modes.
Arcade: Arcade will present 9 levels of this game each level will be harder than previous.
Free Play: Free Ply will avail toughest levels filled with random gaps and marked dots.
The interface of this game is very simplistic. A screenshot of which is shown below. There are three difficult levels of this game and they are Easy, Medium and Annoying. As you proceed from the easy to annoying the difficulty level increases and you become more annoyed. You can see your best score at any time of this game which might give you a target to break down.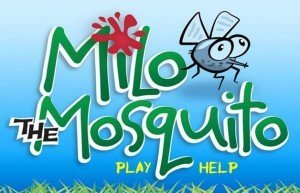 A link has been provided at the last of this article from where you can access Milo the Mosquito app.
How to proceed in Milo the Mosquito game
Once you have installed Milo the Mosquito app on your windows machine, open this app from its icon. The Gameplay of this game as discussed above is simple and i.e. trap and kill the mosquito. This is based on a new concept. All you have to do is to click here on this app. It is the gameplay of this app which makes it more funny and interesting. Mosquito becomes more clever in each higher level. Milo makes his move based on constantly watching your typical moves and predicting the new one. The best thing about this game is that it can be played offline.
You will play Milo the Mosquito game in levels. Each level has a hive, with vacant gaps here and there, and also edges. Milo sits somewhere in that hive. You have to click on hive splotches. Milo can't go through the clicked splotches, and this will only move in unmarked splotches. For each single move you make in the game, Milo also responds back by moving a step. If you want it to be simple, focus on marking the splotches, trap him and then finally kill him. Your score is based on how fast you kill a mosquito. The Annoying level is the most difficult level of this game. Try this out and you will understand, how challenging this game actually is. Trapping Milo in this level becomes a real tedious task.
The difficulty only makes Milo smarter; making him take brainy moves. Every single level gameplay is different. An another good thing about this game is that, it keeps the record of Best Score. Thus, you can challenge yourself each time you want to start the game.
Key Features of Milo the Mosquito Windows 8 App
Available for completely free
Good Graphics with neat and clean interface
Controls are very easy and simple
Play in Arcade or Free Play game mode
You are free to Set difficulty of game according to your mood like easy, medium, or annoying
Looking for some more cool Windows 8 strategy making game apps, then check out: Naqala, Radiant Defense, and iFiveChess.
My Note
Milo the Mosquito, certainly is a good Windows 8 strategy game app. The gameplay is good, though I wish that it could be a little more interactive. Still, it's already pretty good in current gameplay. It really challenges you and, grips you for a while. All in all a great game app to play.