The Samsung Galaxy Trend is the latest and quickly launched product of series GT-S7392. This smartphone has a lot of functions like Bluetooth, WiFi, Lock and Unlock, Tethering and portable hotspot and so on which draw the attention of people. But new users often face problems to activate these features. We are describing here few tips using that you could be able to activate all important features like Locking and unlocking, WiFi, Samsung Kies, Setting Pattern, Bluetooth, and pairing device in Galaxy Trend.
How to Lock and Unlock Galaxy Trend
Locking and Unlocking are very helpful for the users to save their smartphone from the wrong users. This feature just provides security to your mobile. You have to Press the Power button to turn off the screen. Then the device will automatically get locked if it is not used for gross time. Now if you want to unlock the device, again press the Power button or Home button, tap on the screen and then swipe your finger in any direction on the screen of your device. Now you are ready to use your device to perform your desired functions.
How to Activate WiFi in Galaxy Trend
WiFi is used to share media files or any type of information through Internet with the other devices. It provides wireless networking to your device due to which you can perform functions of transferring data. To activate WiFi in Galaxy Trend, follow the steps underneath.
1. Start with turning on your WiFi network in Galaxy Trend. If it is off, press the WiFi icon on the home screen.
2. Now add your WiFi network by pressing on Setting and then tap the WiFi in the setting, drag it to the right or left.
3. Select a network from the network list and enter a password if it is essential and tap on Connect then the device is automatically added.
4. To add WiFi networks, hit on Add WiFi network which is at the bottom of network list.
5. Enter the network name in the Network SSID and select the security type and then press Save.
6. If you have forgotten WiFi networks which have been recently used in your device, and you want to get again then select a network name from the list and tap on Forget. Now you are ready to use WiFi connection to transfer notifications.
How to Connect Samsung Kies with Galaxy Trend
Samsung Kies is an application of the computer program which manages the media contents and personal information with the device. This application is available on Samsung website. So download Samsung Kies this application of the latest version there to use it. After you will have to connect this to the device. Few steps are mentioned below.
1. Firstly connect the device to your PC with the use of USB cable. Then it will be automatically launched on your PC. If it does not launch then double-click on the icon of Samsung Kies on your PC.
2. Now you can transfer your files between PC and device. To get more information or any kind of help, Please refer to the Samsung Kies help.
How to Set up Pattern in Galaxy Trend
Pattern is very helpful to the user because it provides privacy and protection their device from bad intended users. Firstly, Hit the Settings and tap on Lock Screen. Again tap on Screen Lock option on the Lock Screen and choose the Pattern option. Now draw a pattern as your choice. Again draw the same pattern to confirm. If you have forgotten the pattern then set a backup PIN to unlock the screen.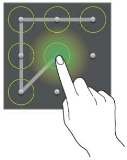 How to Activate Bluetooth feature in Galaxy Trend
Bluetooth makes a device capable to is used to transfer files like music, images, videos and so on from one device to another. To activate this feature please follow the below-mentioned instructions.
Hit on Settings at the home screen and choose the Bluetooth to turn on or off.
Now pair your devices to another device, by pressing on Search.
Select a device from the list of pairing devices and enter the auto-generated passkey if it is necessary on both devices to confirm.
Now you can send data via Bluetooth to another device by selecting the files like music, videos, photo etc.