Photo discovery apps may be proved as the nearby thing during traveling around the globe. Using photo discovery app, user can not only find out wonderful new places, people and invisible landscapes but also they can enjoy a lot.
A new photo discovery app for windows 8 named PhotoWhirl is an amazing app that uses geotagging information of the admired image sharing services, 500px, Flickr, Google Places, and Instagram. It provides an option you to discover new photos either from the surrounding area or around any place in the world through integrated Bing map.
How to access PhotoWhirl app o windows 8?
The main interface of PhotoWhirl app holds three sections. On the left side, a navigation control panel facilitates you to choose any image services like Flickr, Instagram etc.
After it, map options section asks to choose an option like auto-reload, force-reload and satellite view. At the bottom panel in the left side, Faved photos option permits you to access to tagged photos.
The minuscule arrow button helps you to reload the present location current on the map from underneath.
PhotoWhirl app supports local Bing map of windows 8. During a search on Bing map, the app will provide little photo thumbnail with tagged location details. Then the present geotagged photos are also viewed in the right side in list view.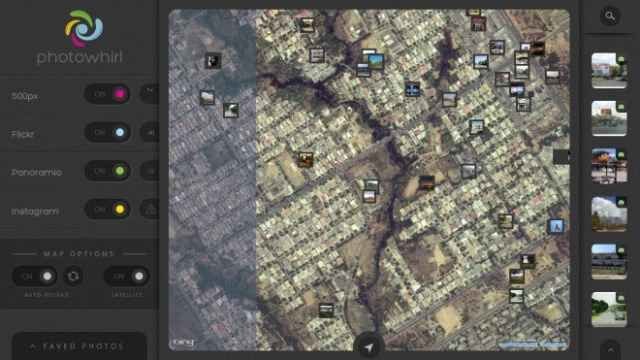 A search button is placed at the top right side within PhotoWhirl app main interface. It renders you to look for particular images by hand as well as typing custom keywords for example – names of cities, villages, particular location, landmarks or people.
While you click on any photo, it brings full-screen interface speedily in another tab along with complete details like uploading date, name of up loader and image service on the top panel.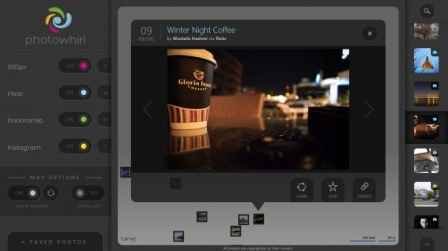 In the bottom panel, a control bar is displayed that contains Share, Fave, and Source options. The share button lets you to share the present photos link, swiftly using Share Charm on social sites or send emails to friends.
The Source button starts the webpage of selected photos in internet browser in order to copy the URL yourself and then share it with any desired people.
The Fave button is used to add the preferred photo to favorites category and it can be viewed in the Faved Photos panel on the left.
To download photoWhirl app on windows 8 or RT, At launch the Internet Explorer browser and visit the below provided download link. Next click on View in Store button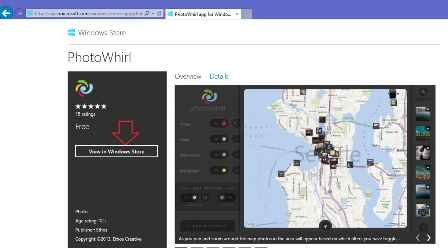 Download PhotoWhirl from Windows Store