Pinterest One is a free app of Windows 8 allowing you to do all the things which you could do after having a Pinterest account in the web browser. It helps you by permitting you to do all the operation straight from the Windows 8 PC. Your account information will be brought from the web browser to your PC and lets you use all the advanced features of Windows 8 like windows metro UI or windows charms etc. while working on your Pinterest account. You can do all the basic things like browsing other's pinboards, re-pin images or videos, create your own boards, following others' board, and many others which we usually do on Pinterest account.
Using this app, you can change the settings as well for your account. The interface of this app is designed in almost the same way as it looks like on the web browser to keep things simple and render people to use it the same way. A screenshot of this app is shown underneath: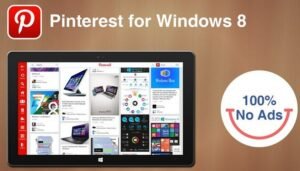 You can access this beautiful app from windows 8 social app under the Social Category in Windows Store or you could follow the link provided at the last of this article.
How to use and work inside this app
After completion of the installation of the Pinterest One app on your Windows 8 PC, you could open it undeviatingly from your Windows 8 Start Screen. Once you enter the proper username and password, you could easily get the access to your Pinterest account. All the things which you made or change on its website, you could definitely do here just by recognizing the familiar environment.
After logging in here, this app will show you your home page. Here, you could see all the latest photos, videos feed on the various boards to which you are connected on Pinterest. To know more about other feeds, you just have to scroll down. Scrolling up and down is made very easy and smooth here in windows 8. This new app on Windows 8 has an inbuilt permanent control ribbon which you could see at the left end of the screen. This Control ribbon consists of all the different toggles buttons like Search, Gifts, Photos, Videos, Back, Refresh, Categories, Home, Popular, and some others. There is nothing new about all these buttons here. The contents of this app are displayed at the center of this app. 
Note: You could use windows charm i.e. win + I to change the settings of your Pinterest account.
Key Features of this app
Perfectly free app.
Very foolproof and easy to use this app.
Has a neat and uncluttered interface.
It offers you all the Pinterest website features.
This app is supported by Windows 8 Search and Settings charms.
Conclusion
Pinterest One is really a classic windows 8 app allowing you to have quick navigation throughout the pages with the help of a Pinterest account. No promotion of ads here in this app makes it a very good choice for its users. Powerful buttons on the control ribbon at the left are its best part which lets people go through the pages quickly and effectively. This is a very good app to try upon.
Get Pinterest One Here