App Radio is a fantastic app of windows 8. It comes free with a collection of hundreds of internet radio stations. These radio stations are sorted in different ways like type, content or genre, etc. This app consists of neat panes for different categories like Pop, Local, etc. There is no such complication here in using this app. This app allows you to select any radio station to which you want to listen. All you have to do is to simply click on the tile of the radio station which you are willing to listen to and there you are listening to the radio station which you have selected.
The interface of this app is kept very neat and clean. Designers have developed this app in a very spontaneous manner so that users find it awesome and avoid confusion. A screenshot of this app is shown below: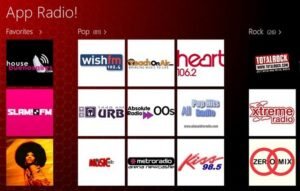 You can have the access to this app from windows 8 App store or you could simply follow the link provided at the last of this article.
How to use and Play with this app
After the proper installation of this app on your Windows machine, you will find the above shown picture to pop-up on your main screen. It consists of different radio stations arranged according to different categories like: Rock, Pop, Classic, etc. There is a Favorite column too where you could add your own favorite radio stations from different categories so that you won't have to search for it every time you want to listen to any particular radio stations.
The default color of the background of this app is Red. You could change it to any color you loved to. It can be done by clicking on any empty area on the main page and opening the control bar where you could select your own color for its background. The radio player is shown in the left panel of this app. This radio player has some of the standards controls like Pause, Play, and the volume slider. It also consists a Star option using which you could open your favorite radio station and could play it immediately. There is a Dance Tunes Radio too here in this app using which you could select rock music. This provides great help when you are willing to dance alone.
Note: Along with the above-mentioned things, this app also supports a dock view of this app. It helps you a lot when you are doing multi operations at the same time on your windows machine.
Key Features of this App
Free of Cost and very easy to use App.
Stored internet radio stations according to specific categories.
A large collection of the color themes for the app.
Gives you free access to your favorite music player the next time.
Support for docked view, which enables multitasking on your Windows 8 machine.
Provides you the access to large radio stations and music genre as well.
Conclusion
App Radio is a must try app for those who want to have a versatile internet radio apps floating in their smartphones. This also allows you access to your favorite certain radios stations for easier access later on.
http://apps.microsoft.com/windows/en-us/app/app-radio/944a35af-92d6-444f-8a52-6d4ee81c99f5