Windows 10 allows you to Preview Web Results in Cortana without opening your browser. Previously this voice assistant also used to show the query results, but it prompted Microsoft Edge with bing search. But now you can find the same staying at Cortana in an additional flyout in the right side. See another guide on the same topic – How to make searches in Cortana on Windows 10 Desktop.
Cortana is no doubt an effective automated tool which excels in tasks. This default search functionality can create reminders, sync notifications and also uses natural language to facilitate users even more. But now it does not only can improve your search results with its own personal additives from the web. Well, Cortana can also recommend things on the basis of your patterns and the most searched queries. You can also read How to Enable and Disable Cortana Speech Services on Windows 10.
To Preview Web Results in Cortana is as simple as browsing the internet through Google or any other famous search engine. The only point is, that Cortana uses Bing to retrieve results related to your typed-in queries and that too via Edge browser. For more security, you can Set SafeSearch on Cortana Windows 10.
Note – This feature is currently available in the latest build 16251 of Creators Update for US English search systems only.
Preview Web Results in Cortana on Windows 10
Step 1 – First of all, open Cortana and type in your query to Preview Web Results in Cortana.
Step 2 – After typing the query, click Find results in web icon on the top of Cortana. Underneath Best match section of Cortana, click the arrow Preview web results as shown in the given image.
Step 3 – Cortana search gets extended and shows Bing results on the right pane. So, scroll until you see the preferred result and when you notice it, click on it. Whatever your default browser may be, this action opens Edge browser displaying the web page that you selected on Cortana.
For example – I have typed in the query Change Icons and Text Size on Windows 10 and selected the required web result on the right pane of Cortana.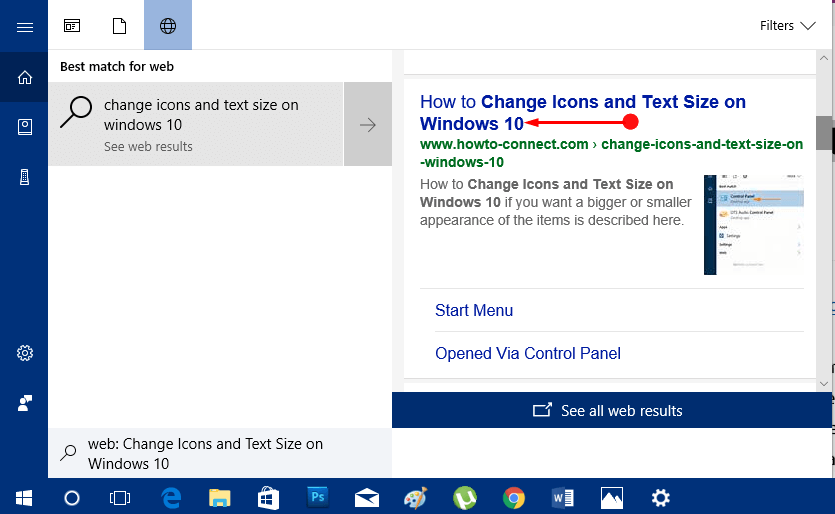 Conclusion
This extended web functionality of Cortana is quite useful but it also holds a drawback as it also displays few suggestions. Well, Microsoft is ready to roll down this amazing Cortana web search feature in the upcoming Fall Creators Update. If you have some more tips to Preview Web Results in Cortana, write to us.