Readwhere is a free android app. This app lets you read newspapers, magazines and comics. Readwhere app consists a large collection of these three things i.e. it consists of all sorts of newspapers, magazines and comics. You will find all the newspapers to be completely free on this app however there are some comics and magazines for which you have to purchase this. These magazines and comics can be purchased through your Google Wallet. Before using this wallet, you have to make an account or add your Gmail id here.
You have to login through any of your email id or Facebook to enter in this Readwhere app. The login part is however not necessary, still if you login you could be able to subscribe news, magazines and comics so that when you come back on this app you could get the access to them again. The interface of this app looks very simple but attractive. Readwhere app has been designed in a cool manner which makes the navigation a little easier and more comfortable. A screenshot of its home screen is shown below: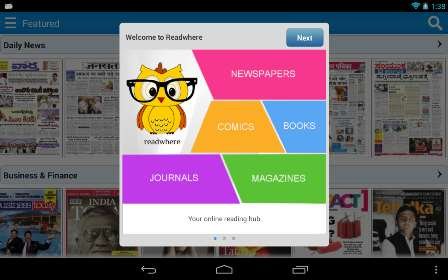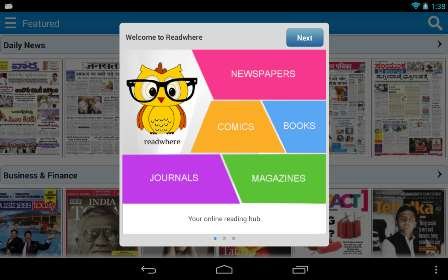 You can have the access to this interesting app from the link provided at the last of this article.
How to use Readwhere app for reading newspapers and magazines
When you run Readwhere app on your android device, a screen will pop-up on your screen asking you for login. login here if you wish to subscribe news, comics to your account otherwise just skip this step. Once you move forward, next window will appear in front of your screen which resembles the image shown above. This is an online reading hub. Here, you could see lots of categories in front of your screen like: Newspapers, Journals, Books, Comics and Magazines. There are three screens of this part, you can move to the next screen by clicking on Next present at the top right corner of this screen.
In the news section you can see different news under different sub-sections like: Daily News, Business & Finance, and many others. You can click on any of them according to your interests and swipe through them to find more and more items. Clicking on any of the particular item will opens that news in a much bigger space so that you could read to them easily in a comfortable manner. Here, you have different functions too like: zoom gestures, swipe to the right or the left depending on which side you want to move i.e. next or previous respectively.
Similarly, in the magazines section you can find different magazines out there like: Good Home, Bike, Car, Top Gear, Digit etc. There is similar case for comics, books, journals too. All you have to do here is to swipe through them and decide the one which you want to read them, open them, read them and if you like it subscribe them too. Subscribing any thing here will save that thing to your device for your offline reading. Before subscribing, have a look at them for some pages online. Again, if you don't like them still you can long press them to delete them.
There are certain other functions too on the main screen like triple lined button at the top-left corner of the screen. Clicking on here, you can access your shelf where you can add an item to shelf. For adding any item to shelf, open the item for reading, press options soft key and then click on add to shelf option. You could also look to your profile, offline reading materials here. In the settings option, you can look for the notification on the subscribes you made. This is all you need to know before using this app efficiently.
Key Features of Readwhere Adroid app
Freely Available.
Provides Online shelf as well as filters.
Supports reading online as well as offline.
Supports Zoom/Pinch features.
Provides Search facility for typing keywords.
Conclusion
Readwhere is a nice android app to have on your android device. This app lets you get all the information which are floating surrounding you and around all corners of the world. Readwhere provides information consisting of free as well as paid contents. You can also save any article to be read later in this app. Overall, this is a good app and you should have this app on your android device.
Link: Readwhere