VEVO app is crafted for Windows 8 based on the Vevo music channel on YouTube which is widely famous for its high quality videos ranging from albums to music tours and many more. This channel has more than 75000 music videos by over 20,000 artists and it is evident why it has gained so much popularity. VEVO Windows 8 app comes for free and it is very simple. You can watch music videos, live concerts and stream live concerts.
Talking about the interface it has got very simple controls and is very user-friendly. Designers have developed this app keeping in mind the user's interests and likes. You just need an internet connection fast enough to avoid buffering and you are good to go. The app is available in the Windows Store and can be downloaded from there. Once you have installed it on your device you can launch the app from the icon. The main screen's snapshot is shown below.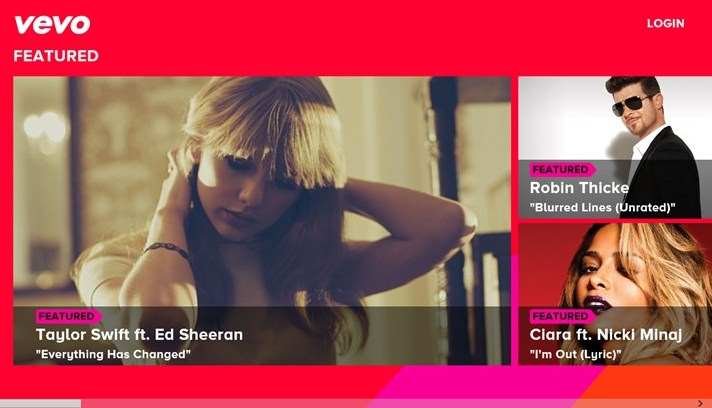 You can have the access to VEVO app from the link provided at the bottom of this article.
How To Use and Play with VEVO Windows 8 app
The above screenshot is a login interface where you can login with your account on the VEVO or with any other account of social websites thereby skipping the registration part in the first section. After doing that you can scroll down to see various options that follow namely Watch Now, Featured, Premieres, Top Artists and Shows. These sections have been elaborated below to give you the basic idea about them.
Watch Now: VEVO TV can play you a whole lot of random music videos under this section and if you are looking for something new this option is apt.
Featured: Exclusive, Premieres, and playlists are present under this section maintained by VEVO.
Premieres: Select genre from the All Genre option and you will get a dropdown menu. If you prefer a specific genre you can use this option.
Top Videos and Top Artists: This section contains all the popular videos by famous artists and their recent videos.
Shows: The recorded world shows and concerts are displayed under this section and you will get a lot of it from various artists who frequently perform.
Now once you are done with the above-mentioned description, if you have selected a music video to play you can get all the control options by right-clicking on the interface and some controls of regular use are already present like pause and playback. This is basically all you need to know to get on with this app.
Key Features Of VEVO App
HD quality videos enhance the listening and viewing experience.
Large number of music videos with recent uploads.
Snap mode can be enabled.
Continuous play automatically with your suggestions making it dynamic.
Automatic language detects settings for the device and location.
Works over all cellular networks.
Conclusion:
Vevo is a nice Windows 8 app for those who love to watch music and video in a dynamic way. The vast variety of HD music videos brings you the amazing experience and the music of your own choice. All the recent music videos are uploaded on this channel so you can keep yourself update with the latest videos of your favorite artists and live concerts. I love this app very much and feel you should have this rocking app.
Downloading Link: Vevo