Windows 8 Store has numerous apps in various languages. Whenever you install anyone app from Windows 8 Store, Windows turns to your region/country and install such app settings. The process, turning global to the regional setting, is called localization. It would be better if apps could be seen in accordance with the style of functioning. On the other hand, they are evaded to use well equipped application as well.
As the majority of Apps are in English than localized versions. There is less amount of app in localized version. Once you installed the localized version of Windows then you won't be able to see all those Apps made for all-inclusive users. Prevailing condition constrains you to switch such trick that enjoins to access all such valuable Windows Store app. Whenever you are in such a stage, you need to remove Localization in Windows 8 features.
To disable Windows 8 Localization features for seeing all Apps, you need to take these collective steps simultaneously.
Access Windows Store first on your Windows 8 system. 

While in the store, open Charm Bar & click on Setting option that appears at bottom.
After then click on Preference option.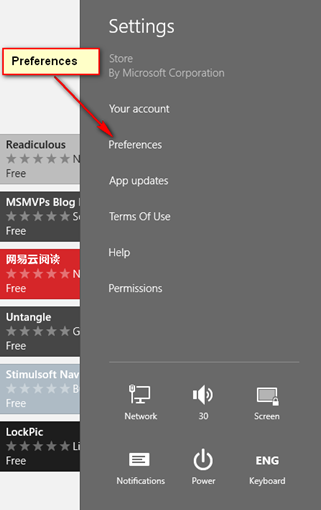 Now set No to option of  'Makes it easier to find apps in my preferred language' . Close existing setting windows and back to Windows 8 Store.