You are able to reset desktop icon spacing in Windows 10 or 11 via inputting a little tweak in Registry editor. The distance between icons may increase or decrease in the horizontal and vertical direction as well in this way. The default values of the spacing -1125 but a few users like more clear desktop.
Fortunately, you can change these values to Reset Desktop Icon Spacing in Windows 11 or 10. You can modify the data upto maximum -2730 and minimum -480 and alter the gap. We will be discussing this procedure of tweaking in the following section so let's begin –
Way to Reset Desktop Icon Spacing in Windows 11 and 10
Here is how to Reset Desktop Icon Spacing in Windows 11 or 10 –
Step-1: Press Win+R and let the Windows open Run dialog on screen.
Step-2: In the empty space of the dialog, type Regedit and press the Enter key. This will launch Registry Editor in a separate window.
Step-3: Once a UAC dialog prompts locking the screen, select Yes.
Step-4: Copy the below path, paste into the address bar of the Registry Editor and press Enter –
HKEY_CURRENT_USER\Control Panel\Desktop\WindowMetrics
Step-5: Upon reaching to WindowMetrics, move aside to right and look for IconSpacing here.
Step-6: Make a double click on this DWORD once found.
Step-7: Increase or decrease the value between -480 to -2730 in the Value data field.
Note – This is the DWORD for horizontal spacing, in easy words, the distance between rows of the grid and columns. The minimum spacing between this must be -480 and the maximum can be -2730. But the value is set to -1125 by default depending upon screen resolution.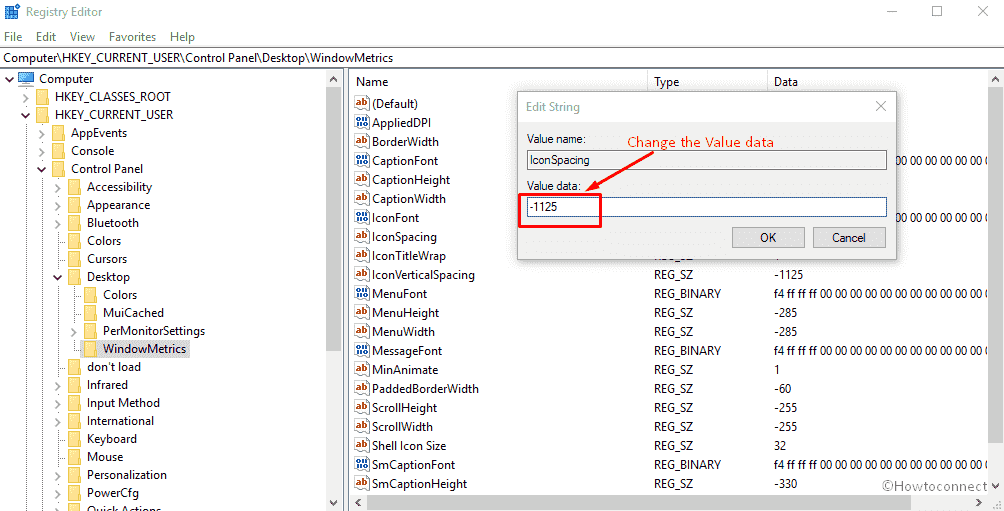 Step-8: Select the OK button to save the value in the entry.
Step-8: Moving ahead, perform a double click on IconVerticalSpacing and change the default value.
Note – IconVerticalSpacing DWORD represents the spacing between row to row. Like before, the built is set up value is -1125. To reset, you need to put any value between -480 to -2730 here as well.
Step-9: Hit the Ok button to Reset Desktop Icon Spacing.
Step-10: Finally, leave the Registry Editor and Restart Windows 11 or 10 PC to put the changes into effect. Coming back to the Windows again, you will see the desired spacing between icons.
That's it!!!