You know what is the importance of  password in using Net Banking in any bank.  If you have forgotten your password when you are using your ICICI Net Banking then you fell very discomfort. But this not very troublesome in ICICI. To generate and reset password is a hassle free process. You have to follow just few steps to get a new set of password. After that you will be able to access your account in ICICI bank and you will be able to login in ICICI Internet baking quite simply. Further, we have described the steps to generate ICICI Transaction Password and User ID. So follow these steps:
Steps to Reset Password in ICICI Net Banking after Forgotten
1. Firstly, you have to  generate a new password by visiting Forgot password page of ICICI Bank. This can be done with the link of  Online Request for Password Resetting .
2. Here write your User ID and click on GO Button.
3. Again Write User ID and your Registered Mobile Number. You will get a unique number to your registered mobile and email id.
4. Write the Unique Number you have got and Click on Submit Button then it will be validated.
5. Write your User ID and the new password you want and again write to confirm it and click on GO Button. This will be your new password for login in ICICI Internet banking. Login and enjoy.
If you want to see demo click on: Get new Password
Steps to get User ID to Login in ICICI Net Banking
If you are new to ICICI Bank and you want User ID to make login follow the steps:
1. Click on New User ID of ICICI Net banking.
2. Write Account Number and click on GO Button. A new page comes.
3. Write Registered Mobile Number/Registered Email ID and click on GO Button.User ID will be dispatched to your registered email id and registered mobile number.
You can watch this demo for getting new User ID: User ID Demo
Also, individuals and sole proprietors can activate their password through 24 hour Customer Care of ICICI Bank by  using ICICI Bank Debit Card. You have to personally remembered that the time should be limited for this process i.e. only seven days. After that there will be no excuses accepted by ICICI Bank.
Steps to Require Browser Configuration with ICICI Net Banking
You can also able to get browser configuration on Windows Operating System for the best viewed quality i.e. a screen resolution of 1024 X 768. You can check your browser version by clicking Help option and then clicking on About Internet Explorer.
You can download Internet Explorer (9.0 and below).
You can download Google Chrome (10 and below) by clicking here.
You can download Mozilla Firefox (4.0 and below) by clicking here.
How to Generate Transaction Password For ICICI NetBanking
You can also able to regenerate the Transaction Password with ICICI Net Banking by following its steps given below. You are not permeable with the same password to Login ICICI Net Banking for transferring of any amount of balance because it is unsafe for your accounts. But you have not to worry about it. ICICI bank has provided the facility of Transaction Password.
1. Firstly you have to go on the website of Online ICICI Net Banking.
2. After that you have to login with your ICICI Net Banking User ID and Password.
3. Thereafter you should select the option of Service Requests which is below the left side of the screen.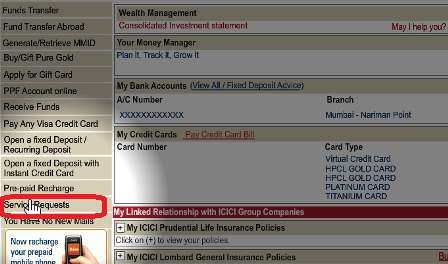 4. You have to go on Click Here to get continue or to view the list of Service Request option.
5. Now you have to click on Instant Transaction Password Generation.

6. Thereafter you have to insert your Account Number which is unique 6 digit number to verify the Debit Card and click on Submit.
7. After that you have to enter your ATM/Debit Card Grid value mentioned against alphabets DHM from the back side of your ICICI Bank Debit Card and click on Submit.
8. On successful authentication, a unique 6 digit number will be delivered to your registered mobile number/E-mail ID.
9. Then enter your Validate Unique 6 digit number and click on Go option. You have to remember that the validity of this 6 digit number is only for 24 hours. If you have not received the Transaction Unique Number send a request to 5676766 or 92156676766 through SMS and write IPWDT in the SMS. Your request will be recorded and 6 digit unique number will be sent.
You can watch demo for getting ICICI Transaction password: ICICI Transaction Password Demo
10. And at last stage, write new Transaction Password two times. Then click on Generate Now option. Remember your transaction password so that you can make your transactions in the future.