This is the good news for those persons who love 3D and HD Photos / Graphics that New Scanner is coming into market whose name is MakerBot Digitizer Desktop 3D Scanner. It is now available in MakerBot World Headquarters. Really I am dying to use it now! This is so attractive because it has a lot of fun with tools like solidworks 2014 to design Projects. Sometimes there is no any substitute for a 3D scanner means "Nothing like This". This brings you attractive 3D scanning graphics / photos to your desktop what you want. This new 3D Scanner model also makes easy to create and upload scanned 3D objects to Thingiverse to print them with your 3D printer. I have no any chance to try it but if I get chance in future I will try so I can tell you must try it and got your hand digitizer and you can scanned a lot of objects with it then you must say "Nice". This MakerBot Digitizer Desktop 3D Scanner is like a 3D copier Machine. Firstly put an object on the Digitizer, Scan it, then print it out, this is the fun of scanner.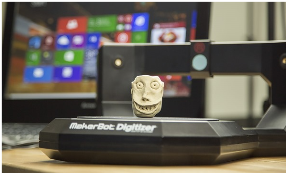 3D printing is supporting built in Wndows 8.1. It is easy to print the object with 3D printing aware Desktop apps windows apps, and you can also manage and quit the print job just like you are working with your inkjet printer.
Way to Scan Objects with Digitizer in 3D and Print on Windows 10, 8.1
How to Install This 3D Printer
You have to plug in Powerboard
Connect to PC via USB port as given your PC and Laptops
Install the Makerware from the MakerBot Website
You have to follow the calibration instructions.
Now you are ready to start scanning! It is straight able process with digitizer setup. You have to place the object on the turntable, and choose specify the darkness as light, medium, dark, then click the Start Scan button. It takes about 9 minutes and the scanning process is complete for uploading to Thingiverse. If you want to save it then the copies are saved in the STL format for easy importing into other programs like 3D Printer app from Microsoft.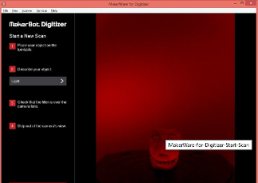 This way, you can Scan Objects with Digitizer in 3D and Print on Windows 10, 8.1. If your scanning is done then you can take a picture of your object, it can be uploaded to Thingiverse automatically and also various steps you have to do as seen in the screenshots.